A few weeks ago, Safaricom announced the availability of the Ematic 4K Android TV box in Kenya that acts as the successor to the Safaricom Digital TV and Internet box from 2018. This digital TV and internet box was good but is dated now and struggles to compete with most of the new Android TV boxes we see on the market.
Unlike its predecessor, this new Android TV box has no Safaricom branding and it looks like Safaricom is just its main distributor in Kenya. You can get it from Masoko for Ksh 6,900 which is reasonable if you ask me. You should also be able to get it from Safaricom retail shops across the country. I have been using the Ematic Android TV box for close to one week and this review will revolve around that.
With the many Android TV boxes in the market right now, you may not be sure which one is perfect for you. This review is to help you decide if the Ematic box is worth your money or not. For those using previous Safaricom Android boxes, should you upgrade to this new one?

What is an Android TV Box?
Without getting to much into the technical aspects, an Android TV box is a media box that you can connect to your TV or any display and use it to stream video and audio content as well as play games and download different applications. You basically use an Android TV box to sort of turn your TV to a smart TV
With Android TV, you will be able to stream movies and videos on Netflix, ShowMax, YouTube or any other streaming platform you have access to. The apps available through the Play Store on the Android TV Box are optimized to work for TV and your remote. This means that you can control and navigate through them through the remote.
How to Setup the Ematic 4K Android TV box
The setup process is easy and straight forward. Just plug in the power port and connect the Ematic box to your TV via the HDMI cable. When on, you will be prompted to pair the box with your remote by holding the Volume down and OK buttons at the same time for a few seconds.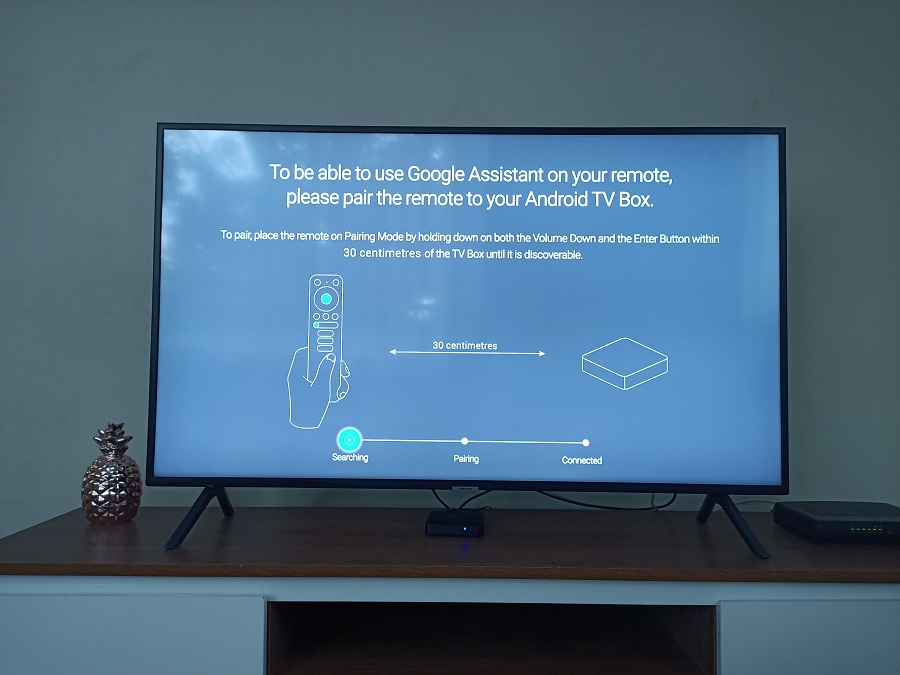 When it pairs, you can proceed by following the prompts on the TV. The best way to proceed is through your phone by linking it to the box and this will allow the copying of your Google account and Wi-Fi settings on your phone to the Ematic box. To do this, just open the Google app on your phone and say "ok google, setup my device" and follow the prompts from there.
Some of the other items you get in the box include:
Remote with two batteries (not in the remote)
Power adapter
HDMI cable
User manual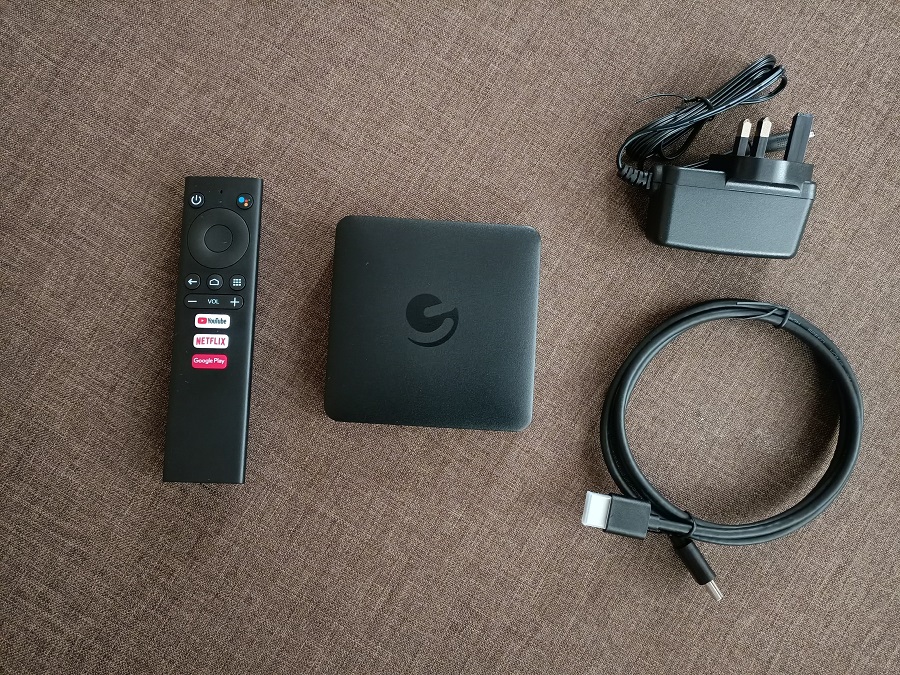 Ematic 4K Android TV box: What I Like
The Ematic Android TV box is a very compact device that has a smaller footprint compared to the Safaricom internet box. It is almost the same size as a standard external drive. With its small size, it can be perfect when you are travelling and want the Android TV experience in your hotel room.
Even with its small size, it comes with a good number of ports including two USB ports, TF (Micro SD) card slot, a HDMI port, ethernet port, AV out port, S/P DIF port and the last slot for power in. These ports give you a number of connection options depending on your setting.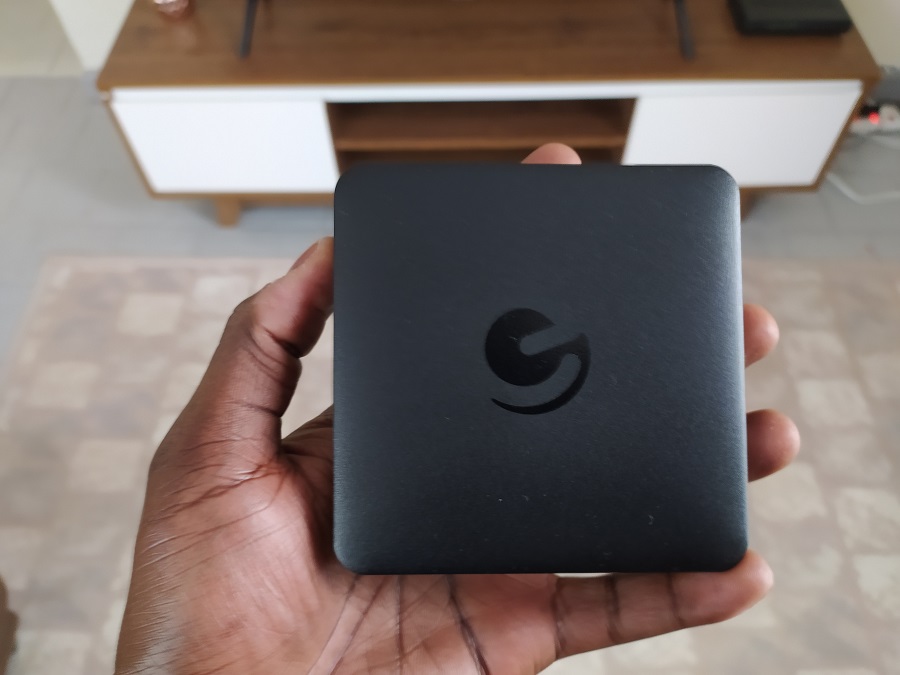 The two USB ports allow you to connect an external device to the box and play the content on that device on your TV. This can be an external hard drive that you have your movies on or any other supported device. The TF card slot does a similar thing and you can insert a Micro SD card there are play the content on the card.
The HDMI port is one of the primary ports you will need to connect the Ematic box to your TV if your TV has a HDMI port too. If the HDMI port is missing from your TV, the AV out port is what you will use and for that you will need to purchase the necessary cable which is not included in the box.
The Ematic box supports HDMI CEC (consumer electronics control) and this lets you control both your TV and the Ematic box with just one remote. You can decide to just use your TV's remote to control both of them eliminating the need of having two remotes at the same time.
The ethernet port is what you will use if you want to connect the Ematic box to the internet through an ethernet cable. If you have Wi-Fi around, it may be the best option as you will eliminate the need of having additional cables connected to your Android TV box.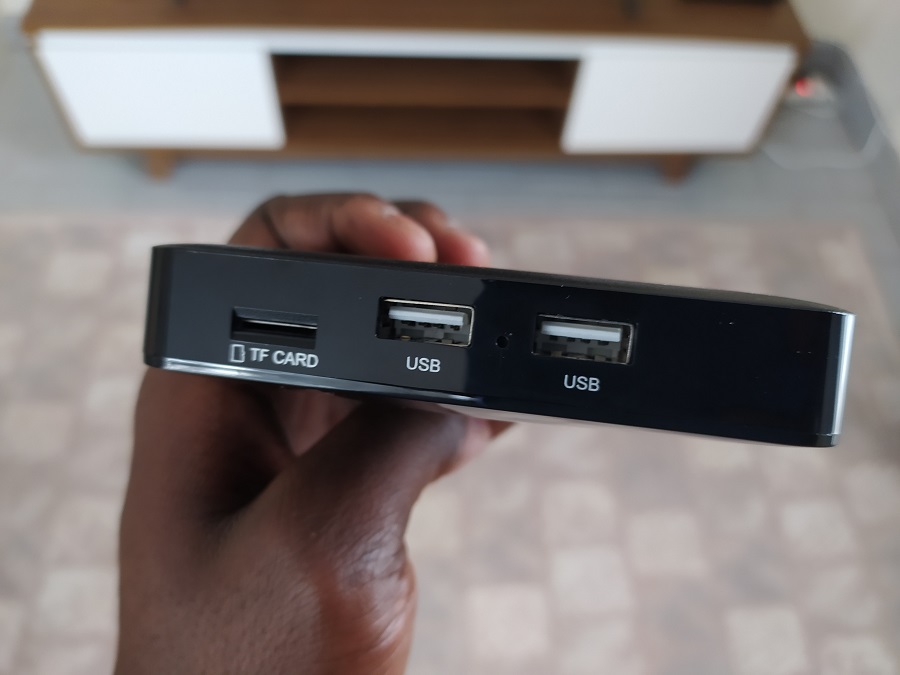 One of the best things about the Ematic Android TV box is that it offers the complete Android TV experience. It does come with Android version 8.1 but was updated to Android Pie. The version of Android you run on your phone may be Android 10 but with Android TVs, the most recent version is not usually the same as the version you have on your phone so Pie for this case is pretty good.
How does the Ematic TV Box Work?
Since it is powered by Android TV, users get access to a selection of apps that they can download through the Play Store. The Play Store has all the major streaming applications you may need from ShowMax, HBO Max to Amazon prime and any other one you may have in mind. The Ematic box comes with Netflix and YouTube pre-installed so all you have to do is log in to your account and you are good to go. This box is certified by both Google and Netflix unlike some of the other boxes on the market.
Through the Play Store, you also have access to games that you can choose to play on your TV. Most of the applications for Android TV are optimized to work with the remote and so are a number of the games. Some games will require additional hardware (gaming pads) for a much better experience.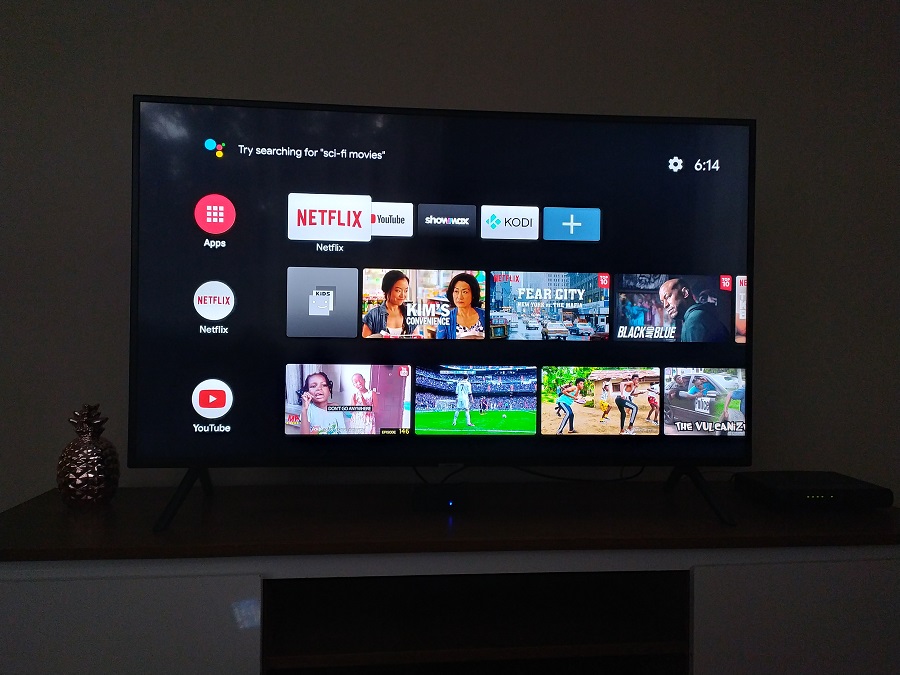 Powering the Ematic Android TV box is a quad core Cortex A53 chipset that has been paired with 2GB of RAM and 8GB of storage. You are not going to download a ton of applications so the 8GB of storage may be sufficient for most people. The box supports Bluetooth 4.2 and Wi-Fi ac connectivity. Both connections have worked perfectly so far and I have not had any issues.
The Ematic box comes with a very minimalistic remote that connects to the box via Bluetooth. The remote has a dedicated Google Assistant button that you can use to activate the digital assistant. The assistant can help search for content on the different platforms you have signed into. If you are looking for a specific movie on ShowMax, just say "Hey Google, play Movie X on ShowMax" and it will search for it and play. Also on the remote are dedicated buttons to launch YouTube, Netflix and the Google Play Store.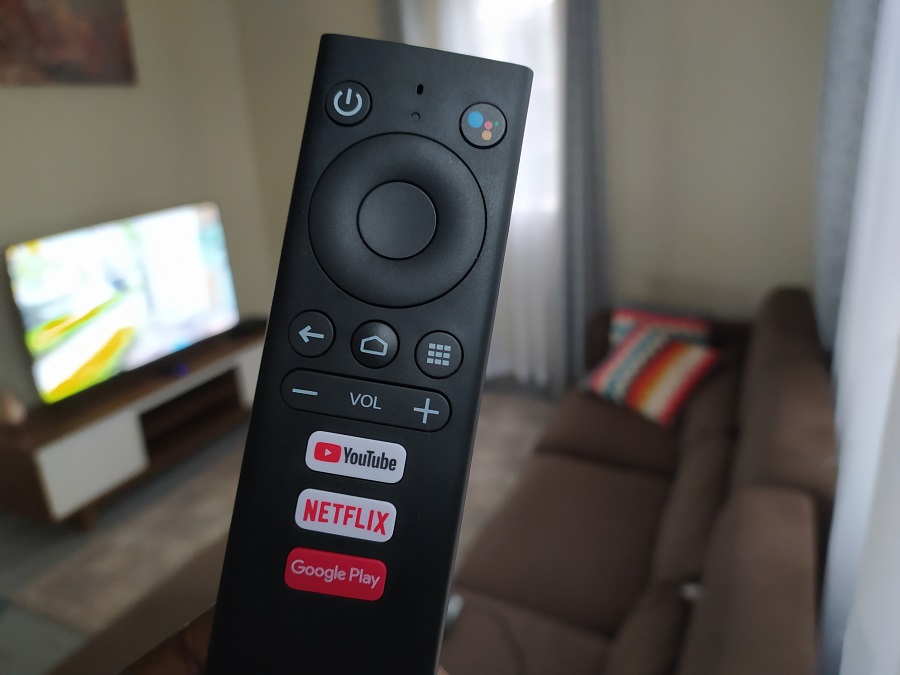 Using the Ematic box the last few days has been very smooth, better that what the Safaricom internet box offered. It does support 4K so if you have a 4K panel, expect some very good viewing experience. If you do not have a 4K TV, the resolution of what you are viewing will default to 1080p which is not so bad.
I have had the Safaricom Internet box since it was launched and to be honest it does not match up to this. From the setup process to day to day use, the Ematic box shines all through.
Ematic 4K Android TV Box: What is it competing With
The Ematic 4K Box is not the only Android TV box on the market. Its biggest challenger is far is the Mi Box S that is available for around the same price. The two are quite similar and both are powered by Android TV with the Mi Box coming with Android 8.1. They both support 4K streaming so in the end it will be about your preference. Ematic is anew brand in Kenya but it is worth giving a shot, the box is promising in my opinion.
Most of the other Android TV boxes on the market do not excite me to be honest and so far the Ematic box and the Mi box S are my favourite.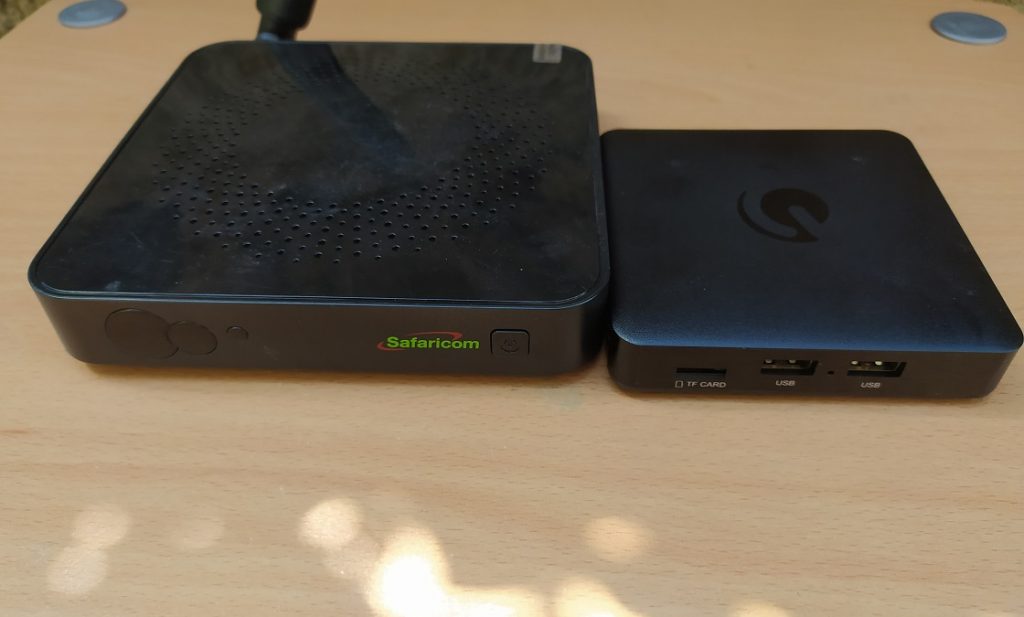 As for the Safaricom Internet box, the two are worlds apart with that device being bulky and not that great for streaming content on Netflix. Netflix did not work on it at all. The box was also expensive compared to the Ematic box and was very big, almost as big as the set top box you may in your home. The software experience was also slightly different compared to the Ematic box that feels smooth and something you can recommend without any shame.
Ematic 4K Android TV Box: Is it Worth It?
The question you may be asking is, should you buy the Ematic 4K Android TV box? This box is perfect for anyone who has an old TV and wants to add some smart features to it. It does offer you all this at an affordable price and does not require you to go out there and buy a new TV that you may not need. The box has Chromecast built-in and Google assistant integration and does offer a smooth day-to-day experience with no lag.
With Chromecast, you can mirror content that you are playing on your phone to your TV. For example, you can mirror your chrome browser to the TV or just your phone if you want to. This also works with YouTube and Netflix where you can start playing videos on your phone and then cast them to your TV.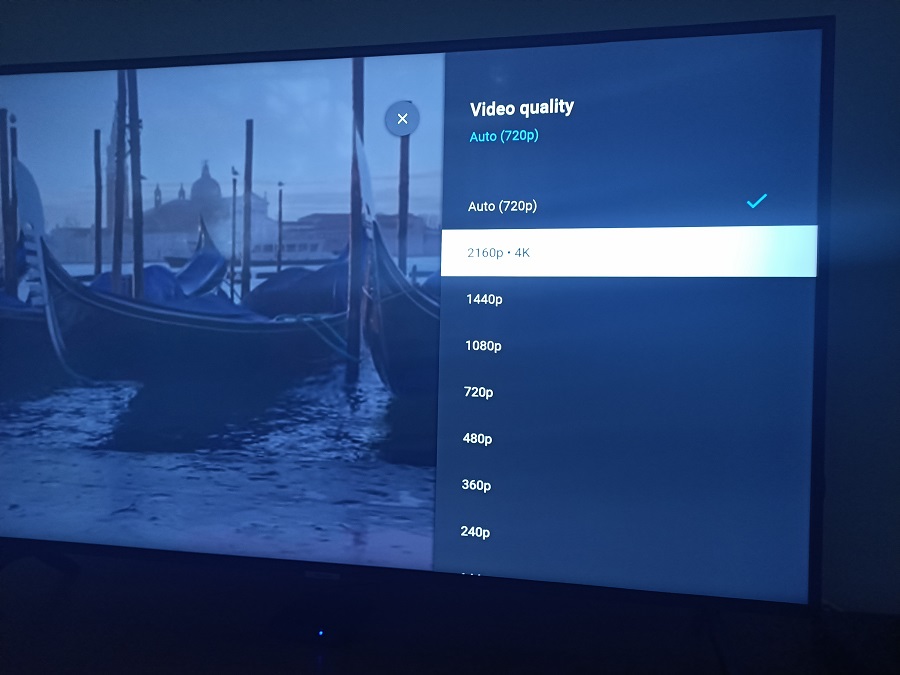 4K support if the icing on the cake if you happen to have a 4K TV. You can choose to stream 4K content from any of the platforms supporting it from Netflix to YouTube.
The box can also be used by anyone who has a smart TV but wants the Android TV experience on top of that. These may be people who may want to use applications like Kodi that may not be supported on smart TV platforms like WebOS offered by LG. Such applications and many others can easily be downloaded on the Ematic box.
If you have a smart TV and only use it for Netflix, ShowMax and YouTube or any of the popular streaming services, getting this box is not necessary as those services work perfectly with most smart TVs. Just stick with those unless there is something specific you want on your TV that is not available at the moment.
Who Is it for?
Those looking for Google Assistant and Chromecast supporting devices
Those seeking 4K streaming devices
Those looking for Android TV streaming devices
Anyone who wants to add smart features to their TV
Anyone with a 'Smart TV' whose interface is not very intuitive or its smart features are not so smart.
Who it's not for?
If you have a smart TV and only stream content on YouTube, Netflix, Showmax or any other popular platform
If you already have an Android TV
Also Read: The OPPO A92 Review: Worth The Hype