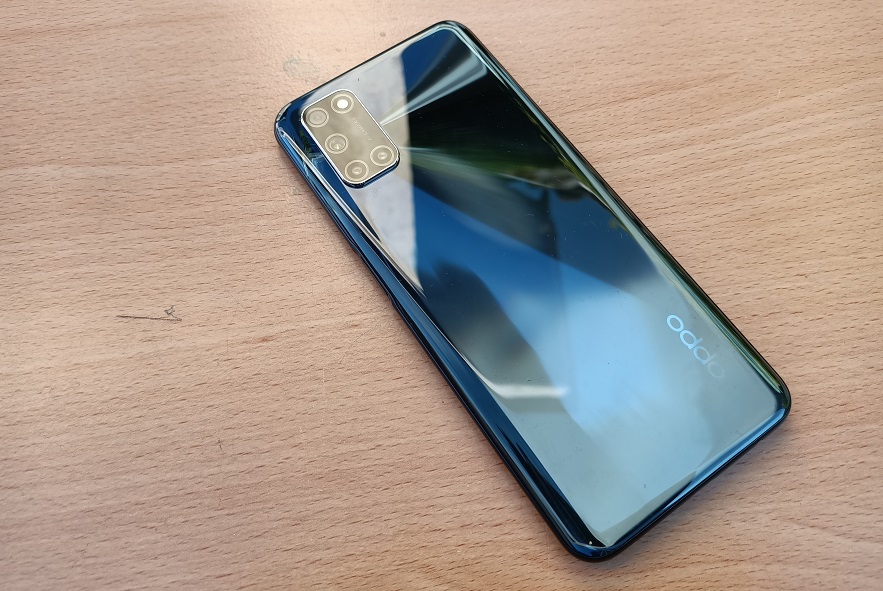 The OPPO A92 was recently launched in Kenya and is the latest mid-range smartphones from the company. It does borrow a few things from the OPPO A9 2020 but it does have some upgrades compared to previous devices. Like most other OPPO phones, the camera is one of the key selling points but that is not all what the phone can offer.
Pricing and Availability
The OPPO A92 is available in Kenya for Ksh 30,000. You can get it through Jumia and most other retail outlets in the country. With the launch of the OPPO A92, the company also launched the Enco W31 earphones that are available separately at Ksh 7,999. There is a special offer on Jumia that offers those who buy the A92 and W31 earphones bundles up at a reduced price.
The OPPO A92 in Kenya is available in 8GB RAM and 128GB storage configuration. It is available in three colour options of Twilight Black, Stream White and Aurora Purple. For this review unit that has been provided by OPPO, I have the twilight black version that I am going to share my thoughts on.

What's in The box
The OPPO A92
USB-C cable/charger
18-watt wall adapter
SIM ejector tool
Silicone case
Earphones
Warranty card
User Guide
The Design and Build Quality
I started using the OPPO A92 right after using the Reno 3 and the differences are clear in terms of design and build. The A92 feels bigger and wider but it has very thin bezels that make it the perfect size.
The black version is subtle and will rarely attract any attention. If you want some colour in your life, the other available options are honestly better at that. The one I have is still good with a glossy finish that appears to have a grey-ish tint to it and not just a boring black colour.
At the back is also where we have the rectangular camera module. This is something we have been seeing a lot in 2020. The main camera is a 48MP sensor with an 8MP and two 2MP sensors accompanying it. The camera bump is there and expect it to wobble a little when the phone is paced on a flat surface.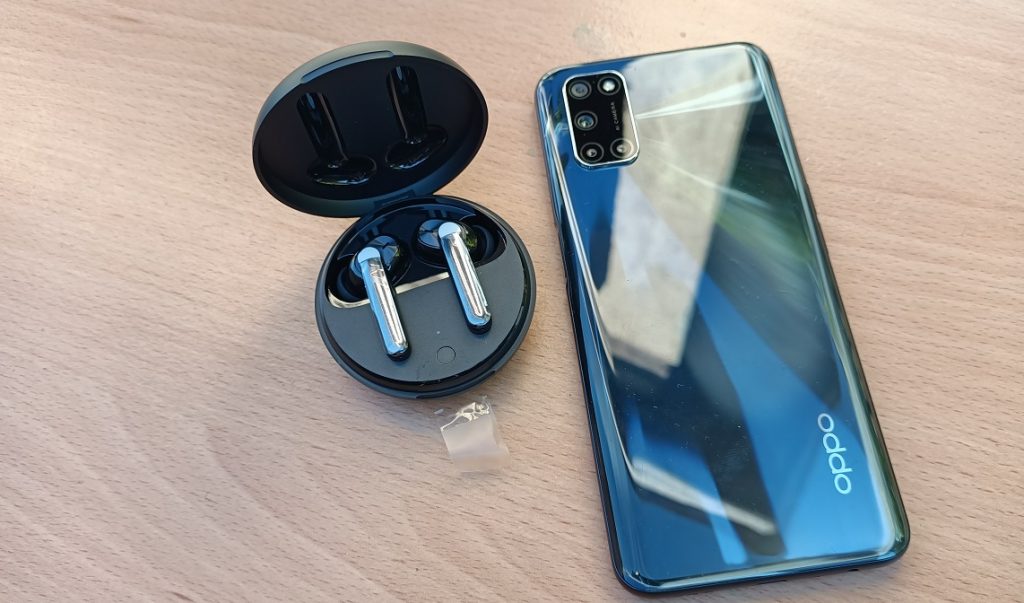 The edges curve inward and this makes the phone comfortable to hold and carry. The phone is also comfortable to carry as it is made of plastic and this makes it lighter in general. Using the phone with one hand isn't much of a problem even if you have smaller hands.
Button placement is as we have seen on most of the recent smartphones from OPPO. The volume keys are on the left right below the SIM/Micro SD card slot. The power button is on the right and this doubles up as the fingerprint scanner. This scanner works as you would expect and is fast and accurate. At the base sits the headphone jack, USB Type-C Port and the speaker grille.
Besides the speaker grille at the bottom, sound also comes from earpiece and this works well in providing a better audio experience when watching a movie. You get sound from both the main speaker grille and from the earpiece. If you happen to block on when watching a video, sound will still be coming out of the other. The speakers get loud enough for a relatively good experience even when used in a big room.
Display
The OPPO A92 comes with a 6.5 inch display that gets a decent resolution of 1080 x 2400 pixels. There is a punch-hole cutout at the top left section of the display. Besides that, the display looks quite good with very thin bezels.
The display itself is really good. It offers excellent viewing angles and the colour reproduction is equally as good. It does warrant the Ksh 30,000 price tag if you ask me. It is big enough for any kind of use you may have in mind. For those into streaming, this display will not disappoint, it does offer a good experience and couple that with the speaker setting, the experience is satisfying.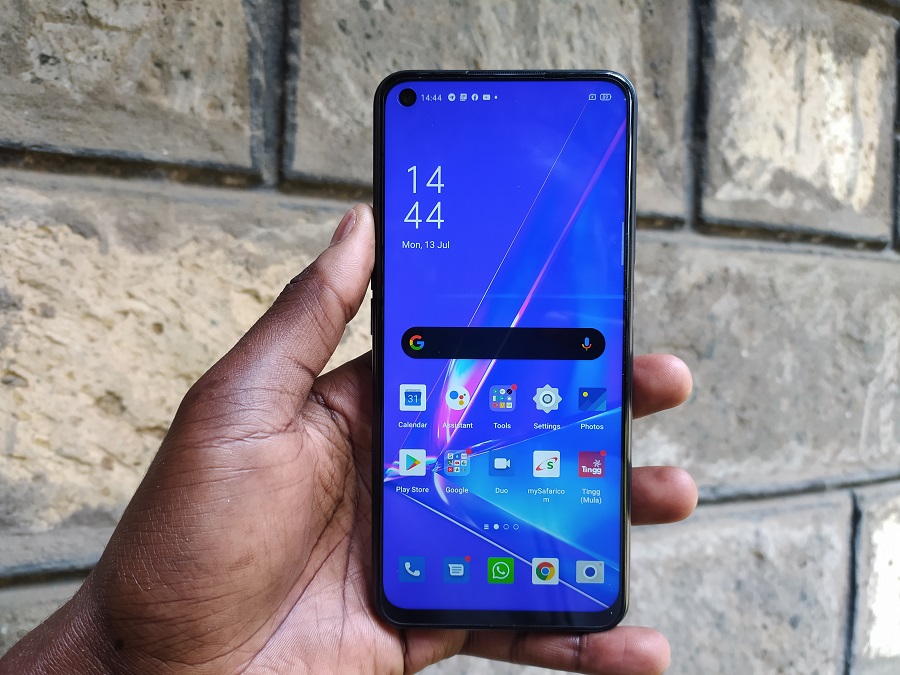 This display gets bright enough and dim to use in different environments. I found no problems using it under direct sunlight and even its dimmest settings is comfortable to use in a dark environment.
Since the phone comes with Android 10 pre-installed, system wide dark mode is available for those who want less strain on their eyes. On top of that, there is the eye care setting that can adjust the screen colour temperature to fit the different needs of users.
Software and Performance
The OPPO A92 is powered by the Qualcomm Snapdragon 665 processor that has been configured with 8GB of RAM and 128GB of RAM. The phone is running on Android 10 with ColorOS 7.1 on top. ColorOS adds a few customization options to this phone and some of them can be useful depending on how you end up using this phone.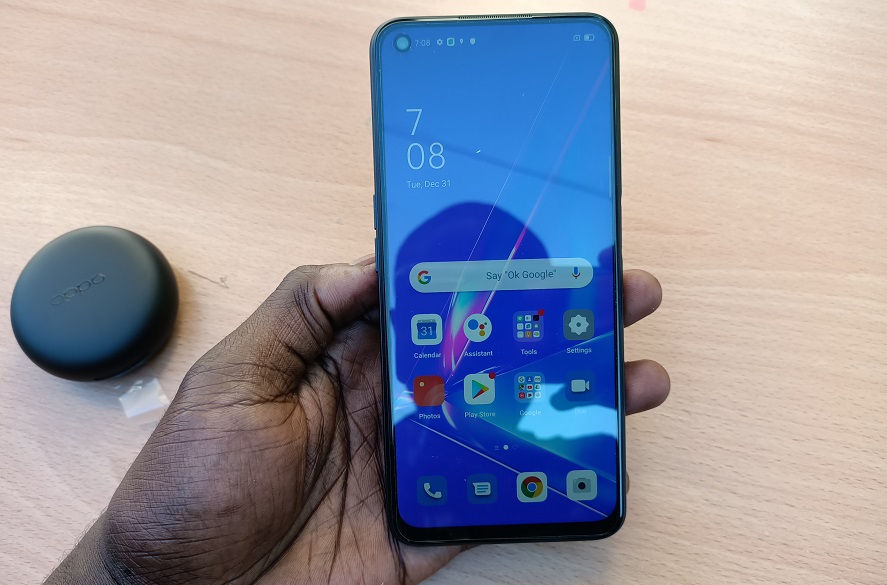 The Snapdragon 665 processor is not entirely perfect for this phone within this price considering there are better and newer processors. Even with that said, the phone handles basic tasks and light gaming without any issues. I did not have any problems with performance even when multitasking and switching between different heavy applications.
RAM management of this phone is excellent, with 8GB of RAM available, you expect that and that is what you get. I did manage to play a few games on this phone and the experience was great. PUBG runs smoothly and plays without any issues.
Cameras
The OPPO A92 comes with a total of five cameras, four at the back and one for selfies. At the back it has a 48MP main sensor, an 8MP ultra-wide-angle lens, 2MP macro lens and a 2MP depth sensor. The selfie camera is a 16MP one that is housed in the notch.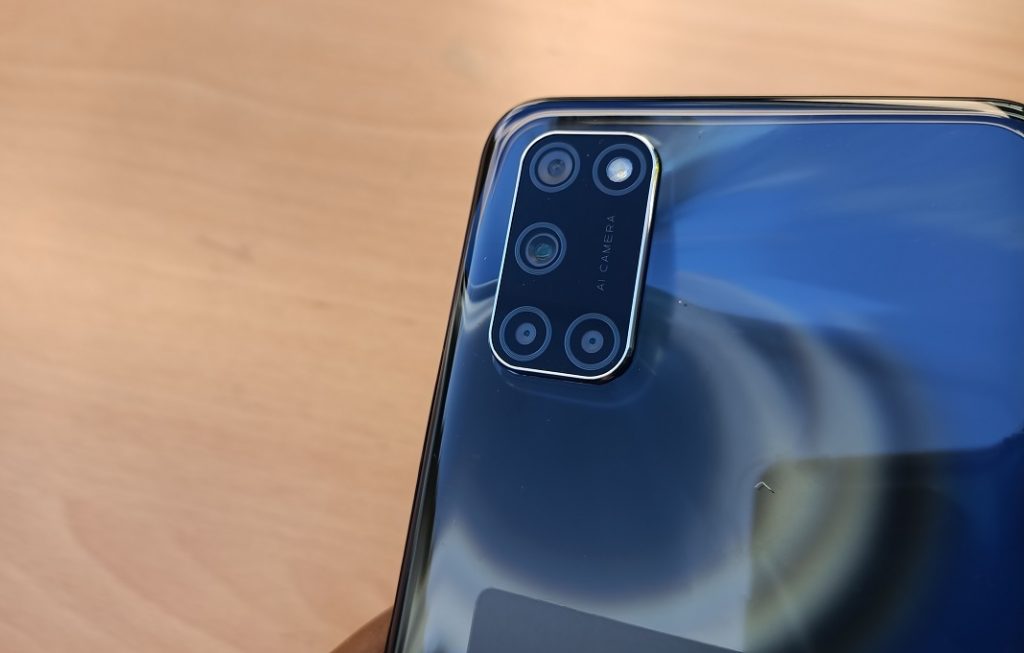 The shots you get with the back camera are quite good, very crisp and detailed for most people. Color and brightness of the shots tend to be well balanced but if you need to boost any of those, you can use the Dazzle Color option available.
The default resolution of the shots taken with the back camera is 12MP but you can change that to 48MP resolution if you want more detail. The standard 12MP resolution is good and will be enough for most people. I was satisfied with that but knowing that I could get more details if I wanted to is a plus.
There are a ton of modes available as it is expected from Portrait mode, Night mode, panorama, time-laps, slow motion and the expert mode.
For selfies, the 16MP camera does a really good job too. The shots taken with it are quite good and appear natural. Beauty mode is available if you want to enhance your selfies but most people may not really need it as the standard mode is just fine.
Below are some shots .
Battery
The OPPO A92 has a massive 5,000 mAh battery that easily lasts an entire day with heavy use. This is a big battery and even with demanding tasks, it does not drain as fast as the one on the OPPO Reno3 that I reviewed a few weeks back.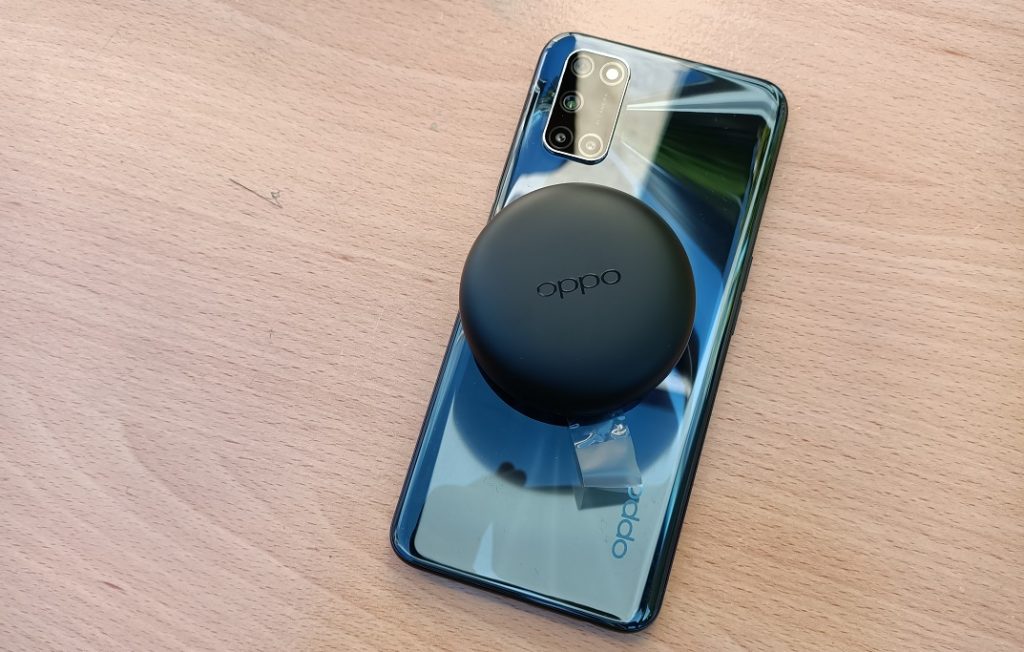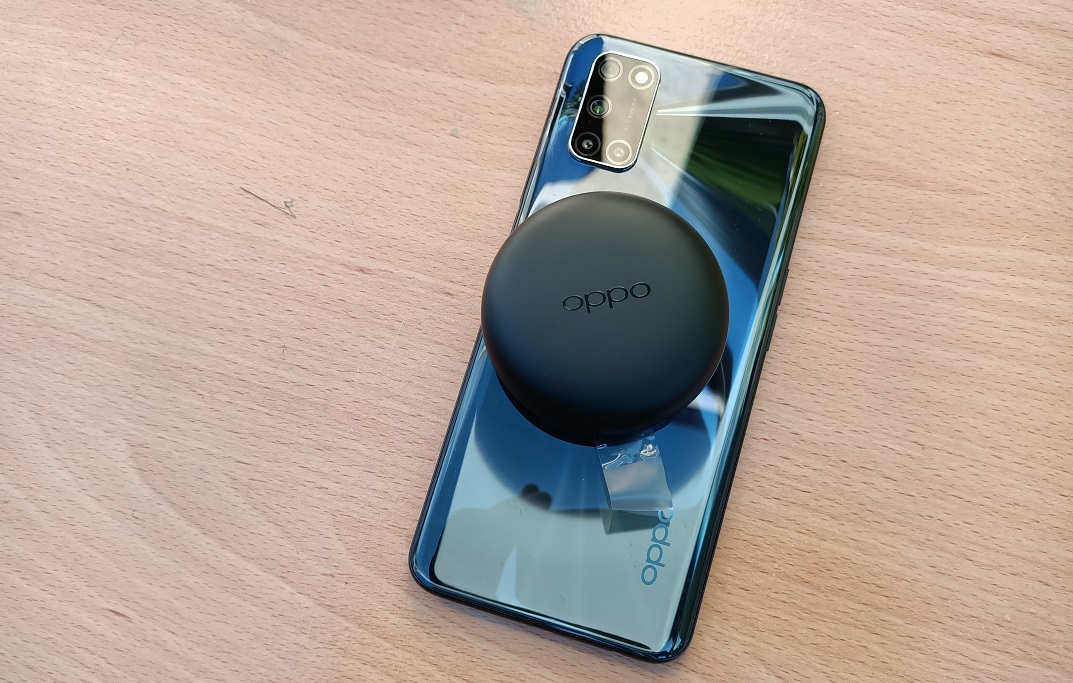 I could get screen on time of between 6 and 7 hours and in some cases I even got 8 hours of screen on time. No matter how you use your phone, this battery will be sufficient for most people in all manner of situations.
With a big battery like this, charging it will be the headache for most people. Luckily, the battery supports 18-watt fast charging that should speed things up a bit. This is not the fastest option but it is slightly faster and should save you some time. The battery can get from 0 to 50% with just about 1 hour of charging.
Conclusion
The OPPO A92 is a nice addition to the company's line up for 2020. It does have a modern design, decent cameras, stable performance and huge battery that should satisfy most people. OPPO should have included a much better processor on this phone as I feel like the Snapdragon 665 is not the right fit. It works fine but if this phone is to stay relevant for the next 12 months, a different processor could have made it perfect.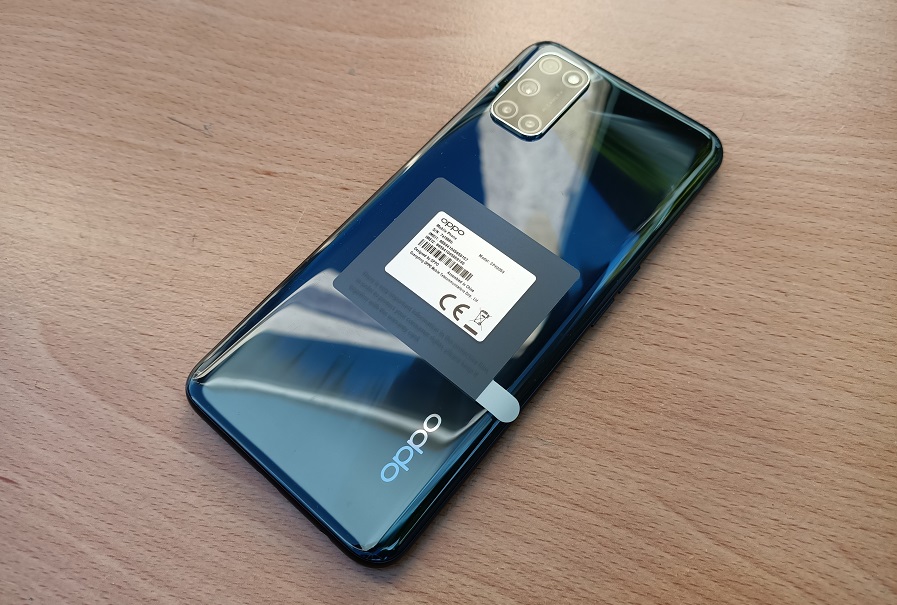 The A92 is facing competition from Samsung and Huawei but it does have a really good chance if you ask me. It builds up on OPPO's reputation in the camera department but takes things a notch higher.
Now Read: Five Things you need to Know About the New OPPO A92 Smartphone