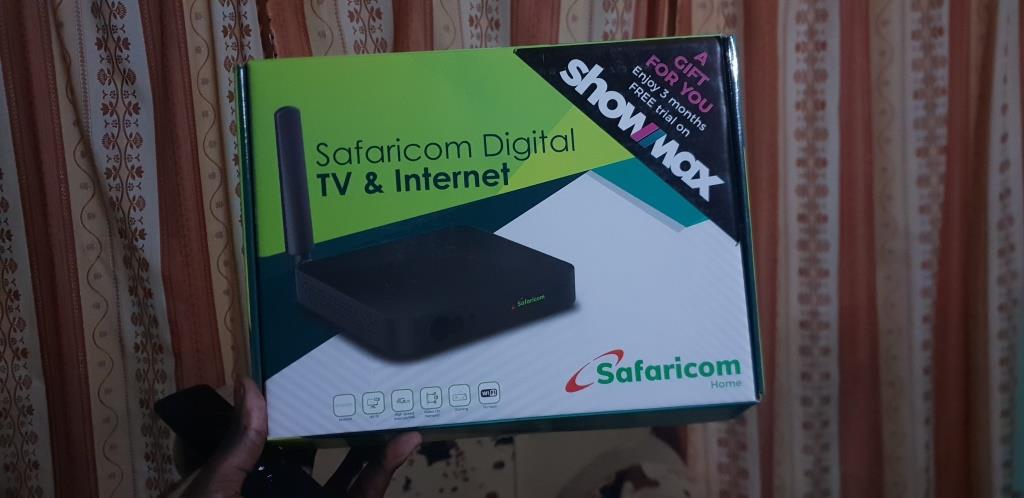 If you are like me, then you probably spend more time on YouTube and less time watching TV. As I got hooked to YouTube and other video streaming services, I found no reason to watch TV as I used to before. I have even questioned why I still pay for TV every month and I rarely use it. I have been using a Chromecast for quite sometime now and it has served me well but it has some challenges.
This is why I was excited when I got the new Safaricom Digital TV and Internet Box.
What is the Safaricom Digital TV and Internet Box?
The Safaricom Digital TV and Internet box is simply an Android-powered smart set-top box. You can use it as a set-top box to watch local free to air channels or use it as an Internet box to stream movies and TV shows to your TV.  It sort of turns your ordinary TV into a "smart" TV letting you easily stream content from different video sharing platforms.
You can stream from ShowMax, iflix, YouTube, Netflix and other Video on demand services. Besides this, the Safaricom Digital TV and Internet box allows you to cast content from your phone or tablet, just the same way you would with the Google Chromecast. In addition to this, you can plug in your flash disk if you have videos saved there. I rarely used a flash drive during my time with the Safaricom box but it is an option when you are not connected to the internet.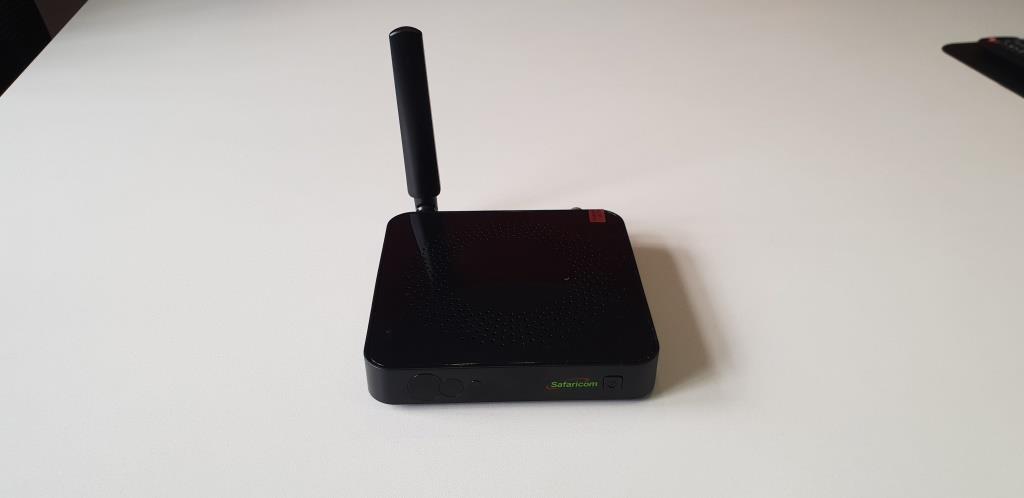 This digital TV and Internet box is an upgrade to the original Safaricom Big Box that we saw back in 2015. It is way better that the original one and I wanted to see how it really performs in the real world. This box is available for Ksh 5,999 for Safaricom Home Fibre customers and Ksh 9,999 for those not using Safaricom Home Fibre.
Safaricom Digital TV and Internet box – Features
The Safaricom Digital TV and Internet box does not just come with a new design and interface, it also brings with it upgraded features that we did not have on the first big box. Below is a list of some of some of its key technical specifications.
Quad-core processor
2GB RAM
32GB Internal storage
802.11n Wi-Fi
Bluetooth 4.1 + Bluetooth Low Energy (BLE)
3G/4G LTE connectivity
Google-cast built-in
Android 7.0 Nougat
USB, HDMI, Antenna, AV Out and LAN ports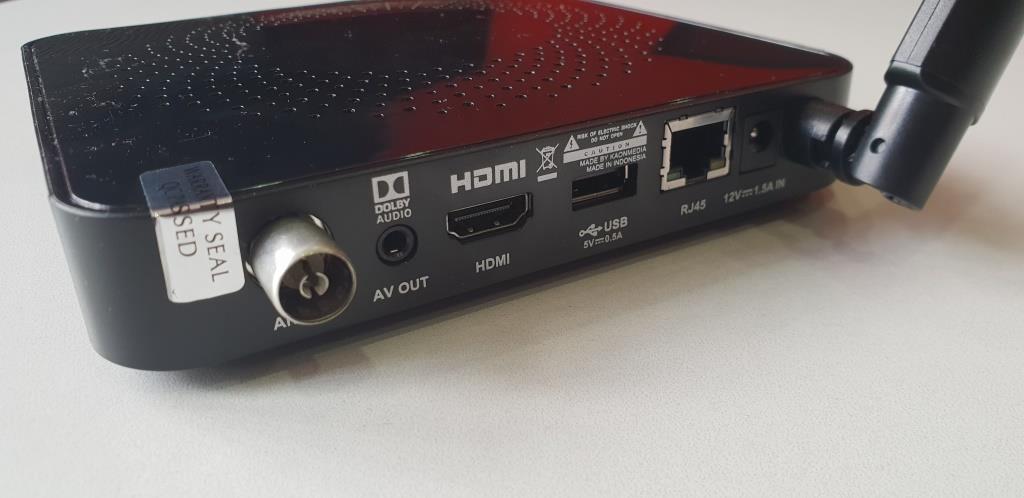 As you can see from the technical features, the Safaricom Digital TV and internet box sounds like a promising device. The 32GB internal storage space is particularly interesting as it makes it easier to download apps and games if that is something you have always wanted. Yes, you read that right, you can download games to this internet box if you want to.
Safaricom Digital TV and Internet box – Setup
Setting up the Safaricom Digital TV and Internet box for the first time is a straightforward process but it does take a few minutes. Just connect it to your TV using the HDMI cable provided and switch it on once you connect it to a power source.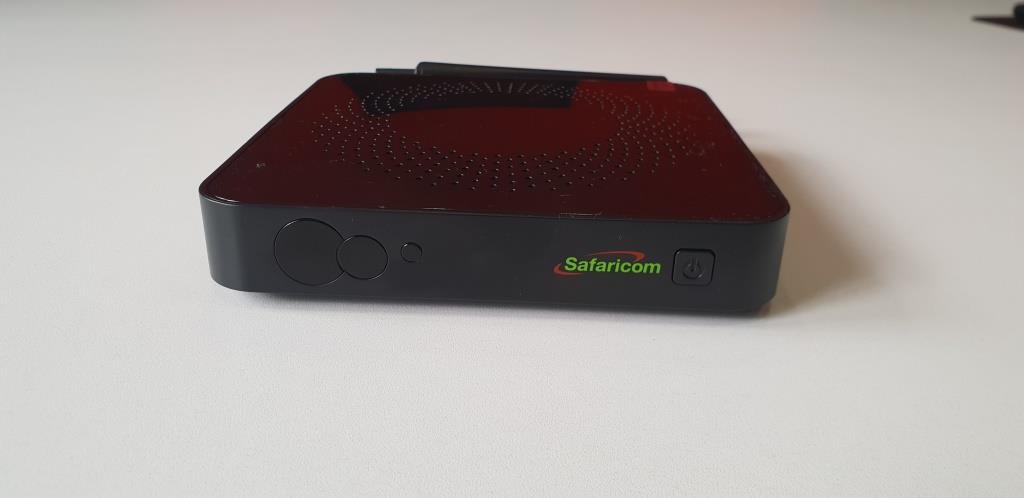 You do get an instruction guide inside the box to take you through this process. These instructions will also guide you on how to pair your box with the remote provided, this was the most confusing step for me. The instructions were clear but a bit confusing for me but then again, I was setting it up late at night so maybe I was tired and not in the moment. Speaking of the remote, it is a basic and simple one, it is cleaner and looks better that the remote we had with the first internet box from Safaricom.
If you used the first internet box (Safaricom Big Box), then you will notice that the interface on this new box looks better, It is simple and clean.
Once you are done with the setup process, you can start using the internet box and activate your 3-month free Showmax subscription using the voucher code provided. This is a neat addition and I feel like it is the perfect for someone who is just getting into this world of internet TV boxes.
Safaricom Digital TV and Internet box – Performance
Over the years, I have used a good number of internet TV boxes and performance is one of the things that determine how long I end up using that particular box. If an internet box cannot handle basic tasks, what's the point of having it? With the Safaricom Digital TV and Internet box, performance has been good so far. Navigating through the different menu items feels smooth and applications load quite fast.
The interface is straightforward and easy to navigate through. Within 5 minutes of setting it up, I pretty much knew where everything was. This is what you expect on an internet TV box and is exactly what you are getting. Recently accessed apps and videos can be accessed from the home screen, this makes it easier as you do not have to go to the app to check out some of the latest videos that have been uploaded. The only issue I have is that I rarely get suggested videos for channels that I have subscribed to on the home screen, I believe this could have made the experience better.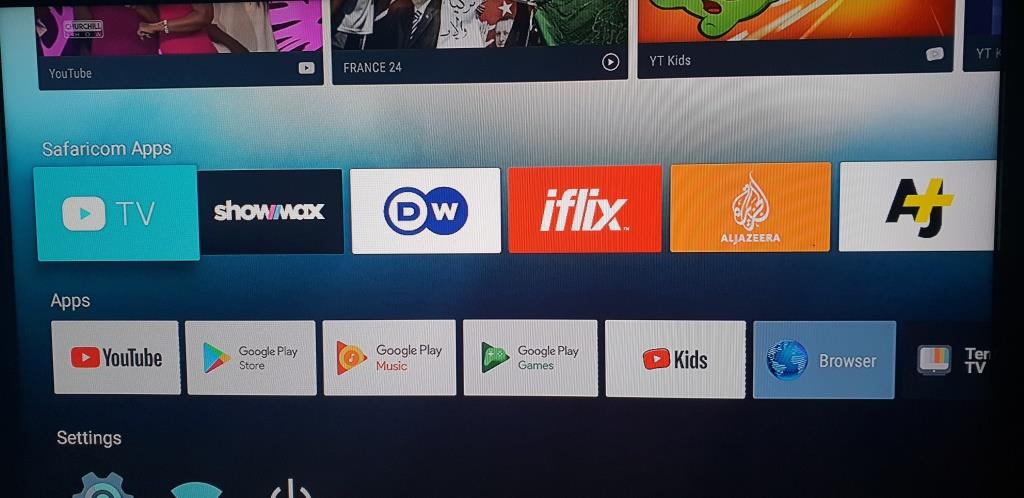 You can search for specific content right from the home screen but it does not work for all services. It works perfectly for content that is on YouTube and Netflix but I never got results for content that is on ShowMax or Iflix. This is a pity as I do have a ShowMax subscription and not Netflix so this was not that useful. If you are a Netflix subscriber, this is something you can use.
Still on searching, you can use the remote when typing but for those who find this process slow, you can download the Android TV remote control application from the Play Store to your phone and use that. I find using this app on my phone much easier and quicker for typing unlike using the remote provided.
The Safaricom Digital TV and Internet box uses a Bluetooth remote so you do not have to point it to the digital box for it to work. You can point it anywhere unlike an infrared remote. It took me a couple of days to notice this by the way ?.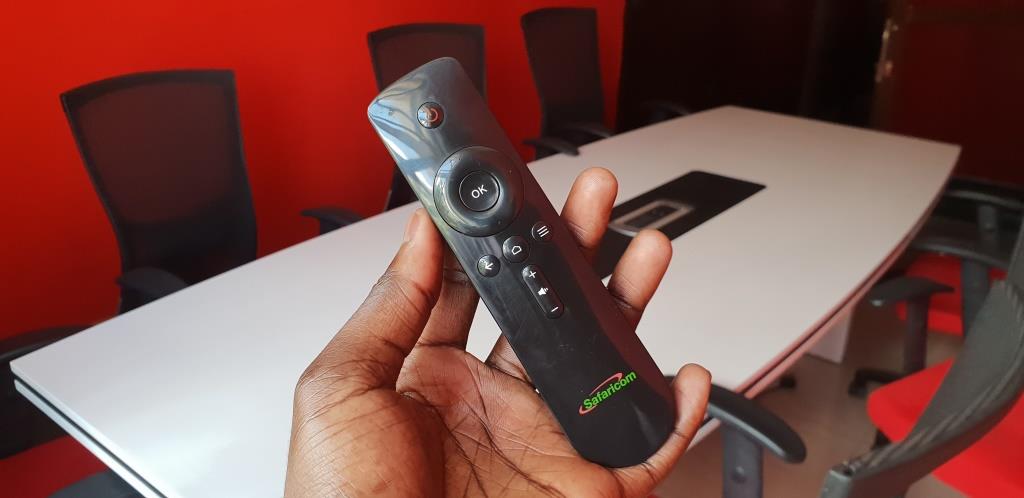 Installing third party apps such as terrarium is also possible for those who want more content to watch. This is a plus and I am glad Safaricom did not block this option. You can install apps from the Google Plays Store and even the ones not on the Play Store. If you are gong to try the latter, be careful and only install applications that you trust.
Given that this is an internet box, you will spend most times streaming movies and videos through it. You can connect it to the internet directly using an ethernet cable or you can connect it to your Wi-fi router. This box also comes with a pre-installed SIM card that you can use to connect to the internet. Still on this, you can turn this internet box into a router that 8 people can connect to.
With the Safaricom Digital TV and Internet box, you can use the embedded SIM card if you do not have Safaricom Home fibre or any other connection in your house. The embedded SIM card is 4G enabled and you can use the "Easy Data Bundles" that Safaricom has specifically for the internet box.
If you decide to use this SIM card, you will also be able to turn the internet box into a Wi-Fi hotspot and share the connection with up to 8 people. With the Easy data bundles, you will be able to browse even when the bundles run out. This will be possible for the remainder of the validity period. For example, if you buy the 30GB bundle that is valid for 30 days and use up all your data in 20 days, you will still have access to the internet for the remaining 10 days at a reduced speed of 256Kbps.
Below is a look at the Easy Data Bundles.
Easy 30
Easy 50
Bundle Size
30GB
50GB
Bundle Price
Sh 3,500
Sh 6,000
Validity Period
30 Days
45 Days
Browsing Speeds after bundle is used up:
256Kbps
To buy the Easy Data Bundles from your phone, follow the instructions below: (Note, you can only buy the Easy Data Bundles for the Safaricom Digital Tv and internet box and you cannot buy them for your phone).
Dial *400# and select "Safaricom TV"
Select the "BIGbox" option
Enter the "Mobile Number of your decoder" ( Input the MSISDN number located underneath your BIGbox or your Digital TV and Internet Box )
Select the "Buy Home Bundle"
Select your preferred bundle i.e. Easy30 or Easy50
Select your preferred mode of payment i.e. Airtime or M-PESA and confirm payment.
If you select M-PESA, you will be prompted to enter 4-digit Service PIN.
*Upon successful purchase, you will receive a flash notification of successful payment and a confirmation SMS will be sent to your BIGbox or Safaricom Digital TV and Internet Box
You can also buy the Easy Data Bundles online at www.safaricom.com/BIGbox.
What I like
Given that I interacted with the interface a lot, I find its simplicity refreshing. I can easily find what I am looking for without going through a ton of steps.
Free Showmax subscription (3 months). Who does not like free things? I like the fact that I got free access to Showmax for the next three months even though I already have an active subscription. The funny thing is I had just reactivated my Showmax subscription one week before I got this internet box .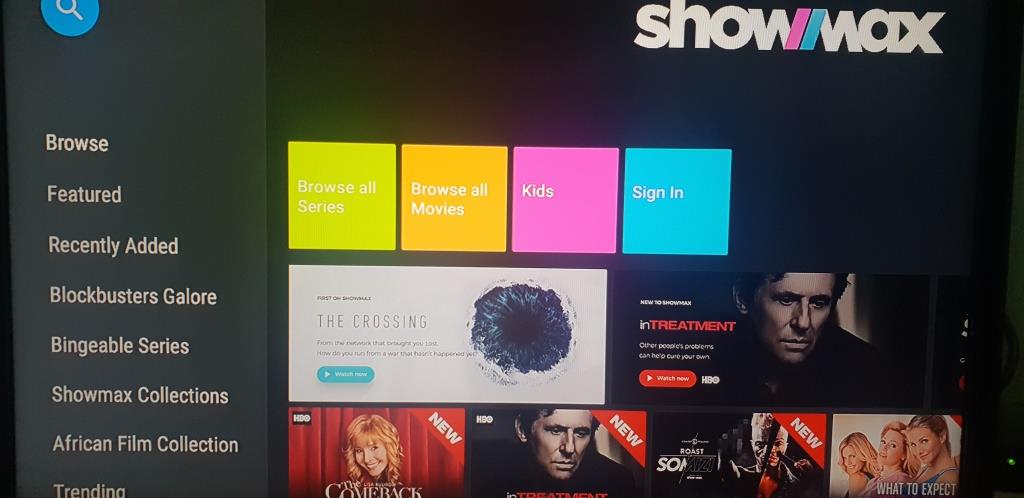 It is quick and snappy when it comes to loading applications and videos. I have used a fair share of slow internet boxes so I will always appreciate one that is not.
Can be used as a router. If you have always wanted a router in your home, you can use the Safaricom Digital TV and Internet box as one.
What I didn't like
Searching for specific content from the home screen is not useful unless the content is on YouTube or Netflix.
Connecting the remote to the internet box is not easy. I still do not know how I managed to do it even after following the instructions. May be its me but I believe the documentation could have been better.
Verdict
The Safaricom Digital TV and Internet box is a good option for anyone who has been looking for an internet box. It is fast and has a simple interface that is not intimidating at all. I would recommend it to anyone who has used another internet box or even those who have never had one. This internet box is a bit pricey for those not on using Safaricom Home Fibre but It does what it is intended to do without any glitches. Safaricom Home Fibre subscribers can get this internet box for Ksh 5,999 which is fair enough. If you are in an area with Safaricom Fibre, this is the best option. If you are not, you can buy Easy data bundles by dialing *400#. With these bundles, you will still be able to browse the internet even when they run out. This will be the case until the end of the validity period.