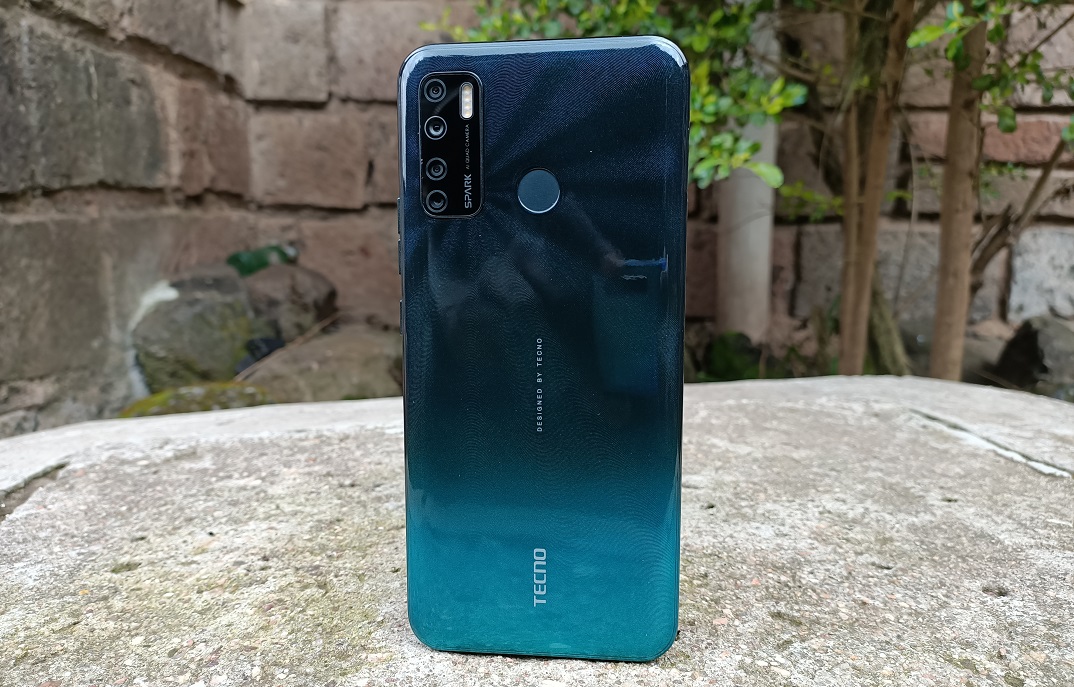 The Tecno Spark 5 has just launched in Kenya. The phone is available in retail stores starting from Ksh 13,400 on sites like Jumia. I have had this phone for a while even before it was launched and have been using it extensively and in this post I am going to share my thoughts on it.
The Tecno Spark 5 is the successor to the Spark 4 that I reviewed last year. With the Spark 5, there are not that many upgrades but there are still some changes that may make the upgrade worth it for some people. The Spark 5 has been launched at a price that is relatively higher than what the Spark 4 was launched at. This is not that big of a deal and it this review we will be looking if this higher price is worth it.
The Spark 5 is competing with some other recent devices including the Huawei Y6s, Infinix S5 Lite and even the Redmi 8. All these are really good phones and if you are within this budget, you have probably come across the three devices I have listed. The Spark 5 should therefore offer more than what the others don't if it is to be the phone that ends in your pocket.

Unboxing
Before we get to the review, let us first look at what we get in the box. The usual accessories are included as you will see below.
The Phone (Spark 5)
Screen protector
Transparent back cover
SIM ejector tool
Earphones
Wall adapter for charging
USB Cable
User Manual and warranty information
Now Read: The Tecno Spark 5 Specifications and Price in Kenya
The Design and Build Quality
I have to be honest here, I love the design of the Tecno Spark 5. There is nothing particularly unique about this design but it feels refreshing for Tecno's entry level line. It looks and feels modern and does not feel like an after thought as has been the case with some of the company's devices before.
The phone feels particularly heavy but that might be because of the 5,000 mAh battery included. It is not uncomfortably heavy but you will notice how heavy it is the first few times you use it before getting used to it.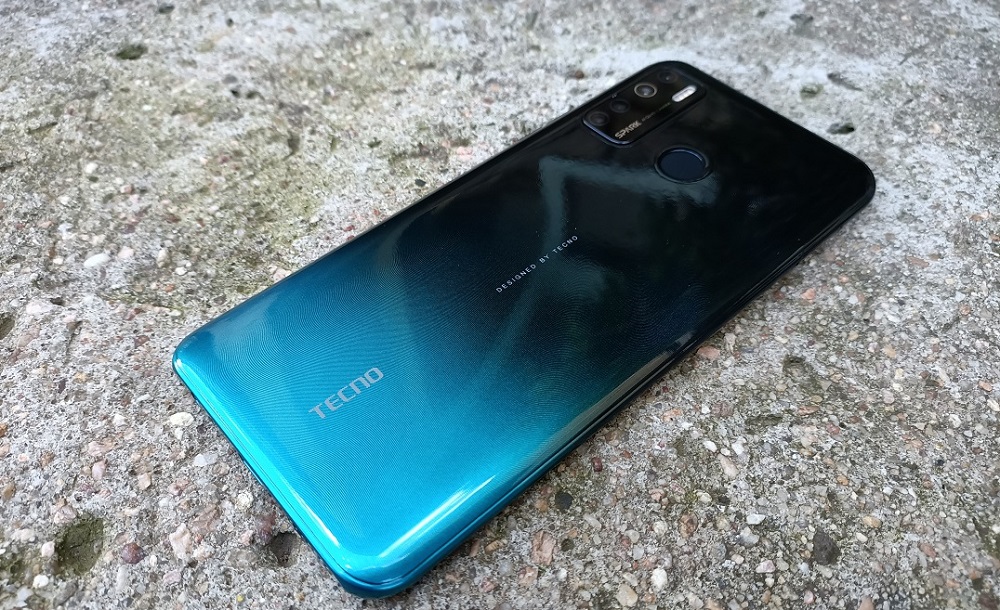 The plastic back cover has a gradient finish with mine having a colour Tecno is calling Ice Jadeite. It sort of looks like a black and green mix or something close to that. There are other colours available so check out those if the one I have is not to your taste.
At the back is where we get four cameras and the fingerprint scanner. I will talk more on these later in this review. The camera arrangement on the back is quite good and similar to what we saw on the Tecno Camon 15 series. This might be Tecno's unified look going forward.
The Tecno branding on the back has also changed and is not centrally placed at the back and this reminds me of what OPPO and some other manufacturers have been doing for a while. Nothing wrong with borrowing a few design tips from competitors.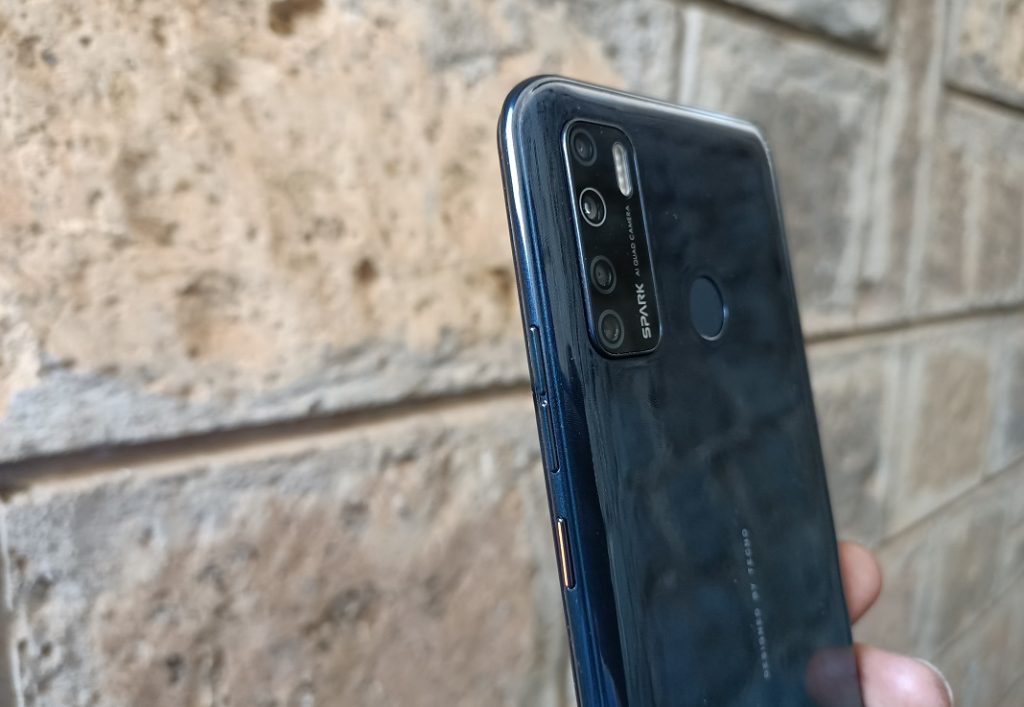 The power and volume buttons are on the right with the power button having orange/red accent for easy identifications. At the bottom we have the speaker grille, MicroUSB port, headphone jack and the microphone. The dual SIM and microSD card slot is on the left of the phone.
Overall, the Tecno Spark 5 design is good, It feels modern and this is particularly good for an entry level series that has never been known for having any ground breaking designs. The gradient finish looks really good and should be the color option every smartphone ships with.
Also Read: Five Things You Need to Know About the New Tecno Spark 5
The Display
Flipping the phone to the display, we get to see the 6.6-inch display that the Tecno Spark 5 comes with. This is not a Full HD display for some reason and we are just stuck with 720p just like in the Spark 4. I feel like Tecno could have included a Full HD display just to give this phone a kick that differentiates it from some of the other devices it is competing with.
At the top left corner of the display is the punch hole dot that houses the front facing camera. This means that we do not have the notch that we have gotten used to seeing at the center of the display. There is nothing much to say about the punch hole, it is there and you will notice it from time to time but it is not too intrusive.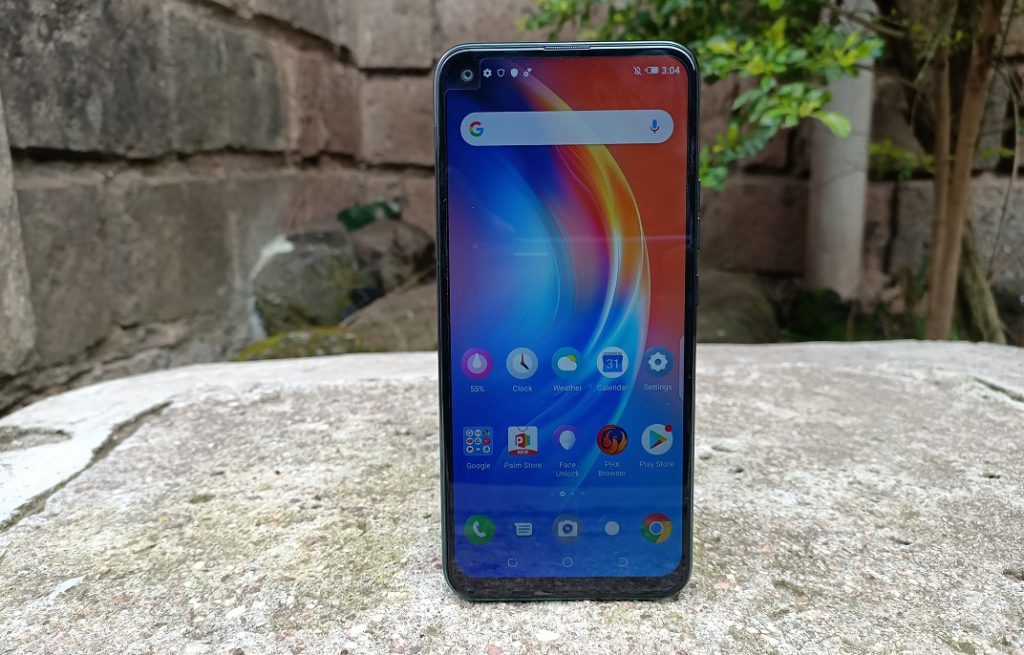 The display itself is quite good for a 720p one. Using it outdoors under direct sunlight is not a problem at all. You can still make out what is on the display but this is not the ideal way to use any display. I just wanted to point out that it can be used if you are in such a situation.
The display is bright and vibrant even for a 720 panel. If you are into media consumption, this display will do it for you. It has great colour reproduction and comparing it with previous Tecno Spark devices, the changes are evident.
Performance and Hardware
The Tecno Spark 5 comes with pretty much the same internals we saw on the Spark 4. It is powered by the same MediaTek A22 processor that has been paired with 2GB of RAM and 32GB of internal storage space. This is a standard entry level spec and you don't really expect much from it.
For day to day use, this combination does a good job but you will see it struggle when you start running demanding applications and tasks. The phone does slow down significantly in such situations and that is when you start realizing that the experience is not that different from that of the Spark 4.
The 2GB of RAM is quite small and this means that multitasking will be a pain with this phone. I am a heavy user and always have multiple apps open on my phone and spend my day switching between them. On this phone, I can still do that but the experience is not necessarily pleasant. At Ksh 13,000 and in 2020, I was expecting a slightly better experience which I can't say I got.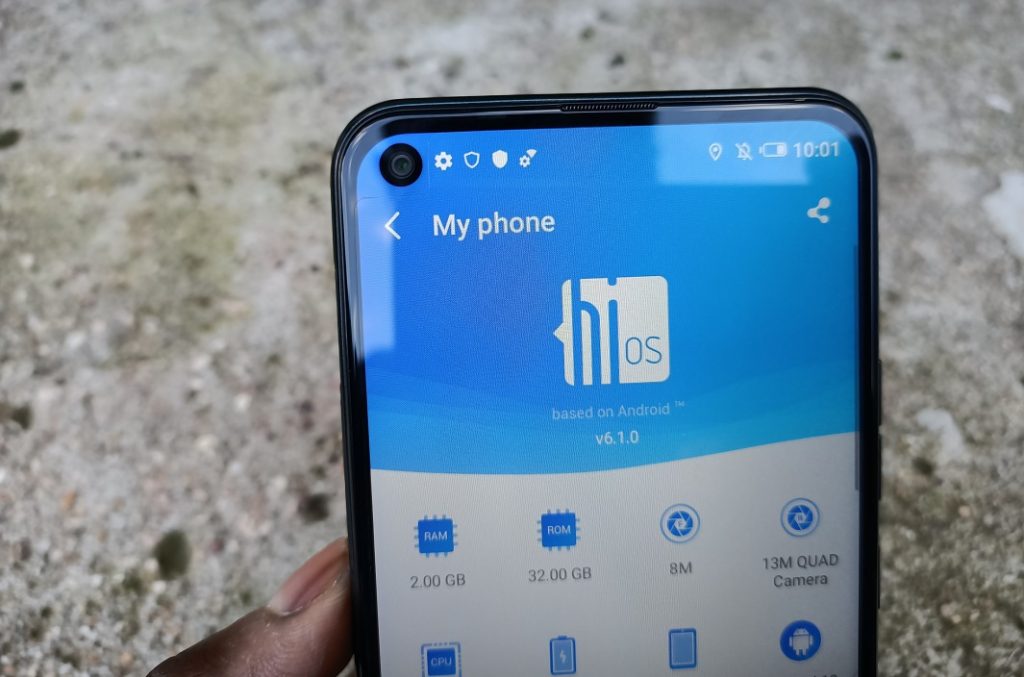 You can play a few games with this phone but do not expect a great performance, The GPU is not optimized for demanding games but can satisfy your needs if they are average. If you are into light games that do not use that many resources, this phone can handle those with no problem.
With the Tecno Spark 5, the company has pre-installed Android 10 with HiOS 6.1. With this, you should expect the usual Android 10 updates including Dark Mode and Gesture navigation. These are my best features so far and you can get them on the Spark 5. HiOS has seen some updates under the hood but nothing has caught my attention so far. It still feels like the previous version but with some aesthetic changes.
With this phone, we get both fingerprint and Face Unlock for improved security. Both are easy to setup and they work as you'd expect them to. They are accurate pretty much all the time.
Overall, the performance is average or even below that sometimes. It does handle day to day tasks with ease but I do not see any improvements from the Spark 4. This should be where we could have seen upgrades but Tecno did not do that. The RAM is not enough to be honest and that makes multitasking quite a task ?.
Cameras
This is where Tecno has put so much of its energy on. The Spark 5 has a total of 5 cameras, 4 at the back and 1 for selfies.
The 4 cameras at the back are made up of a 13MP main camera, 2MP macro lens, 2MP depth sensor and a QVGA lens. Some people may argue that these are just too many cameras but Tecno says they are meant to improve your photography experience. The shots you get are quite good with the main camera, just well detailed to make them worth sharing with your friends and family.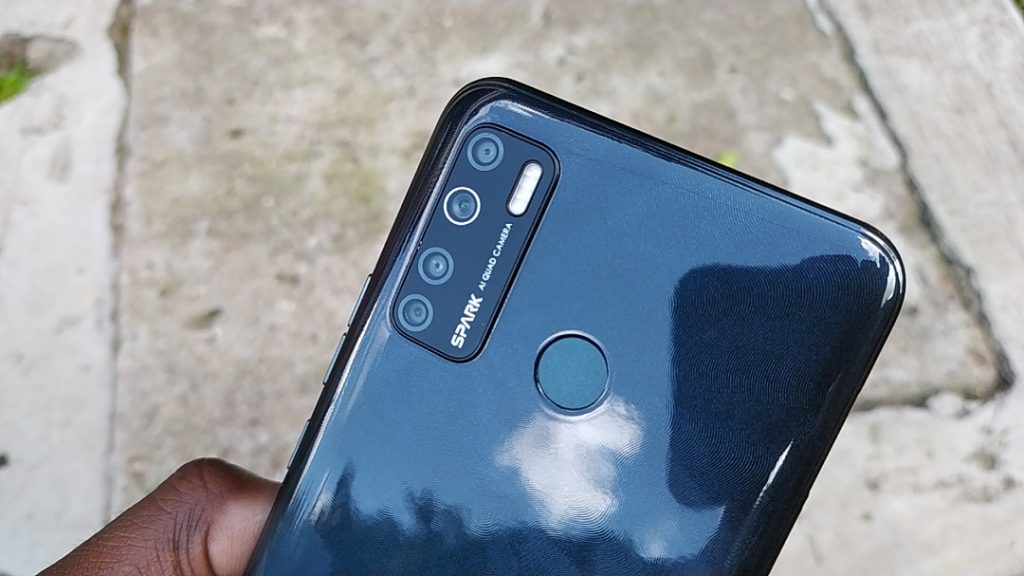 The dynamic range is good and even when taking shots when the lighting is not good does not present any serious problems. The shadows are evident when taking some shots but that is to be expected for a camera within this price.
There is the portrait mode that does a good job but still has some issues as the edges are not perfect. This is not a big deal but something I had to mention if you are going to use this feature.
The 8MP front facing camera does a good job doo but nothing extraordinary. It works well in good lighting conditions and even when the lighting is not so good, it can take a few shots that you will not be disappointed with.
Battery
With a 5,000 mAh battery and a smartphone that is not performance oriented, you expect good numbers and that is what you get. This battery lasts long and in most cases I could get up to 2 days with ease.
With this battery, expect up to 8 hours of screen on time and even more depending on how you use your phone. This is big and reliable and one of the things I love with this phone.
The one thing you have to be aware is the phone does not support fast charging and you will need some patience for the battery to be charged fully. This is the price we have to pay for having a big and reliable battery.
Conclusion
The Tecno Spark 5 is a nice addition to the Tecno family in 2020. I love the phone but I am conflicted if it is worth buying. The phone has not seen major upgrades when compared to the Spark 4 and except for the battery and cameras, it is still the same device.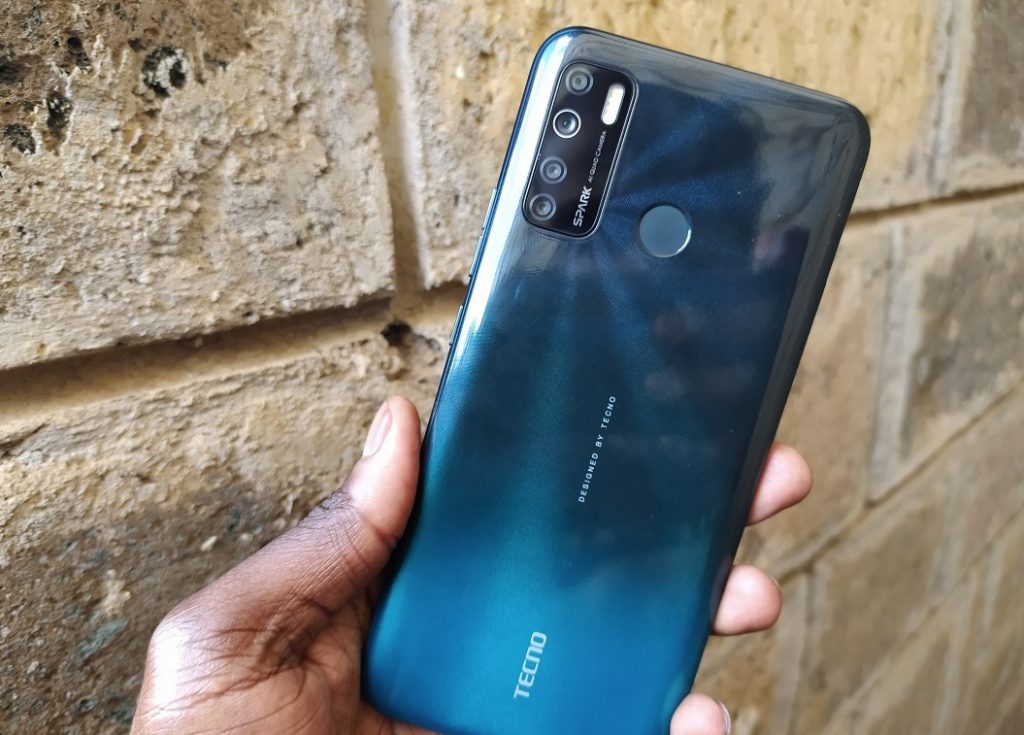 If you really want the cameras on Spark 5, Android 10 and the big battery, this phone can be good for you. If not, it is safe to skip this phone and you will not miss so much. If you have the Spark 4, this phone is not worth getting to be honest, I would wait for the Spark 6 or any other phone from its competitors.
Tecno could have done a better job upgrading the Spark series especially with the processor and the RAM in addition to the cameras and battery.
Now Read: Tecno Spark 4 Vs Tecno Spark 5 Specs Comparison– What's New?