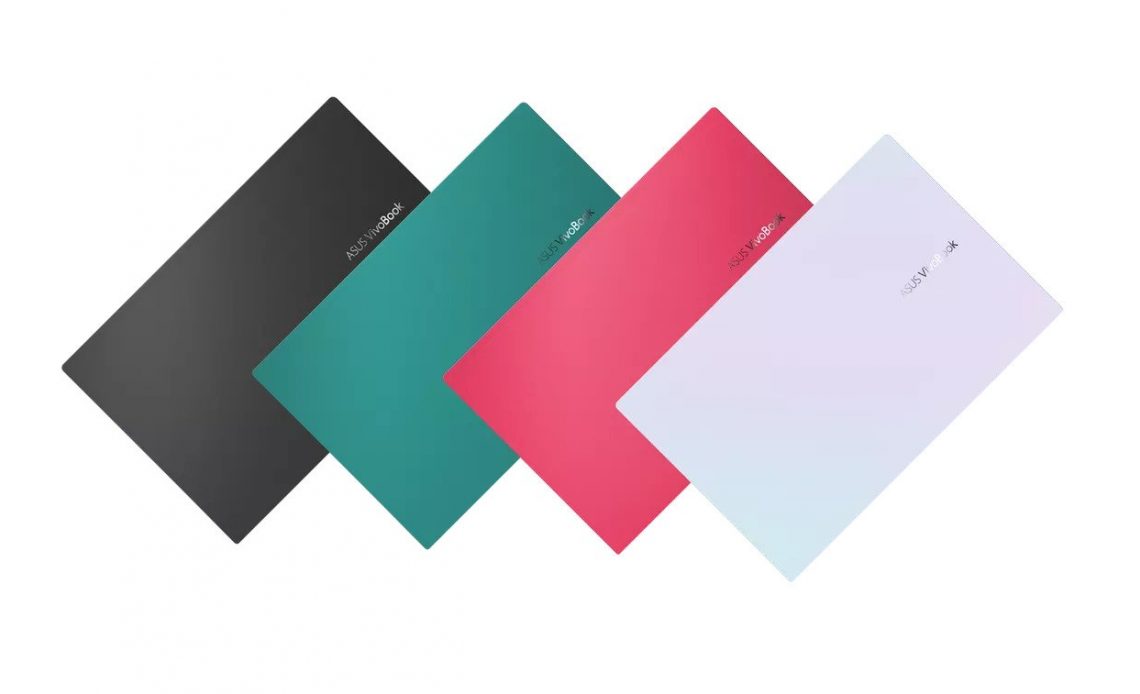 CES 2020 is underway and Asus is one of the company's present there. The company has unveiled the new VivoBook S series (S333/S433/S533), VivoBook 14 (X413/K413), VivoBook 15 (X513/K513) and the innovative 14-inch dual-screen ZenBook Duo (UX481) with a new touchscreen display option.
Asus says these laptops are designed for everyone from everyday users to digitally-driven professionals. The latest lineup pairs sleek and expressive aesthetics with cutting-edge performance powered by the most up-to-date 10th Generation Intel processors, the latest NVIDIA GeForce GPUs and next-gen connectivity with Wi-Fi 6. VivoBook and ZenBook users can also take productivity one step further with the included MyASUS software, which provides seamless integration between mobile devices and ASUS laptops.
Premium performance and looks with VivoBook S series
The ASUS VivoBook S-series laptops strike the perfect balance between personality and performance, and the models debuting at CES 2020 carry on the tradition. Finished in a variety of bold colors, the latest VivoBook S-series laptops feature 10th Gen Intel Core processors that are perfect for multitasking and high-definition entertainment, next-gen Wi-Fi 6 connectivity for significantly improved performance in congested environments, up to 16 GB of RAM, a choice between Intel integrated graphics or the latest NVIDIA GeForce graphics, and an updated chassis across the 13-inch, 14-inch, and 15-inch size classes that offers a slim bezel with a NanoEdge display.

To celebrate a new decade, the VivoBook S lineup introduces new colors: Resolute Red is a bold color that will smolder on any desk, while Gaia Green is a softer color inspired by nature. Dreamy White exudes sophistication and sets off the laptop's accents. Finally, Indie Black makes a powerful statement with the contrast between its shadowy finish and bright display. Whatever color it's dressed in, the updated VivoBook S-series' precision-crafted all-metal chassis is not only sturdy and light, but a delight to hold with its diamond-cut edges. The VivoBook S-series lineup also includes a unique yellow color-blocked Enter key that adds a bit of flair and aesthetic to each model.
With its 15.6-inch display, the VivoBook S15 offers the maximum screen space in a compact footprint, so it's the most practical choice for those who tend to multitask with two or more active windows on the screen. The VivoBook S13 is a traveler's dream, made to keep up with users wherever they go, with a 14.9 mm-thin profile and weight of 1.2 kg. VivoBook S14 is a great all-around size for a wide variety of users, with its 14-inch display and weighing in at 1.4 kg. For users who like to use a numeric keypad, variants of the S13 and S14 include the optional ASUS NumberPad 2.0, a touchpad with an integrated LED-illuminated numeric keypad for quick data entry. And for a better typing experience on all three models, each VivoBook S offers larger keycaps than average for easy, comfortable, and accurate input.
Stand out with the latest VivoBook
Bursting with personality and the latest hardware, the newest VivoBook 14 and VivoBook 15 laptops are ready-made for a connected, creative lifestyle. Users can express their unique personality with the VivoBook 14 (K413) and VivoBook 15 (K513), which both sport a sleek metallic lid that's complemented by one of three striking finishes: Indie Black, Hearty Gold or Transparent Silver. VivoBook 14 (X413) and VivoBook 15 (X513) come in Cobalt Blue, Dreamy White or Bespoke Black. Adding a unique touch to all of these models, the Enter key is highlighted in a bold yellow color. Thanks to a compact, lightweight chassis design, VivoBook 14 and 15 notebooks are easy to use anywhere, with slim NanoEdge display bezels enabling surprisingly small footprints across each model.
Style and power go hand in hand with the new VivoBook 14 and 15 laptops, and each is outfitted with the latest hardware: up to 10th Generation Intel Core i7 processors, up to the latest NVIDIA GeForce GPU for casual gaming or image editing, up to 16 GB of RAM, and optional Wi-Fi 6 for top-notch connectivity. To speed up access to commonly used apps and files, there are also VivoBook models with Intel's unique Optane memory. Users can enjoy a comfortable backlit keyboard, HDMI and USB 3.2 Gen 1 Type-C ports, and there's a microphone array for long-range use (up to four meters away) with voice assistants like Microsoft's Cortana.
VivoBook 15 (K513/X513) provides a large 15.6-inch display and full-size keyboard in a compact footprint and a weight of just 1.7kg. It's ideal for multitasking, adding a few other key features such as a dual-storage array with a fast PCIe® SSD for quick startup, up to 2 TB of HDD capacity, and a microSD card reader for removable file storage.
The VivoBook 14 models (K413/X413) with a 14-inch display are slimmer, narrower, and lighter than the VivoBook 15 models, yet offer the same processor and graphics options. They include the innovative ASUS NumberPad 2.0 dual-function touchpad (optional), storage options of up to a 1 TB PCIe SSD, a microSD card reader and a high-speed USB Type-C port to connect external storage to the notebook.
ZenBook Duo is the laptop of tomorrow
As well as introducing a new touchscreen main display option, the latest version of the groundbreaking 14-inch ASUS ZenBook Duo (UX481) also features ASUS ScreenPad Plus — a revolutionary 12.6-inch full-width auxiliary touchscreen that expands and enhances the interactive capabilities offered by the original ASUS ScreenPad. ScreenPad Plus changes the way users can interact with their laptop, allowing productivity-enhancing workflows and easy multitasking. It integrates seamlessly with the primary display, and the built-in ScreenXpert software includes a wide selection of useful apps, tools and utilities that allow users to easily enjoy the efficiency benefits of ScreenPad Plus.
Extreme performance for effortless creativity is provided by up to a 10th Generation Intel Core i7 processor, combined with up to 16 GB RAM and an NVIDIA GeForce MX250 GPU, with ultrafast storage provided by up to a 1 TB PCIe 3.0 x4 SSD. ZenBook Duo features a stunning PANTONE Validated FHD touchscreen display for breathtaking color-accurate visuals. With premium styling, ZenBook Duo comes in an elegant Celestial Blue color with a frameless NanoEdge design for immersive visuals, enabling an ultra-compact form factor and a weight of just 1.5 kg. With Amazon Alexa voice support, users can to listen to news and music, control smart-home devices and enjoy all the convenient benefits of the voice service.
Seamlessly integrate mobile with MyASUS software
The latest VivoBook S-series, VivoBook and ZenBook Duo laptops include the latest version of the MyASUS software. The software now allows seamless integration with mobile devices, using the Link to MyASUS mobile app that's scheduled for release in early 2020. New features include fast and easy wireless file and URL transfers for users who need to share files or web links seamlessly between their PC and mobile devices; Remote File Access for accessing data on mobile devices from a laptop, anytime and anywhere; and smooth multitasking using the screen mirroring and screen extender functions that give users an auxiliary display for cross-referencing and other uses.
AVAILABILITY & PRICING
VivoBook S (S333/S433/S533) will be available from second half of 2020 and the price will be communicated later.
VivoBook 14 (X413/K413) will be available from May 2020 with key ASUS retailers in Kenya, price starting from KES 60,000.
VivoBook 15 (X513/K513) will be available from May 2020 with key ASUS retailers in Kenya, price starting from KES 60,000.
ZenBook Duo (UX481) will be available from February 2020 with key ASUS retailers in Kenya, price starting from KES 235,000.
Also Read: ASUS ROG Strix G531GT Review