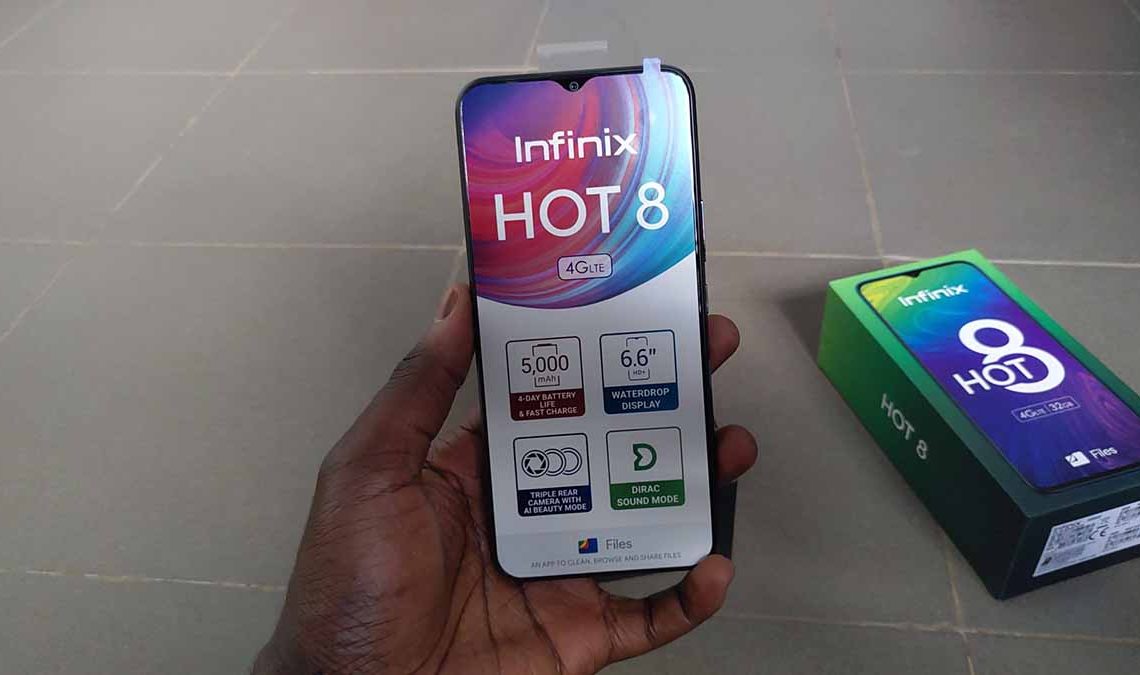 Every time I get a new phone to review, I tend to consider its price and specifications to see if it offers good value for money. This is on top of my experience using the device as most of the times, real world experiences matter more than what the company is focusing on when marketing the device.
This is exactly what I focused on with the Infinix Hot 8 that I have been reviewing the past 7 days. I did an unboxing post that you can check out here.
For those interested, the Infinix Hot 8 is available in Kenya for Ksh 10,999, there is a lite variant available for Ksh 9,999.

With the Infinix Hot 8, the company is banking on the 32GB of RAM, 4G LTE support, triple camera setup, 5000 mAh battery, a bigger display among other features to position this as the must have phone within this price range. Is this enough? Let us find out in the full review.
Design and Hardware
For a phone within its price, the Infinix Hot 8 feels well built. Its design is not exceptional but is still good. Slightly curved edges and a plastic back cover make it comfortable to use and carry around. I have no issues with it. It does not feel that different from most other Infinix smartphones I have used recently but that is not a bad thing, if it is not broken, don't fix it.
The plastic back cover is not removable and that means you can't access the battery. To insert your SIM cards, yes, this is a dual SIM phone, and MicroSD card, there is a slot on the left of the phone. The slot has two dedicated micro SIM card slots and a MicroSD card slot.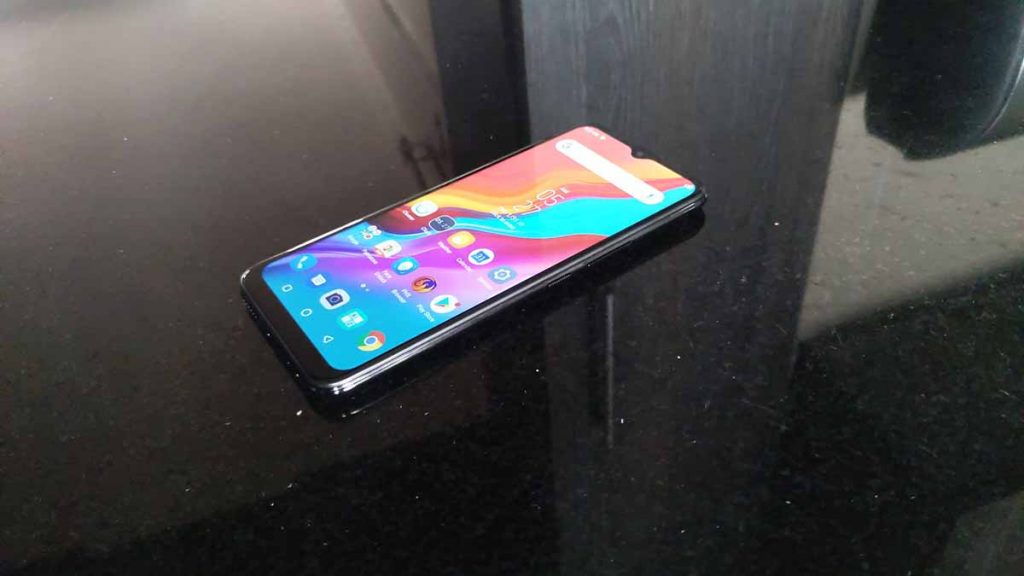 Even with its big size, I found it easier to reach the power and volume buttons on the right of the phone. The power button is slightly textured and that makes it easier to identify it even when not looking at the phone. The usual charging port, speaker and headphone jack are at the bottom.
Flipping the phone to the back we get to see the triple camera setup. I will talk about the camera later in this review. The fingerprint sensor is also at the back and as usual, it is easy to setup and works perfectly. This is not the only security feature on this phone, it also supports face unlock that is equally as easy to setup and use.
Still on the back cover, it does not feel durable and you may want to slap on the free back cover that Infinix is providing.
Display
When I first took the Infinix Hot 8 from the box, I was very impressed with the display. It was very bright and the colours pop so much. Fast forward about a week later and I am still impressed but not so much.
Yes, the colours are great and the display itself is great but there are some things here and there that I am not a fan of. For starters, the auto brightness feature can be slow at times. I have complained about with previous Infinix smartphones and I am disappointed the company has not fixed it. I know that this is not a big issues for most people but to me it is. This may have something to do with the sensors Infinix is using and I hope they address that very soon. I have used other smartphones within this price and they were fine.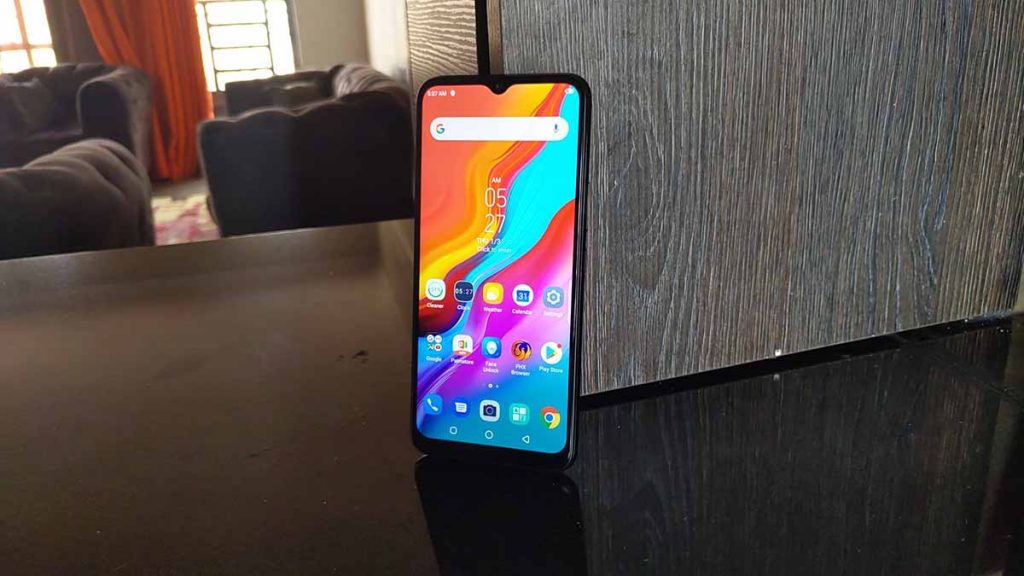 I had to mention that as I was travelling last weekend and since it was at night, every time I took my phone out of my pocket to use it I felt like I was lighting up the whole car and in most cases the brightness was not automatically adjusted to the lowest setting, I had to do it manually. This also happened from time to time when I was outdoors, it did not adjust automatically to the highest settings to compensate for that.
Speaking of the highest brightness settings, it does not get bright enough to use under direct sunlight. I have always loved Infinix smartphones for their displays as they normally get very bright to comfortably use outdoors but not this. It feels tamed and I always have to find a shade just to use the phone under direct sunlight.
Besides the two issues I have had, the display is pleasant. Accurate colour reproduction and even though its is a 720p one, watching movies on it isn't that bad.
Performance and Software
When buying a new phone, you always have some expectations that you want met in terms of performance depending on how you use your phone.
For context, the Infinix Hot 8 is powered by the 2 GHz MediaTek Helio A22 that has been paired with 2GB of RAM and 32GB of internal storage space.
For day to day use, the phone runs through different tasks with no fuss. The processor is reliable in this case and you don't feel like it is struggling. XOS, Infinix's custom UI built on top of Android 9, does not feel heavy either. It is very colourful but in terms of user experience it is not that bad. It has a ton of features that I did not get to use but I am sure there are those who will find them useful.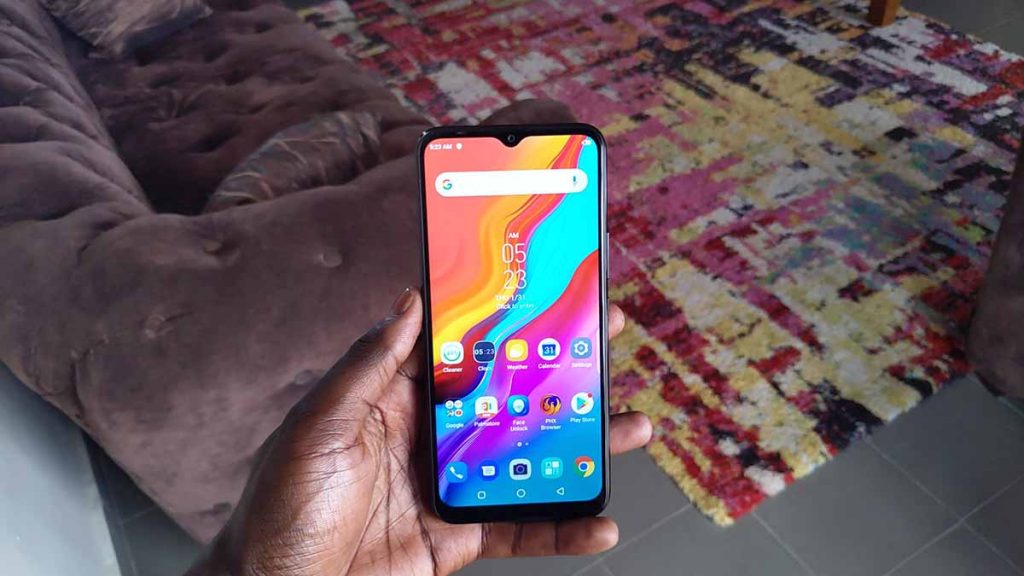 When multitasking and running heavy applications, you will notice the phone slow down a bit. Case in point, I usually have the split screen mode with YouTube and a messaging app like WhatsApp open. With this, I noticed that there was some lag when I was typing on WhatsApp or when I get a new message. This also happens when playing games when the 'Game mode' has not been activated.
The 2GB of RAM is sufficient but the phone can be very aggressive with it when multitasking. This makes sense and you will notice that most apps are closed when you switch between them as the RAM capacity is not that much. This means that, if you are on WhatsApp and switch to a different application and then back to WhatsApp, it will have to restart. No big deal here and we can understand that, I just hope the company uses 3GB of RAM or higher on the next iteration.
If you are into gaming, you can play a few of them on this phone too. Asphalt 9 runs well and with the dedicated Game Mode, you can turn off all notifications that may distract your experience.
Cameras
I was really excited to see what a triple camera setup on the Infinix Hot 8 has to offer when I first got my hands on the phone. With this setup, we get a 13MP main sensor, 2MP depth sensors and an AI sensor. I still do not understand what the AI sensor does to be honest and I did not bother finding out. At this point I think it is a gimmick.
The quality of photos you get is Ok for a 13MP sensor, well detailed with the right amount of saturation. Do not expect high quality shots though as even outdoors when the lighting is good, the shots are just Ok.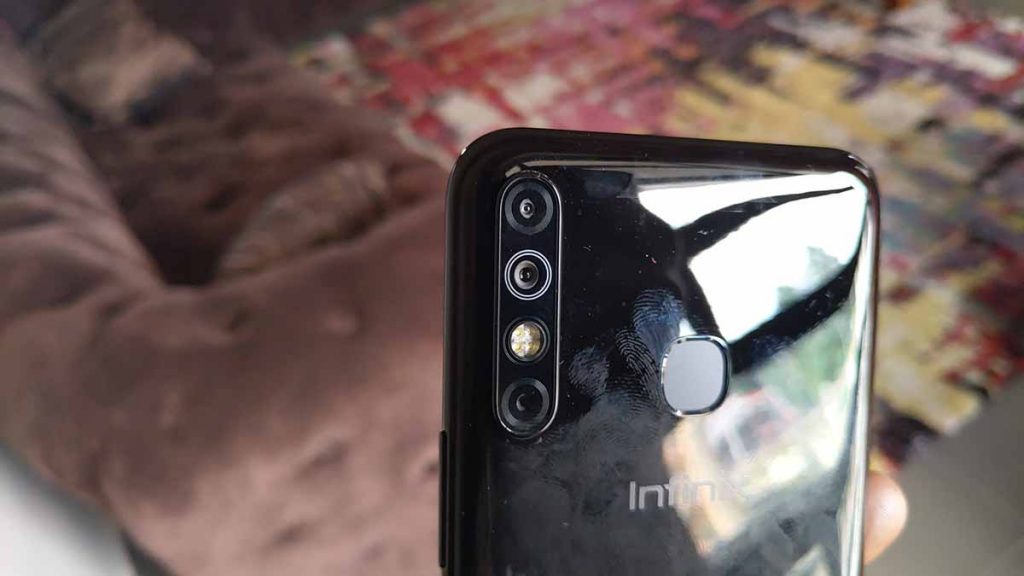 For the selfie camera, it is an 8MP one and it is good too. Great shots that you can share on social media without editing.
Battery
This is where the Infinix Hot 8 shines. The phone has a 5,000 mAh battery that lasts for a while. I have gotten over 7 hours and 48 minutes of screen on time which is very impressive. This is over 16 hours of use and clearly more than a day of actively using the phone. This phone is not that powerful and considering that plus the display isn't that hungry, you get to understand why it is so good.