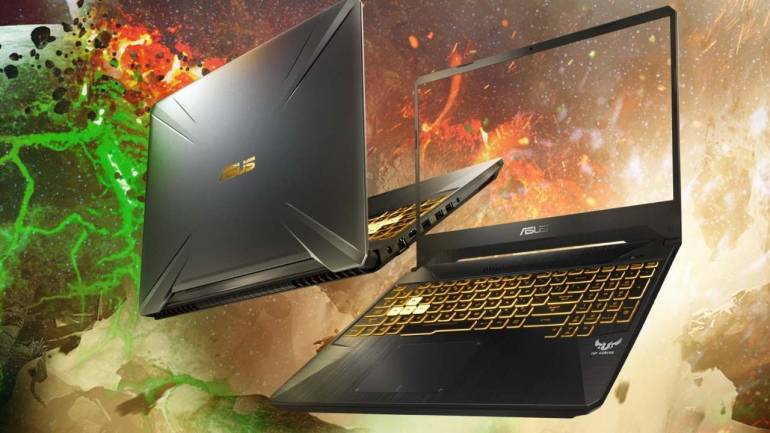 If you have ever shopped around for a gaming laptop or PC, then you know they can be very expensive. This is not even considering how hard it is to get one in Kenya, in most cases, those looking for gaming laptops of PCs had to buy overpriced ones or import them directly from other countries or just build their own rig, this can be very expensive too.
With gaming laptops, you have the portability factor and this means that you can use it on the go unlike a desktop computer. One company that has been consistent in the gaming laptop space in Kenya is Asus and one of its latest ones is the Asus TUF FX505DT.
The Asus TUF FX505DT is a budget gaming laptop from Asus that you can get in Kenya for as low as Ksh 125,000 and you can get it at Text Book Centre.

Gaming at Its Core
Since this is a gaming laptop, expect decent performance for most titles. You are not getting the same experience as you would with the expensive Asus ROG laptops but you will be able to play most games at their highest settings. The performance is quite good and reliable for an entry-level gaming laptop.
Performance is good even with max settings but I would advise you adjust the settings depending on the title you are playing. This is to ensure you get smooth all-round performance.
Speaking of performance, the Asus TUF FX505DT is powered by the AMD Ryzen 7 3750H that clocks at 4GHz. This is paired with the GeForce GTX 1660 Ti GPU that is responsible for the smooth gaming experience. For its price, this is quite a bargain especially for those new to gaming and do not want to spend a lot more on an expensive laptop but still want good performance.
Design
The Asus TUF FX505DT looks like a gaming laptop straight out of the box. It has that rugged look and feel. Asus says this laptop has undergone various tests and survived different environments and condition including radiation exposure, high altitude, and temperature extreme.
With its military-grade tests, it should survive accidental falls. If you are going to spend Ksh 125,000 on a laptop, it better be this sturdy.
The Display
The display of this laptop is really good. You get a 15.6 inch one with the new NanoEdge design with slimmer bezels. Viewing angles are really good with this display and so is the brightness. Asus used an IPS display on this laptop and ensured that the contrast is sharp for the best experience.
The one thing you may appreciate about this display is the 120 Hz refresh rate. It is so good and you will definitely love it especially when playing games. If you are planning to buy this laptop for entertainment or any other use apart from gaming, the experience is equally as good. If you are into editing photos, color accuracy may not be the best with this laptop but can still get the job done.
RGB Supported Keyboard
One of the features that we get to see on most high-end gaming laptops is the customization of the keyboard. With most keyboards, you get RGB support and the Asus TUF FX505DT is not any different. You can change the colour of keyboard back light but not of individual keys. All in all, you are getting a ton of colours to choose from.
The backlight is very bright and you can choose to adjust the brightness depending on the intensity you are after. If you want a more dramatic look, you can have it at maximum brightness.
For the keyboard's typing experience, there is nothing to complain here, it is good with decent travel distance. Asus says it uses overstroke technology that registers keystrokes faster for precise and effortless control.
One last cool feature about this keyboard is the W, A, S and D keys are transparent and easy to spot. You will not miss them when gaming.
One-Sided Ports
With the Asus TUF FX505DT, all the ports are on the left. These include a USB 2.0 and two USB 3.2 Gen 1 Type-A ports for your gaming peripherals, as well as HDMI 2.0 if you wish to connect to an external display. With all the ports on the left, if you have your mouse on the right, there is nothing interfering with its movements.
Battery
The Asus TUF FX505DT has an average battery, it is a gaming laptop and even though it is an entry level one, it is still power hungry. On normal usage (not gaming) with the keyboard back light switched off and brightness set to low, expect it to last for up to 4 and a half hours. When the brightness is set to medium and the keyboard light still off and running demanding tasks, expect to get between 2 to 3 hours of usage.
Lastly. If you are into heavy gaming with max settings, you should get about 2.5 hours of usage or a little bit more. The laptop doesn't come with that big of a battery so don't expect a whole day of usage.
Conclusions
The Asus TUF FX505DT offers good value for money for gamers who want a decent laptop without spending so much money on one. It can run popular titles with ease even at max settings and this is a big deal considering its price. It does not offer performance levels of the Asus ROG laptops but does what it promises to do and does that well.
At Ksh 125,000, this is a good deal for a gaming laptop in my opinion.
Pros:
Good design and build quality
Good CPU and GPU Performance
Excellent 120Hz fluid display.
Good read and write speeds
RGB Keyboard.
Ok Batter Life.
Cons:
Display doesn't have the best colour accuracy
A bigger battery could have been better