If you are looking to spend anywhere between Ksh 23,000 and 25,000, you may have seen the new Huawei Y9 2019, Tecno Camon X Pro and a few other smartphones. Both these are 2018 smartphones from the two companies so you are getting the latest hardware and software no matter which one you end up buying.
NB: In this post, I will be using photos of the Camon X instead of the Camon X Pro but that does not change much. I have used both phones and they share most of their specifications except for the screen resolution, RAM and storage space and the cameras.
Read: Specs Showdown: Huawei Y9 2019 Vs Tecno Camon X Pro
Design and Hardware
These days, we just do not buy smartphones for the sake of it. The phone you end up choosing has to look good. You will spend a lot of time with the phone in your hand and it has to look and feel good to hold. This is especially so if you are spending anything above Ksh 20,000. You do not want to end up with a slab that looks like something that first came out in 2010.

With that said, both the Tecno Camon X Pro and Huawei Y9 2019 have modern and classy designs. They have curved backs that ensure they sit comfortably in your hand when you are holding them. The Camon X Pro has this metallic feel with a matte finish. The Y9 2019 on the other hand has a glossy plastic finish that I have to say is my favourite. This is a bold and stylish look compared to the Camon X and Camon X Pro. The Camon X devices feel tamed and even basic to some extent, nothing exciting about them when compared to what the Y9 offers.
Display
Flipping the phone to the display, you get a 6.5 inch one on the Huawei Y9 2019 and a 6.0 inch one on the Camon X and X Pro. The Y9 2019 is slightly bigger but not uncomfortably big as it has a 19.5:9 aspect ratio that makes its size manageable. It is still big but using it on a daily basis has not been an issue for me. The Camon X and X Pro also have a different aspect ratio (18:9), so carrying one around is not a problem.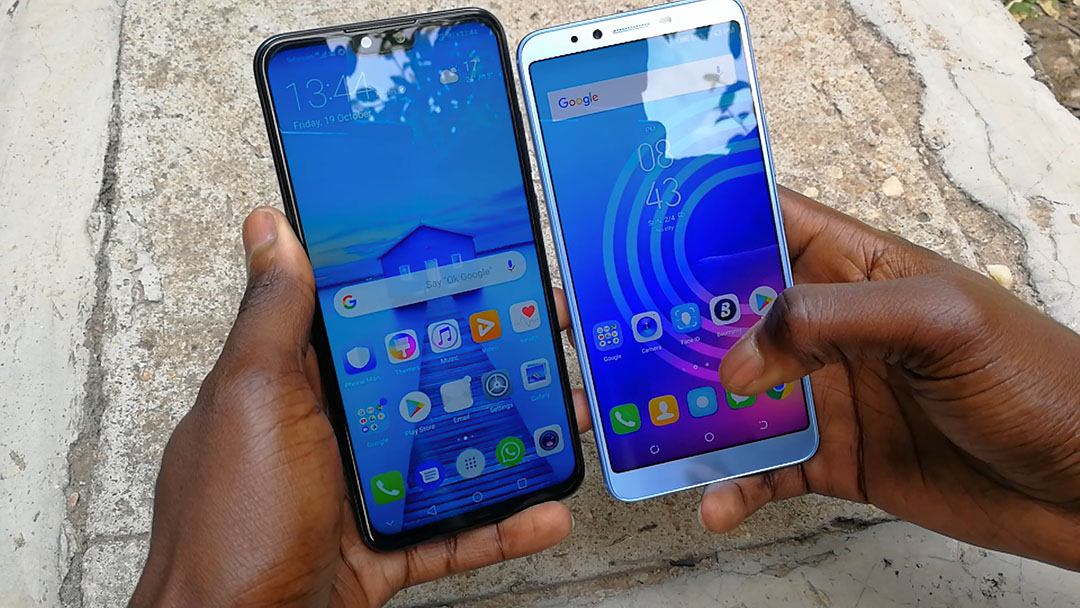 Both these phones have Full HD resolutions as you'd expect for phones within this price range. The standard Camon X does not have a Full HD resolution though, that's for the Camon X Pro. On the Y9 2019, there is a cool little trick the company is calling Smart resolution. This automatically switches the resolution between Full HD (1080p) and HD (720P) to help save power. I find this helpful as I do not have to manually adjust the resolution myself all the time. Either way, both these displays are good with great colour reproduction and I did not have any issues using them under direct sunlight.
The Huawei Y9 2019 has very thin bezels above and below the display when compared to the Camon X and X Pro that have very thick bezels. The trend this year has been to incorporate thinner displays and the Huawei has nailed it. The Y9 also comes with a notch at the very top, something that some people like and other really hate. You can hide the notch if it is an issue for you.
Software and Performance
As I have mentioned above, both these are 2018 smartphones and they come with Android 8.1 Oreo out of the box. The Camon X devices come with HiOS as their custom UI while the Y9 2019 has EMUI. These are two very different Custom UIs and I am not a fan of either. I like the extra features of EMUI and that's probably its only edge.
Powering the Huawei Y9 2019 is the company's latest processor, Kirin 710. This is a mid-range processor that in my opinion is way better than the Helio P23 CPU on the Camon series. Even with that said, you probably will not notice any difference between the two phones unless you are very keen and are into mobile gaming and use heavy applications on your phone. They are both good for day to day tasks.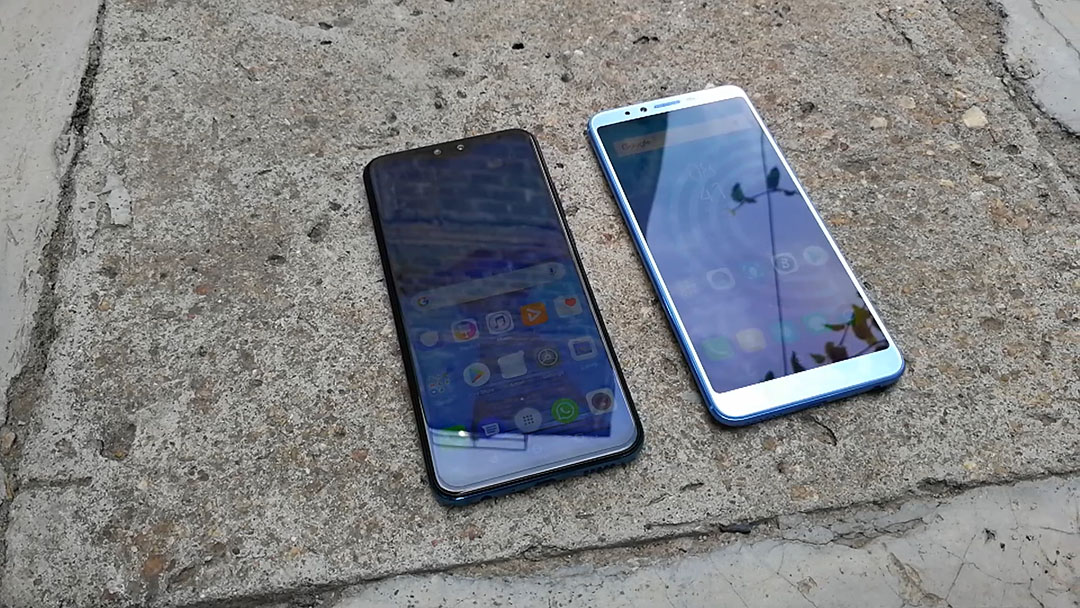 Both devices come with 4GB of RAM and 64 GB of internal storage space as standard. They both have microSD card slots with the Y9 having space for a 400GB card while the Camon X Pro maxing out at 128GB. 64GB of space is more than enough for most people but if you need extra space, you can get it from either phone.
Cameras
It is 2018 and the camera is one of the determining factors when choosing a new smartphone. Both the Y9 and Camon X Pro come with good cameras that have not disappointed me. For the selfie cameras, the Camon X and X Pro outshine the Y9 2019. The Camon X has a 20MP selfie shooter while the X Pro has a 24 MP camera. These two cameras are impressive, you get very accurate shots that look natural. The Y9 2019 takes good photos but they cannot match those of the Camon X devices.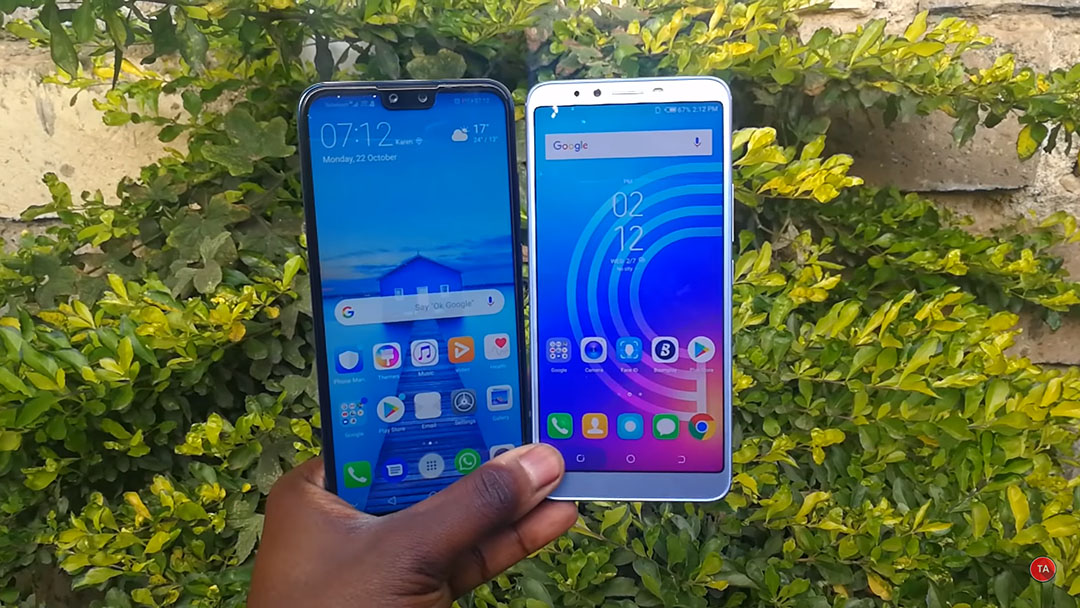 As for the back camera, the 13MP + 2MP combination of the Huawei Y9 2019 outshines the 16MP one on the Camon X and X Pro. The Y9 2019 has an AI (Artificial Intelligence) mode that has intelligent scene recognition that will identify what you are about to take a photo of and optimize the camera settings for the best shot. In the end, you end up with well saturated photos all the time. The Y9 2019 camera also supports professional mode for those who want to play with some camera features including white balance, manual focus etc. If you want these things, you can get them with the Y9. Back to the AI, you can switch it off after you take a photo just to compare the photo taken with AI mode on and what you would have with the AI off. With this, you do not have to take multiple photos, just take all of them with the AI mode on and disable it later if you want to.
Battery
Who wants to keep charging their smartphone after every couple of hours? Not me. The Huawei Y9 2019 has a 4000mAh battery lasts the whole day and even two with heavy usage. I consistently get close to 8 hours of screen on time compared to the 3750mAh battery of the Camon X Pro that does not come that close.
Both the Camo X Pro and Y9 2019 has power saving modes but the Y9 2019 has an extra 'Ultra power saving mode' that kills all other applications leaving you with access to a few to extend your battery life. This is useful when you are running low but still want to use some specific apps.
Conclusion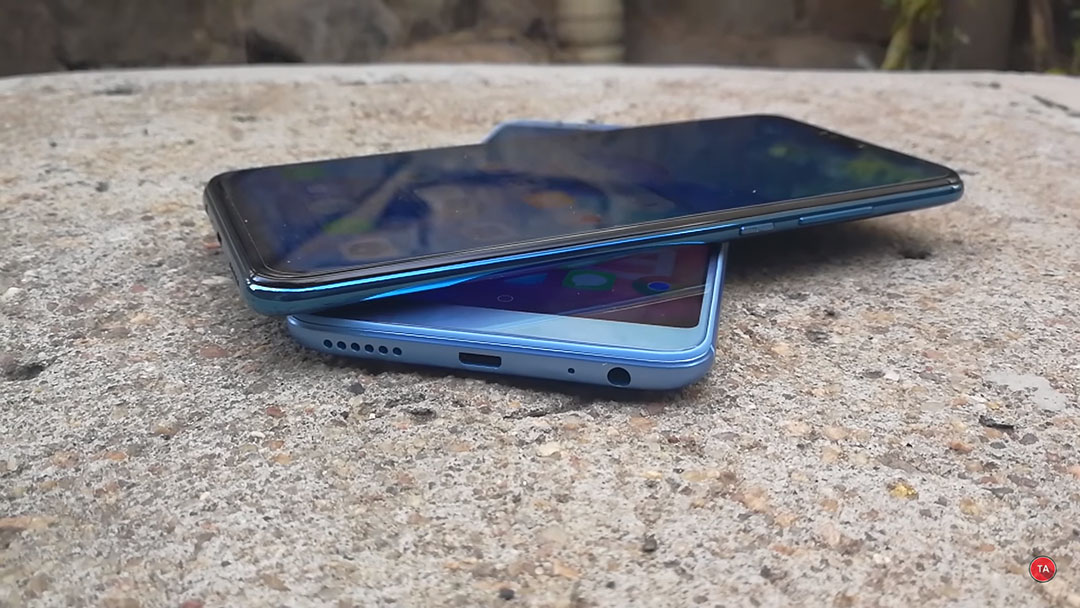 Both the Tecno Camon X Pro and Huawei Y9 2019 are good phones for Ksh 25,000. I like the design and build of the Huawei Y9 2019, its battery, AI camera mode and performance. For the Camon X Pro, I was impressed with the selfie camera, it is just good. Both phones have very good displays that I had no issues using in different conditions.
You can get the Huawei Y9 2019 on Jumia here and the Tecno Camon X Pro here.
Also Read: Camera Comparison: Tecno Camon X Vs OPPO F5