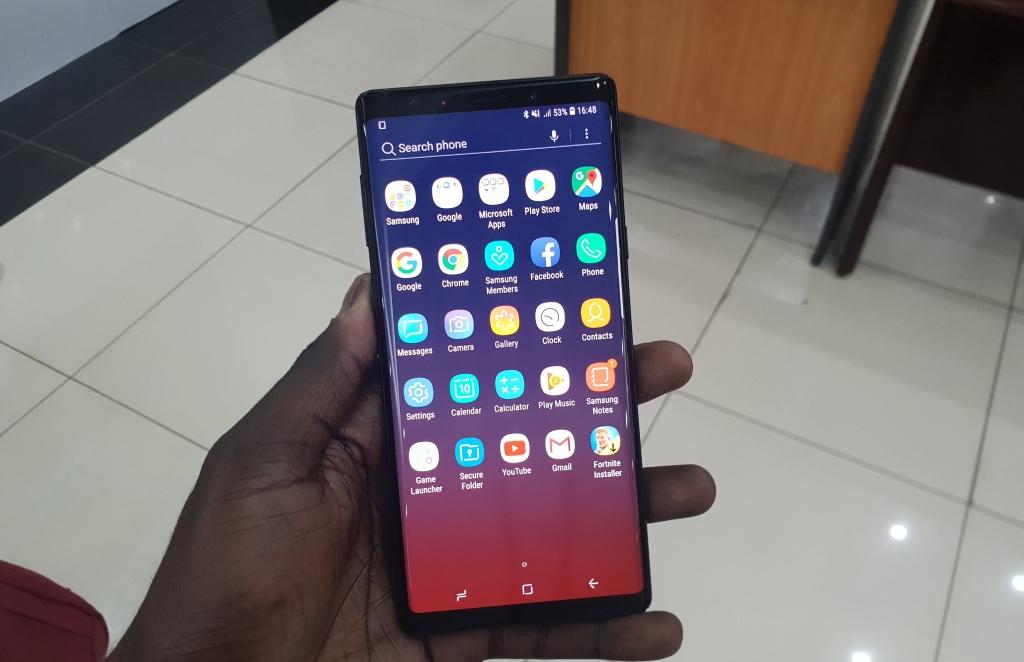 If you have Ksh 105,000 to spend on a smartphone, you may be happy to know that the Samsung Galaxy Note 9 is finally available in Kenya. The phone was officially launched in Kenya yesterday and you can get it from all Samsung Experience Stores, Safaricom shops and authorised dealers across the country. You can even get it from Masoko for Ksh 101,999 which is interesting as I was expecting Safaricom to sell the phone for more than this as it did with the Note 8 and the Galaxy S9 earlier this year.
Samsung is only selling the 128GB model of the Galaxy Note 9 in Kenya at the moment. The company has plans to bring the 512GB models later in the year. The 512GB model will be in the Ksh 120,000 neighbourhood and you should only get it if you really need all that space. As you can tell, storage space is one of the key selling points of the Galaxy Note 9 and Samsung made that clear from day one. Both models have microSD card slots and with the 512GB model you can upgrade that to 1TB with a 512GB microSD card.
Besides the storage space, the 4000mAh battery, camera, processor and S-Pen are some of the other key selling points of the Samsung Galaxy Note 9. The 4000mAh battery is massive and is exactly what you expect from a phablet. This battery brings back memories of the Galaxy Note 7 that was just a disaster as some units exploded when being charged. Samsung says that it has addressed this issue and now implements an 8-point battery safety check with its smartphones. This is to ensure what we saw with the Note 7 is an isolated incident.
I am a big fan of this battery as the one on the Galaxy Note 8 and even Galaxy S9+ could not last me as long as I wanted them to. These are flagship devices and even though performance is at their core, they should have batteries that can keep up with the performance if they are to be truly amazing.
As for the camera, the Note 9 has a scene optimizer that uses intelligence to identify elements of a photo, such as scene and subject, to automatically classify it into one of 20 categories and instantly optimize it based on the category. This is just one of the over the top additions that Samsung uses to differentiate its products from those offered by competitors. In addition to this, the camera on the Note 5 has flaw detection that will let you know if there is something wrong with the photo for you to quickly take another photo without losing the moment.
Some of the other key specifications of the Samsung Galaxy Note 9 are listed below.
| | |
| --- | --- |
| OS | Android 8.1 |
| Display | 6.4-inch Quad HD+ (2,960 x 1,440) |
| Processor | 10nm 64-bit Octa-core (2.7GHz + 1.7GHz) |
| RAM | 6GB/8GB |
| Storage | 128GB/512GB + MicroSD up to 512GB |
| Rear Camera | Dual: 12MP Wide Angle + 12MP Telephoto |
| Front Camera | 8MP |
| Connectivity | Wi-Fi 802.11 a/b/g/n/ac, Bluetooth 5.0, USB-C, NFC |
| Cellular | LTE Cat. 18, 4×4 MIMO, 5CA, LAA |
| Battery | 4,000mAh |
| Durability | IP68 |
| Biometrics | Iris Scanner, Fingerprint Scanner, Facial Recognition |
| Dimensions | 161.9 x 76.4 x 8.8 mm / 201g |
Is it Worth It?
So, is it worth it? This is a tough question and depends on what you exactly want. If you are one of those millennials who take photos every time, this is not exactly the phone for you even though its has a very good camera. There are other cheaper camera-centric devices that can cover you on that. This phone is for those who want the best of the best on a smartphone. It comes with all the latest features and hardware that you may not need but you do have them. The price is a bit high and this may be a deal breaker for many. I do not think you should sacrifice in other areas of your life just to get this phone. If you cannot afford it, then it is not the one for you. On the other hand, if Ksh 105,000 is not a lot for you, then go ahead and get this phone as it is a really god phone in my opinion.
Partnership with Barclays Bank
When announcing the Galaxy Note 9 in Kenya, Samsung also announced a new partnership between Barclays Bank and Samsung dealers where Platinum and Gold Barclaycard holders can purchase the device through an easy installment payment plan at 0% interest.
Also Read: Samsung Galaxy Note 9 – Kenyan Pricing And Release Date