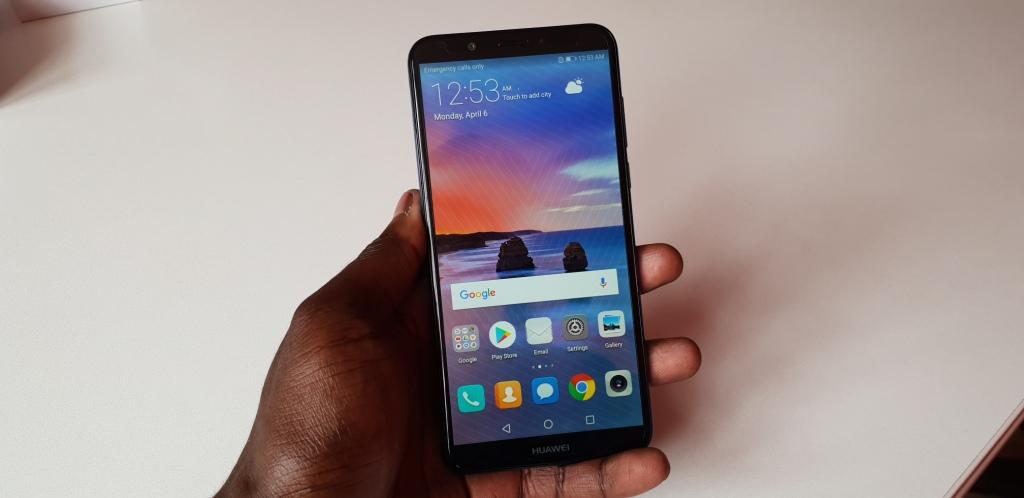 The Huawei Y7 Prime 2018 is one device that the company hopes will help it reach out to the young customers who are looking for the best camera and performance on a device that is affordable. The phone is available on Kilimall for Ksh 17,000, a reasonable price if you ask me.
With this price, the Huawei Y7 Prime 2018 has some competition from the like of the Infinix Hot 6 Pro. So, the question is, what does the Huawei Y7 Prime 2018 have to offer and is it a device worth considering if you are looking for one within this price range? This review will try to answer these and many other questions.
The three key selling points of the Huawei Y7 Prime 2018 are the display with an 18:9 aspect ratio, performance that is determined by the Snapdragon 430 processor, 3GB of RAM and 32GB of expandable storage space and lastly the cameras comprising of a dual setup at the back and an 8MP selfie one.

For those interested in the full list of specifications of this phone, you can check them out using the link below.
Read Now: Huawei Y7 Prime 2018 Specifications
Design, Hardware and Build Quality
Sleek, Plastic back
Given that you will be spending most of the time with the phone on your hand, looking at the design and build quality is top priority. To summarize this, the Huawei Y7 Prime 2018 looks and feel good. Huawei has nailed the design that has curvy edges that ensures the phone is comfortable to hold and carry around.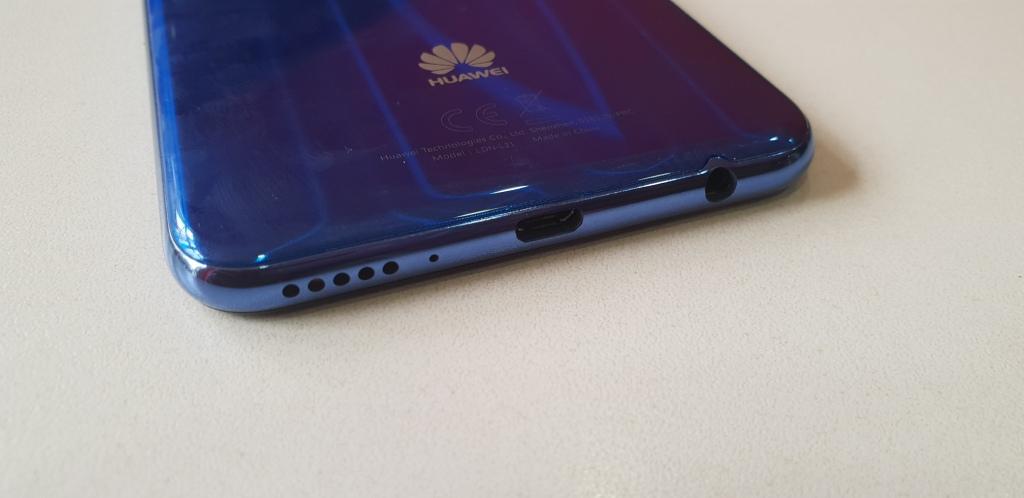 It feels different from most other smartphones within this price range and this is a good thing.  The 18:9 aspect ratio also makes it taller and narrower and thus fits comfortable on the palm of my hand easily. If you want a phone that feels different, this is the one, you just have to try it yourself to understand what I mean.
I got the blue variant of this phone and it looks really good. There is a black one and even a gold one but the blue one does it for me. This blue back cover looks like it has a shiny metallic finish but is actually plastic, not a bad thing though as it still feels good. Speaking of the back, this is where you will find the fingerprint sensor, dual camera setup (13MP+2MP) and LED flash.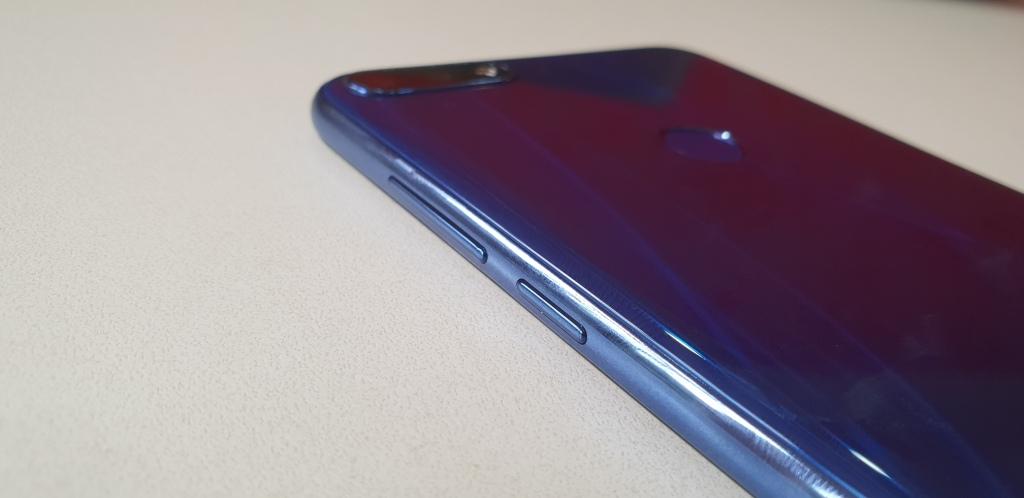 Along the right side we get the power and volume keys that are easy to tell apart with the SIM card and microSD card tray on the left. At the front we have the 5.99-inch display with an 18:9 aspect ratio with the front facing camera, LED flash and a few sensors above it with the Huawei logo below it.
The Display
5.99-inch, 18:9 aspect ratio, 720p
As I have mentioned above, the Huawei Y7 Prime 2018 has a 5.99-inch display with an 18:9 aspect ratio with very thin bezels. This is the display you will see some manufacturers refer to as a "FullView" display and just means that the display is twice as tall as it is wide. With most other smartphones, we usually get a 16:9 aspect ratio for those who have been wondering.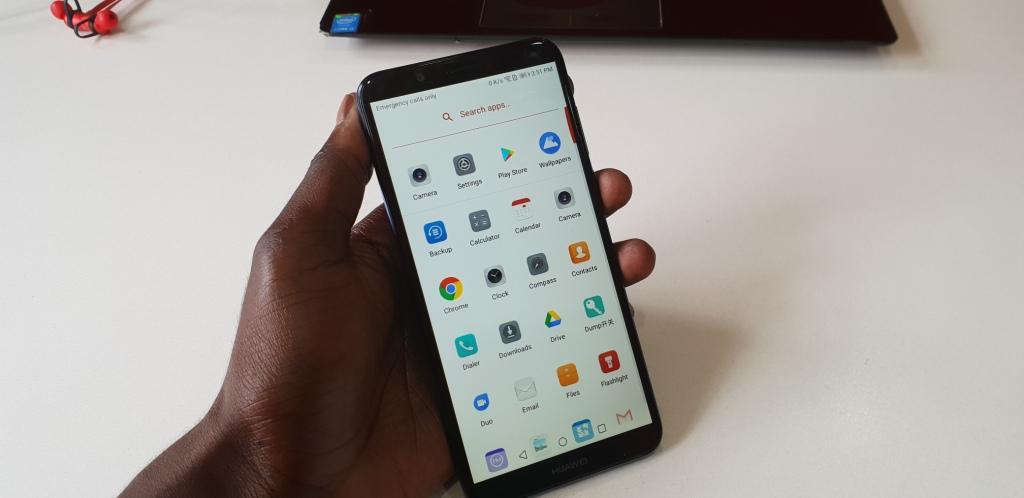 This display has a resolution of 720 x 1440 pixels. I am not going to complain that it is not a 1080p display as not many consumers really care about that stuff for a phone going for Ksh 17,000. The only issue I will complain about is the vibrancy of the display. Even though the display gets very bright, it is still dull for my taste. It has some sort of brown and warm feel and initially thought that I had activated the night mode. This bugs me so much as I spend so much time looking at the display and this is not something I would want to see. I have seen other display made by Huawei and I know how good they can be and that is why the one on the Y7 Prime 2018 has disappointed me. Using this display outdoors is possible but doing so under direct sunlight is not a pleasant experience.
That aside, the display comes with a screen protector already installed. This should be standard for all phones within this price range and is a plus for Huawei. The screen protector should protect it from accidental scratches when you have the phone on the table, in your purse/bag or in your pockets.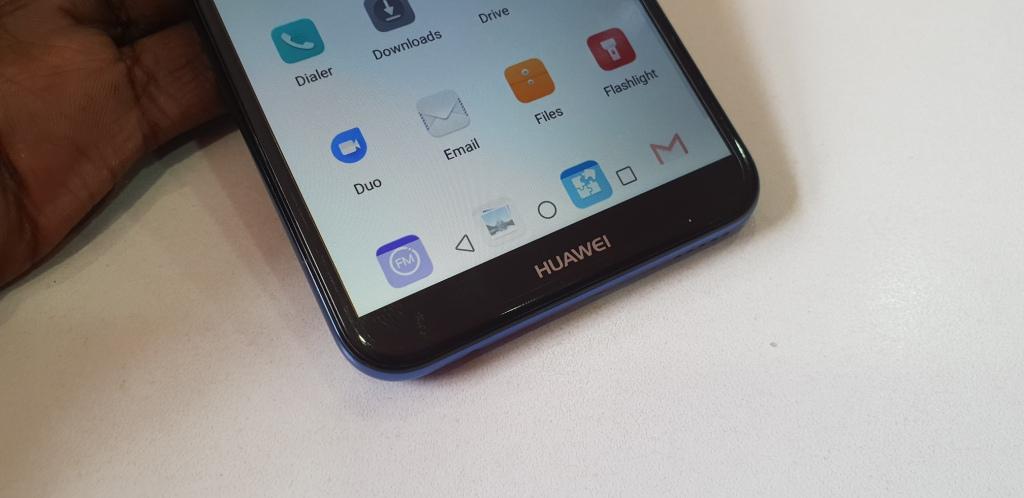 This display is very responsive and this is something you should consider when buying a new smartphone. It is a fingerprint magnet but is still usable as it is not the worst I have seen out there.
Performance and Software
3GB RAM, 32GB internal storage, Adreno 505 GPU, Snapdragon 430
The Huawei Y7 Prime 2018 comes with 3GB of RAM, 32GB of internal storage space, Adreno 505 GPU and Snapdragon 430 processor. These did not fail me during the review period, the phone handles tasks with ease as you'd expect from such a combination. Multitasking does not slow down the phone either.
If you are into mobile gaming, you will be able to play a couple on this phone without any issues. The Snapdragon 430 processor may be old but it still gets the job done and to be honest that is the most important thing. Day to day tasks will be handled smoothly and even some heavy and demanding applications such as Instagram do not slow down the phone.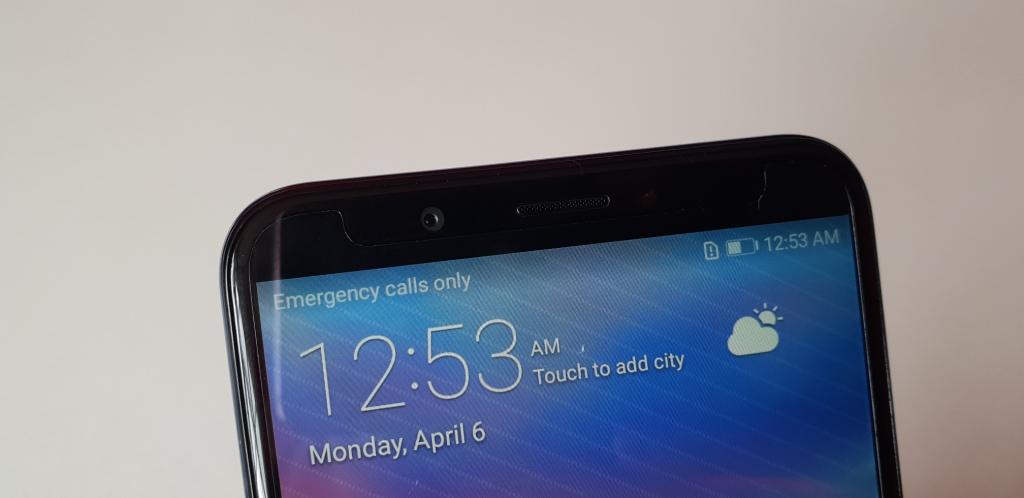 For the software, the Huawei Y7 Prime 2018 should come with Android 8.0 Oreo out of the box but the review unit I have has Android 7.0 Nougat with EMUI 5.0. I don't know why this is so but it is what I got. If you are planning to buy this phone, you will get one running Android Oreo with EMUI 8 out of the box.
Even though I have Android Nougat, the phone performs well and the only things missing are the Android Oreo specific options. The overall software experience is great so far.
Cameras
Back: 13MP+2, Front: 8MP
The Huawei Y7 Prime 2018 comes with a dual camera setup at the back. This consists of a 13MP and 2MP sensors. The extra camera is to help with the portrait mode as it creates a shallow depth of field that blurs the background and keeps the subject in focus. This creates a dramatic effect that we are used to seeing on professional cameras. It takes a few seconds to process portrait shots and the results are always good. Even though there are two cameras, the software plays a big role in ensuring the portraits are good and worth sharing with your friends. You will need to have the subject at a distance for the best results and expect some isolated cases where the edges are not blurred to your liking.
The selfie camera on the other hand is an 8MP unit that takes really good shots. There is a beauty mode that smoothens your selfies by removing blemishes and whatnot. You can disable this feature if you want an all natural look. The selfie camera also has flash support for those who tend to take selfies when the lighting is not so good. You can have this flash turn on automatically depending on your environment, you can turn it off or have it on all the time the camera app in opened.
The camera app used here is the same we have seen on most Huawei phones. It has a ton of features and modes that give you a better photography experience. If you have used any recent Huawei phone, you will feel right at home, if you haven't, you will still get used to this app in no time. It has everything laid out properly unlike some other camera apps I have seen.
Battery
3000mAh Non removable
The Huawei Y7 Prime 2018 comes with a 3000 mAh battery that should ideally last you an entire work day. This can be attributed to the display with a low resolution, the processor that is not that power hungry and the different battery optimization features Huawei uses. Huawei is one of the few companies that has some good batteries on devices within different price ranges and this is commendable, I never have issues with their devices.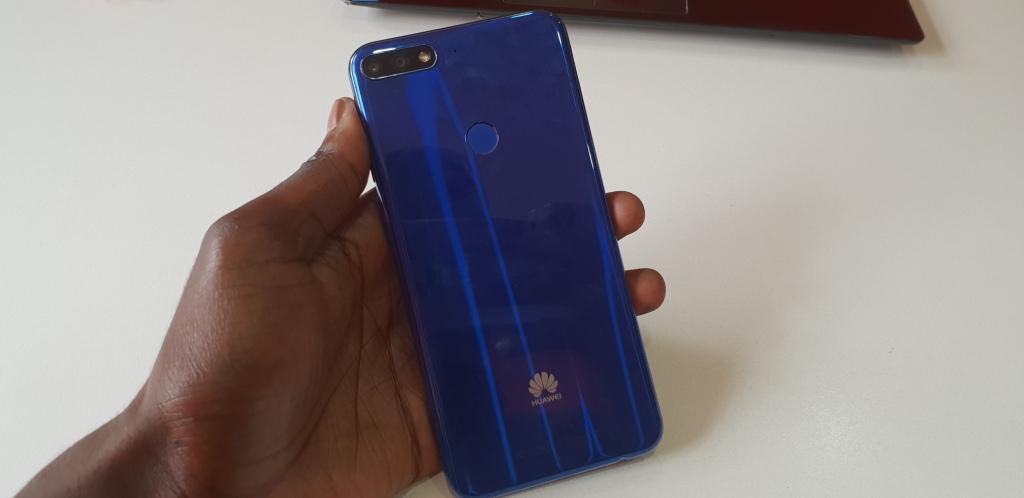 Even with heavy usage, in most cases I would end the day with enough to get started the next day. In most cases, I am connected to the internet (either Safaricom's 4G or Wi-Fi) with location turned on and most of the apps syncing in the background. I also play a few games from time to time as well as use social media, make a few calls and send a couple of texts. With this kind of usage, there are phones that will have to be recharged after a few hours but the Y7 Prime 2018 is not one of them. If you happen to run low, you can activate the power saving mode to get you a few more hours of usage with reduced performance.
Still on charging, the Huawei Y7 Prime 2018 does not support fast charging and you will have to sit and wait for it to be fully charged. My trick here is to always turn on the ultra-power saving mode that reduces power consumption and charges the phone a little bit faster.
Conclusion
Worth it?
The Huawei Y7 Prime 2018 is one of those devices that will surprise you. It performs better than I expected it to and brings some of the modern trends such as the 18:9 aspect ratio to this segment. The cameras are good, even though the contrast may be too much in some cases, for those who want good shots to share on social media.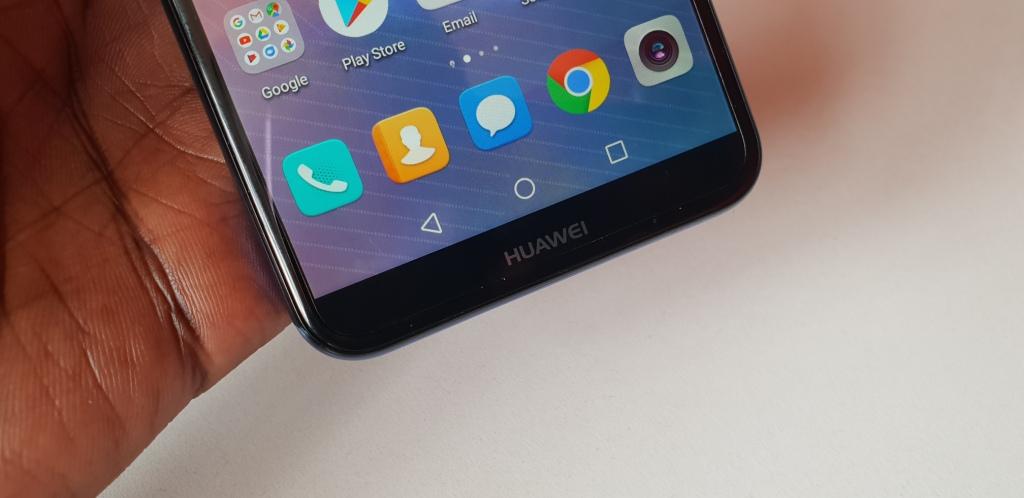 My big issue with the phone is the display. It is just not that vibrant which leaves you with a dull looking screen compared to what we see on other manufacturers. I seriously don't know why the company has done this as most of its other devices have good displays. This may not be a big issue for most people but is something I had to point out. If you can live with it, this device is worth checking out.
Also See: Specs Showdown: Huawei Y7 Prime 2018 Vs Infinix Hot 6 Pro