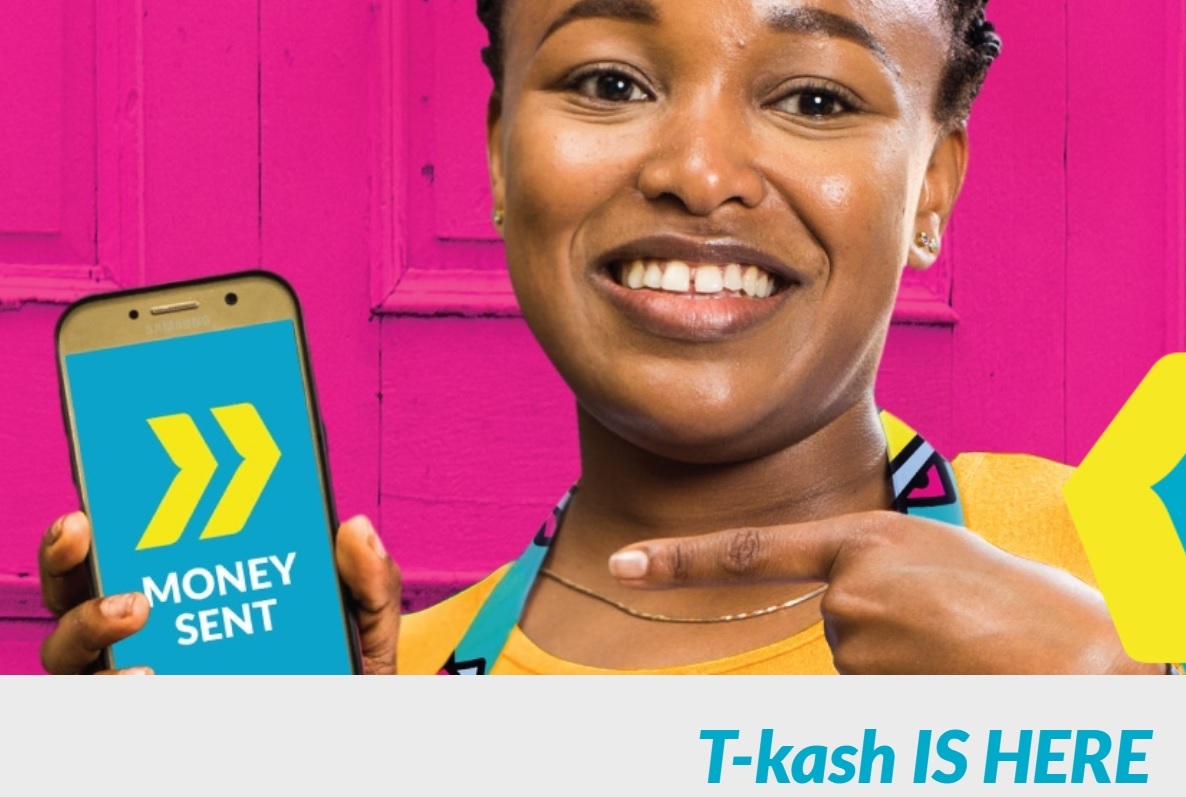 Yesterday, Telkom Kenya unveiled its new Mobile Money service, T-Kash. The company made so much noise about this product and this was expected. Ever since Telkom Kenya rebranded, its has had this hyped approach to almost everything it does. In a market dominated by Safaricom, you have to make so much noise for people to know you are around.
So What's T-Kash?
As I pointed out in the first sentence of this post, it is the company's Mobile Money Service just like M-Pesa. This is not the first mobile money by the company, it had Orange Money back in the day but this was not that successful. The company decided to axe this last year and promised a better version was on the way. Well, the better version is here and it's T-Kash. It works like any other mobile money service that allows you to send money to other users, withdraw money, pay bills, buy airtime or pay for goods and services.
Telkom says that T-Kash is a viable alternative to the mobile money services available on the market. It offers value, convenience and security as its main propositions but the company has so far not explained these aspects in detail. The convenience part is understandable as you will see below when we look at how T-Kash works. The value part is still hard to point out at this point and it probably has something to do with the rates it offers. You can see the rates below.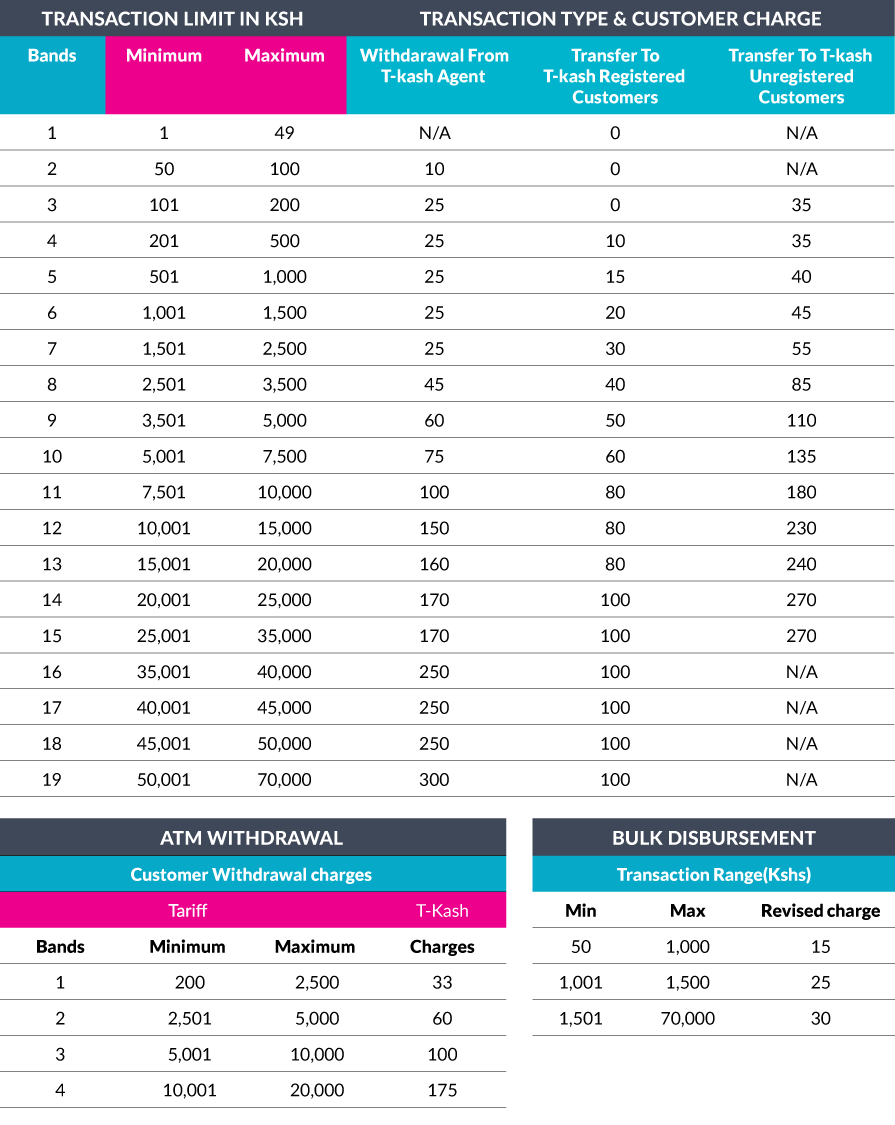 As for security, the company says, "The T-kash system is based on more advanced technology that is not only simple but also more flexible and secure". We will have to take their word on this as it is not easy to come to a conclusion unless there is an independent audit of their systems.
How It Works
Now that we have a rough idea of what T-Kash is, let us look at how it works. Before you can use T-Kash, you will have to register first, obviously. This can be done by an authorised agent or any Telkom shop near you. At the moment, the service can only be accessed via a USSD code (*160#) as long as you have registered to use the service. This will change soon as the company will push STK menus and make it available through its mobile app according to TechWeez.
To withdraw money using T-Kash, you will need to generate what the company is calling a T-Kash code. This is generated for free when you initiate a withdrawal transaction and is valid for 10 minutes. You will them present this code to the agent for you to get your money. When withdrawing money from an ATM, you will have to key in this code to get your money. With this, there will be no use for agent numbers or till numbers when paying for goods and services. The company says this is helpful as it will reduce the time executing transactions. This sounds good and I am excited to see a different process from what we are used to with M-Pesa. It sounds easier than typing the agent number and having to confirm the same when paying for goods and services.
How to Buy Goods & Services with T-Kash
Go to your T-kash Menu and select 'Buy Goods and Services'.
Enter Amount & confirm details (You can set a maximum limit of the amount you would like to pay).
Enter your T-kash PIN and press send.
You will receive a T-kash SMS with a T-kash Code that is valid for 10 minutes.
Present the T-kash Code to the Merchant to process your payment request.
You will receive a T-kash confirmation SMS.
Paying Utility Bills Using T-Kash
Go to your T-kash Menu and select 'Pay Bill'.
Enter Biller number.
Enter Account number & confirm details.
Enter amount.
Enter your T-kash PIN.
You will get a T-kash confirmation SMS.
How to Withdraw Cash from an Agent
Visit the nearest T-kash Agent.
Confirm the T-kash Agent has sufficient funds to process your transaction.
Give the Agent your original identification document.
Go to your T-kash Menu and select 'Withdraw Cash'.
Select 'From Agent'enter the amounts.
Confirm details, enter your T-kash PIN and press send.
You will receive a T-kash SMS with a T-kash Code that is valid for 10 minutes.
Give the Agent the T-kash Code to process your withdrawal request.
The Agent will process your withdrawal request and you will receive a confirmation SMS from T-kash.
The Agent will give you money and request you to sign the transaction logbook.
How to Send Money to Mobile
Deposit money into your own account.
Go to your T-kash Menu and select 'Send Money'.
Select 'To Mobile'.
Select 'Enter Phone Number'or 'Favourite'.
Enter Phone Number or the name of the Favourite you wish to send money to.
Enter Amount.
A confirmation screen will pop up showing the details of the person, amount to be transferred & charges (e.g. Send Money to 0777 XXX XXX – CUSTOMER NAME, amount Kshs. XXX, Transaction Fee Kshs. XX)
Enter T-kash PIN and press send.
You will receive a confirmation SMS from T-kash.
Note: With T-kash, you can send and receive money from any network in Kenya.
Can It Beat M-Pesa?
The biggest question everyone is asking is, does T-Kash have any chance of success? Well, it is early to say that but right now Safaricom is the dominant player in this sector. We are so used to the M-Pesa network that it is hard to believe any other player can compete with it. Safaricom has a robust agent network all over the country and finding one is so easy and that is why many people will not be ditching the green giant any time soon. Telkom has to find a way to ensure it has many agents all over to have any chance of competing with Safaricom on the same level.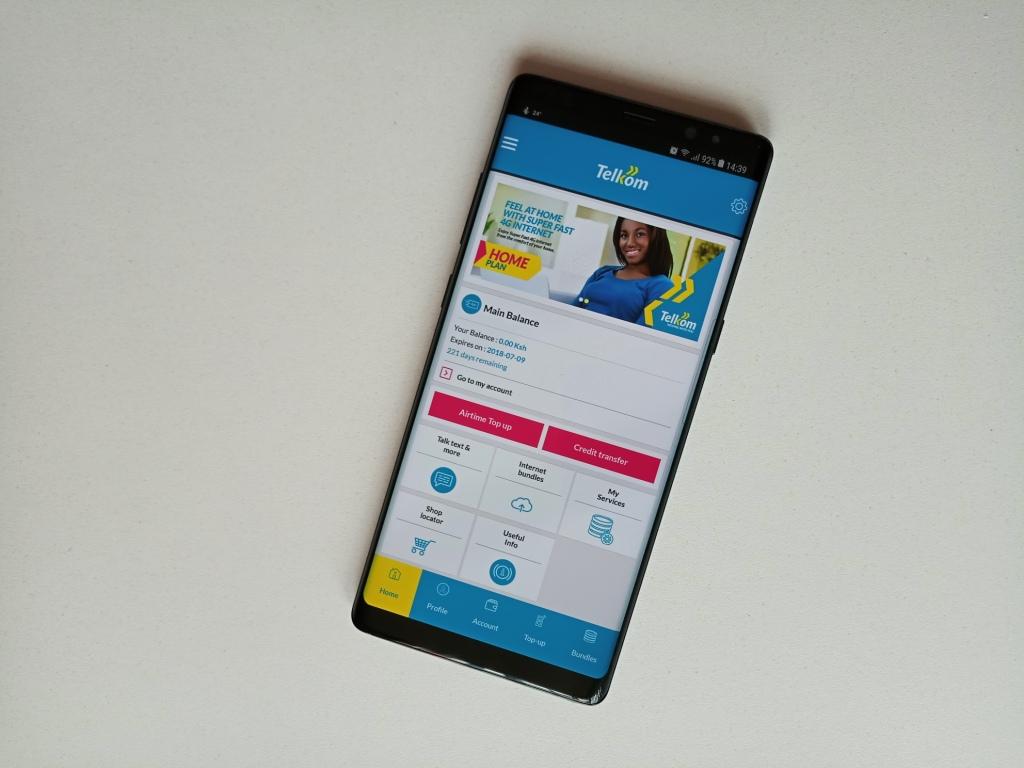 This will not be that hard but it has to be appealing to the agents. It can use the same M-Pesa agents or some of the agents who work with the local banks or even with M=Pesa. The agents have to find T-Kash attractive and this means that there should be a handful of customers who want to use T-Kash. Telkom still does not have a huge subscriber base and this will slow down the company a bit. We do not have the exact subscriber count but it is low compared to Safaricom.
If I were Telkom, I would push more of the retail aspect of T-Kash. Ensure you have T-Kash payment options in all supermarkets and in most retail putlest. This is a crucial step as there is no point of people registering for T-Kash but they are limited to the retail places they can use the service. From here, find ways to entice its existing customers to use T-Kash to pay for goods and services in one way or the other. This can be through discounts, competitions or similar things that will get its subscribers to consider it.
The next step would be to get as many people as possible to use its network. They can do this by offering competitive deals when it comes to data and voice and try to win those people not happy with the other service providers. I use Telkom for their data from time to time and I find their service better than Safaricom to be honest. Safaricom's data is just to expensive and given that Telkom has 4G, I can get the same speeds I could with Safaricom. For Telkom, they will have to find people like me and get them to stop using their network for data only but for mobile money as well. This will be possible if I will be able to pay for goods and send money using it without any issues. It is an all round option, get people to your network even if they do not use all your services and slowly initiate them to the other services.
I am hopeful with this new offering but I am not naïve to say that Safaricom is in trouble. I would love to see another player challenge Safaricom's monopoly and Telkom should be that player.
Read Now: Telkom Kenya Unveils Its New Mobile Self-Care App