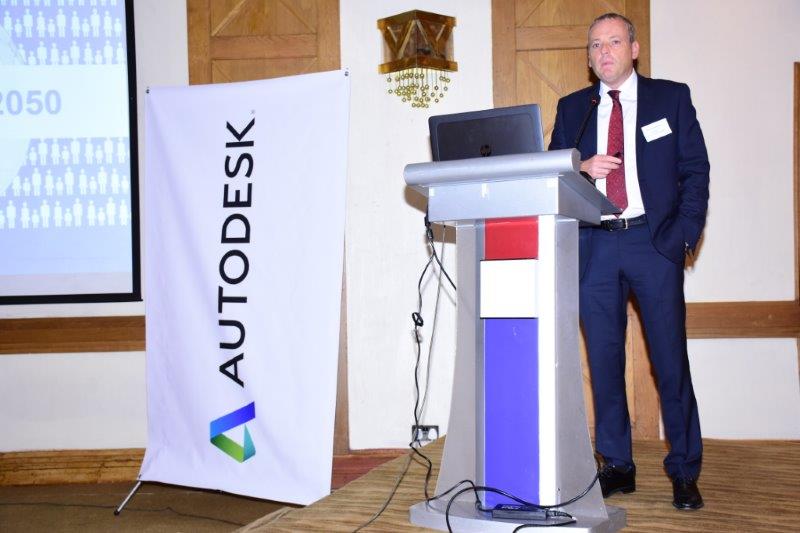 Autodesk is looking to reinforce its presence in Kenya, targeting a diverse number of industries such as construction, architecture, engineering, infrastructure and much more.
Today's emerging technologies like robotics, drones, augmented reality, virtual reality and the convergence of design and production, to name a few, are disrupting the world we know. These technologies that dominated single industries are being integrated into completely new industries and are set to redefine them. With the population growth that is to reach close to 10 billion people by 2050, of which the biggest growth will be from emerging territories such as Africa, there are big challenges and opportunities for achieving sustainable development through innovation and optimization. This is where the new future is arising, the future of making things, and more than any other software company, Autodesk is embracing this new future.
Autodesk offerings across multiple markets include the company's flagship product AutoCAD, Autodesk Revit, Autodesk 3ds Max, Autodesk Infraworks, Autodesk Fusion 360, and many more that help millions of people from around the world to strive in this new era of making things.

As part of its active engagement with the market, Autodesk is holding a one-day event, dubbed Autodesk Live, at the InterContinental Hotel in Nairobi. The event is being hosted in collaboration with Ideate, the main distributor for Autodesk software in Africa. Autodesk Live is designed to provide a platform for dialogue with customers, developers and other stakeholders, and will showcase the best in design technology software. Attendees will be able to tap in to latest trends from the around the globe.
Autodesk Live Kenya is set to highlight trends in the construction industry, specifically, the Building Information Modelling (BIM), intelligent 3D model-based process that gives architecture, engineering, and construction (AEC) professionals the insight and tools to more efficiently plan, design, construct, and manage buildings and infrastructure. Attendees will see how customers in Africa are embracing this new technology through variety of interactions.
"Kenya's reputation as a regional leader in technological innovation makes it an important market for Autodesk, and this has informed our renewed focus on the region. A wide range of our products are already in use in the construction and engineering fields. We look forward to working closely with the government, education sector and other partners to roll out the best in 3D design as well as software for diverse industries," said Simon Bromfield, Autodesk Channel Manager Africa.
The Autodesk Foundation is an avenue through which the company has been affecting change across the country. The foundation supports the design and creation of innovative solutions to the world's most pressing social and environmental challenges. Since 2015, the foundation has provided financial grants, software donations, and pro bono support by leveraging employee expertise.
Gearbox and Strauss Energy are among the organisations that Autodesk Foundation supports in Kenya. Gearbox provides space, tools, and training for local engineers, makers, and hardware entrepreneurs in Nairobi to master latest technologies in design and manufacturing. Strauss Energy works with businesses and households in Kenya to provide cost-effective renewable energy solutions.