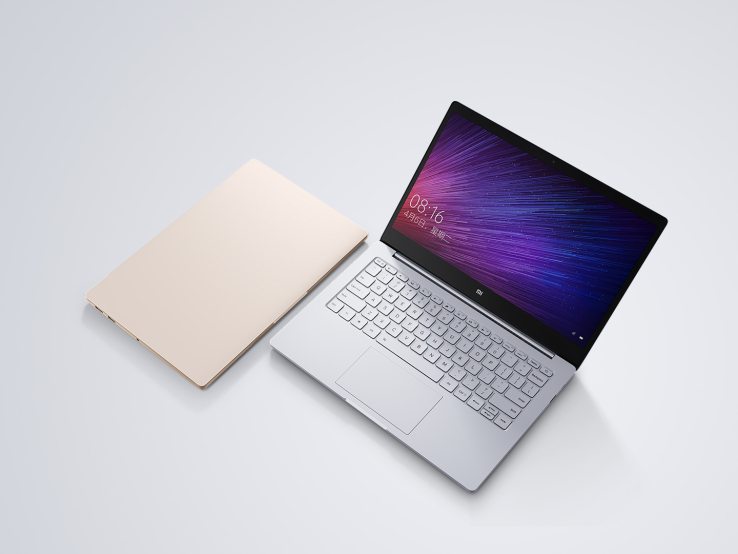 Xiaomi has always been accused of copying Apple but the company doesn't seem to care about the allegations. The company's smartphones come with a customized version of Android, MIUI, which looks a lot like iOS and even its marketing strategies borrow a lot from what Apple does. Even with this, the company has seen its market share grow year over year and it now is a force to reckon with in the smartphone market.
The latest device from Xiaomi is the Mi Notebook Air that is clearly inspired by Apple's MacBook Air. We first told you about this laptop 10 days ago. The Mi Notebook is available in two different sizes of 13.3-inch and 12.5-inch, both are Full HD displays. The laptop has a full metal body which means that it is not just another cheap product from China.
Xiaomi isn't afraid to compare the Mi Notebook Air to the MacBook Air. The company says that its new laptop is even thinner than what Apple is offering, 11% thinner if anyone is interested. In the Notebook market, we have seen manufacturers try and make their devices thinner and Xiaomi doesn't want to be left behind.
As expected, the 13.3 inch Mi Notebook Air comes with Windows 10 preinstalled. Powering it is the Intel Core i5-6200U 2.7 GHz processor, 8GB of RAM and 256GB of SSD storage, there is also an expandable SSD slot. In addition to these, the laptop comes with a dedicated NVIDIA GeForce 940MX graphics card, a full keyboard with individually backlit keys, Type-C USB for charging and two other USB ports. The battery is a 40Wh one that the company says can last for up to 9.5 hours. The price of this model is about $750 (approximately Ksh 76,000)
The 12.5-inch model is powered by the Intel Core M processor with integrated graphics, 4GB RAM and 128GB in expandable SSD. This model will be sold for $525 (approximately Ksh 53,000).
Both these laptops will go on sale in China on August 2 and it is not clear if the company has any plans to take them to international markets.
Also Read: The Xiaomi Redmi 2 Pro and Redmi Note 2 Will Officially Go On Sale in Kenya This Week