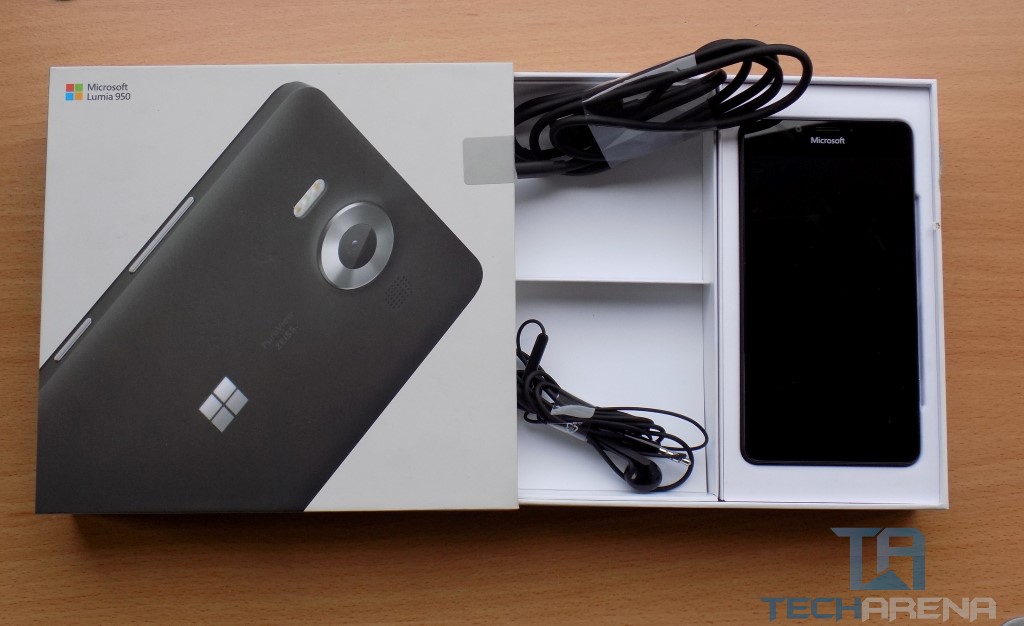 The Microsoft Lumia 950 was one of the first Lumia smartphones to come with Windows 10 Mobile. The phone was announced back in 2015 together with the Lumia 950 XL and the Lumia 550. The Lumia 950 and 950 XL are the flagship devices while the Lumia 550 is the entry level option. Besides being the first Windows 10 Mobile device, the Lumia 950 is also the first flagship Lumia smartphone in close to two years.
I have been using the Lumia 950 for close to two weeks as my main phone and I believe am in a better position to inform you what it's all about.
The Microsoft Lumia 950 Look and feel
Material: Polycarbonate

Size: 145 x 73.2 x 8.2 mm
Weight: 150 g
The Microsoft Lumia is a simple phone from the design perspective. It is not a flashy phone as it is made of a matte polycarbonate material similar to what we have seen on previous Lumia smartphones. This is not the best thing for Microsoft to do as we are used to see metallic and glass components on high end smartphones and I believe Microsoft could have at least incorporated a metal frame on this phone without affecting the price so much.
The phone feels light and thin to hold with one hand. This is perhaps the lightest Lumia smartphone out there weighing approximately 150g. It is about 8.2mm in thickness which feels very easy and comfortable to carry around.
Display
Size: 5.2 inches, Quad HD resolution
The display of the Lumia 950 is amazing. It is a 5.2 inch AMOLED display with a resolution of 1440 x 2560 pixels giving a pixel density of 564ppi. This means that you are able to see what is one the screen easily and the inclusion of ClearBlack technology means that the display is clearly visible in all lighting conditions.
This is one of the best displays I have used on a smartphone. It is very bright with awesome viewing angles and is quite responsive. You just have to see this display live to know how good it is. The display collects a few fingerprints as you might expect but it isn't too bad to affect how you use it.
The Lumia 950 supports glance screen which shows you the most important information/notification without unlocking your phone. One thing I wanted to see on this display is the double tap to wake feature, it has been available on previous Lumia smartphones and would have been cool to have it on the Lumia 950.
Software and performance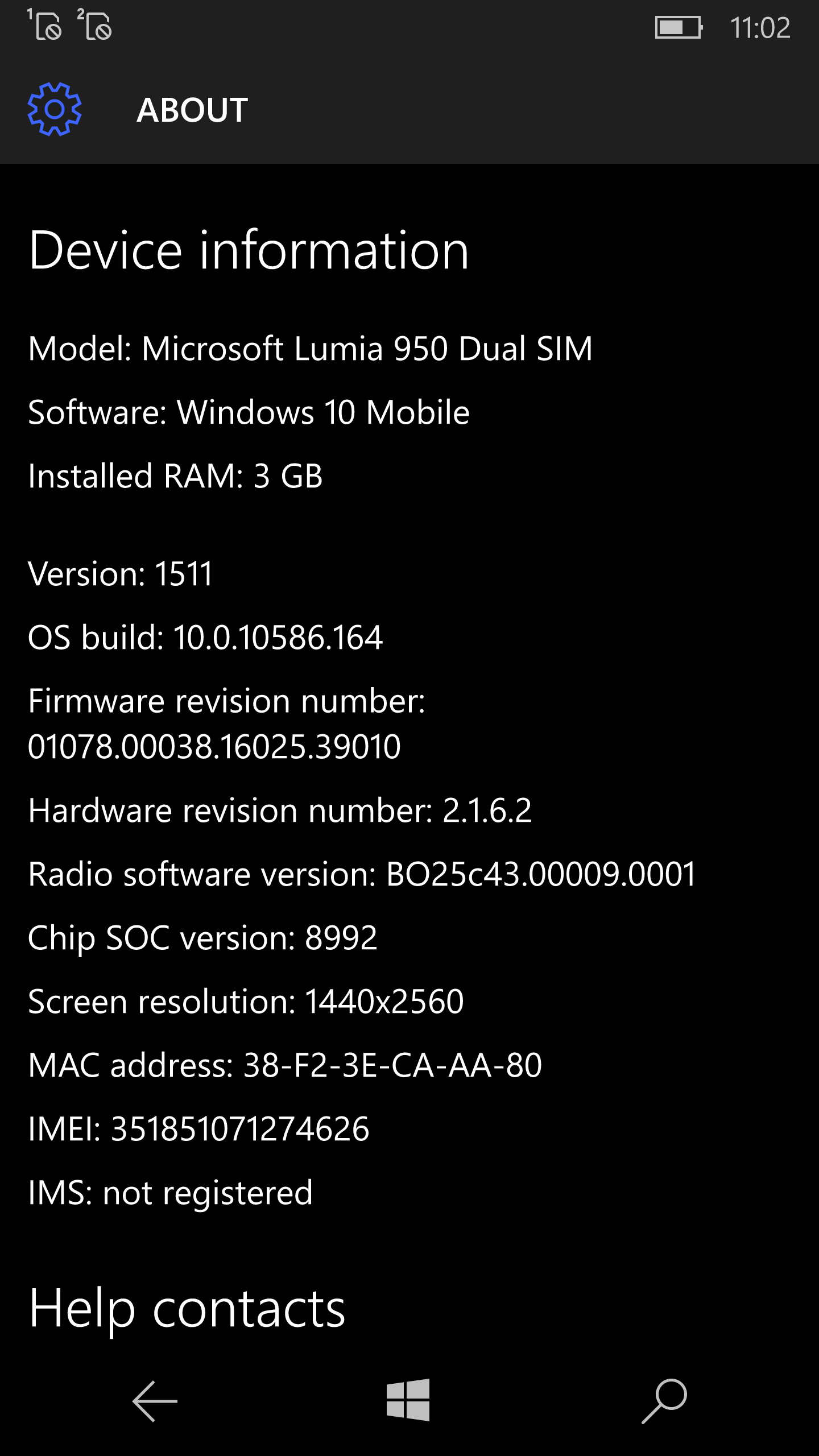 OS: Windows 10 Mobile
RAM: 3GB
Processor: Qualcomm Snapdragon 808
Read: The Microsoft Lumia 950 Specifications
The Microsoft Lumia 950 comes with Windows 10 Mobile out of the box. It was one of the three first Lumia smartphones to come with Windows 10 Mobile. Windows 10 Mobile feels a lot like Windows Phone 8.1 with a few tweaks here and there that improve the overall experience. If you have used any Windows Phone before, you will feel right at home with Windows 10 Mobile. If you are coming from Android, iOS or BlackBerry, you may need some time to get used to it.
Overall, Windows 10 Mobile experience is pretty good. It does what Microsoft intended it to do without any issues. There is also the option of using your phone on your PC using Continuum. I did not get to play around with this feature as I didn't have the display dock with my review unit.
Besides the OS, the phone has 3GB of RAM, 32GB of expandable storage space and is powered by the Qualcomm Snapdragon 808 (hexa core) processor which ensures a snappy performance. I did not have any lags with my review unit even when pushing the phone to its limits by playing graphics intensive games. The Adreno 418 handled everything I threw at it without slowing down.
Lumia 950 as a daily phone
As a daily phone, the Lumia 950 does not disappoint. With normal usage, you can use the phone for the whole day without having to charge it up. This is very useful for those who are always working out of the office.
Making and receiving calls with the Lumia 950 present no serious issues. The earpiece is clear and with 4 different microphones around the phone, you will communicate easily with the person on the other side without having to shout. The phone supports 4G LTE so you get the best data speeds as long as you are in an area with the coverage.
Using the Lumia 950 for entertainment and media consumption is all about your taste. The included headphones are of good quality making the experience memorable. The speaker grille was a bit disappointing for me, it is located next to the camera and is a bit too low and doesn't offer the best experience. If you overlook the speaker, the display is perfect for watching movies as it is bright and clear.
Productivity
Being the first Windows 10 Mobile device to have continuum support, the Lumia 950 is your perfect productivity companion. Every Lumia 950 unit you buy comes with the Microsoft display dock so you can get started right away. Continuum let's you connect your phone to an external monitor and use it like a PC, a keyboard, and a mouse. You can then run any apps you have on your phone and still get a PC like experience without any issues. This means that you are able to get some work done and be productive.
Camera
Back Camera: 20 MP PureView with Carl Zeiss Optics
Front Camera: 5MP
Lumia smartphones are known for their superior camera performance and the Lumia 950 does not disappoint. It has a 20 MP PureView rear camera at the back with 5th generation Optical Image Stabilization which takes some great photos. It has Carl Zeiss Optics used in combination with triple LED flash which end up producing some very good photos. The back camera is able to shoot 4K videos which is an added advantage.
[image_thumbs]
[image_slider link="https://www.techarena.co.ke/wp-content/uploads/2016/04/Lumia-950.jpg" source="https://www.techarena.co.ke/wp-content/uploads/2016/04/Lumia-950.jpg"] Sample 1[/image_slider]
[image_slider link="https://www.techarena.co.ke/wp-content/uploads/2016/04/Lumia-950-sample-photo.jpg" source="https://www.techarena.co.ke/wp-content/uploads/2016/04/Lumia-950-sample-photo.jpg"] Sample 2 [/image_slider]
[/image_thumbs]
The front facing camera is a 5MP unit that ensures your video calls and selfies are very clear. The camera is very good but struggles so much in low light conditions.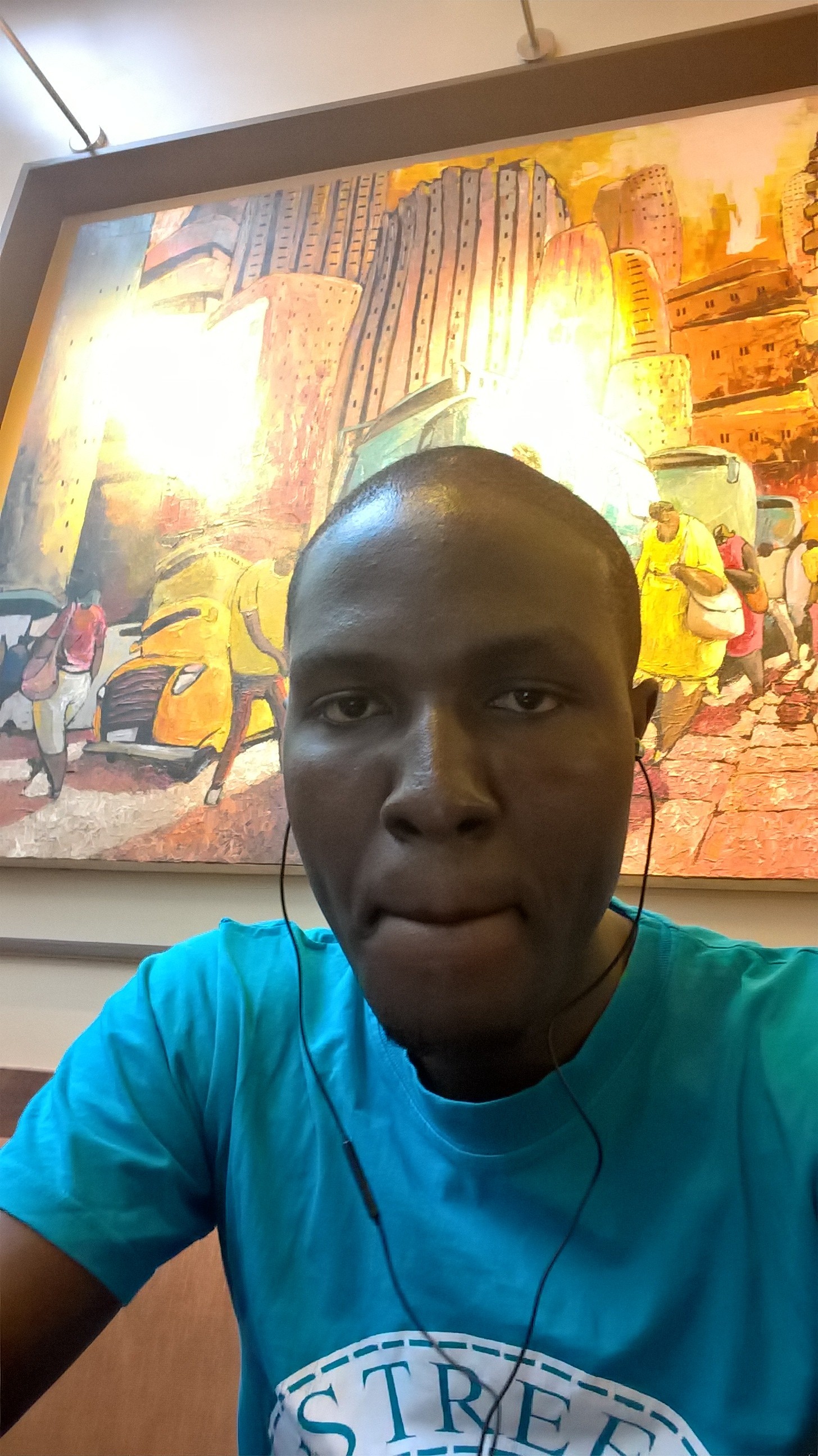 The camera interface is what we have seen on previous Lumia smartphones before but unfortunately lacks the panorama mode. I think Microsoft should consider including this. You can launch the camera app using the dedicated camera button below the power button on the right hand side. The good thing about having a dedicated camera button is that you can launch the camera directly from the lock screen so that you never miss a moment.
Future proofed smartphone
Iris Scanner
Supports 4G LTE
The Lumia 950 has an Iris scanner for extra security allowing you to unlock your phone just by looking directly at it. This replaces the need of using a fingerprint scanner, something we have seen on some new smartphone launched within the last year. The iris scanner works perfectly even in low light conditions or when you are wearing sun glasses. You have to get used to this feature to be comfortable with it and to know how to do it right.
The phone supports dual SIM capabilities and both are nano SIM cards (slightly smaller than the micro SIM). It also supports 4G LTE which is still picking up in Kenya. Currently you can only get 4G if you are using Safaricom.
Battery
3,000 mAh removable battery
Providing all the power is a 3,000 mAh removable battery. This battery can last you through the whole day and the good thing is that it supports quick charging and wireless charging. I managed to go through the whole day is most situations without having to charge it up. With heavy usage, playing games and keeping your phone's screen on throughout your day, you may get about 8 hours of battery life or less.
Conclusion
The Lumia 950 is a remarkable smartphone from the performance perspective. It is perfect for the business professionals as it gets the job done really well. It comes with some impressive specifications that truly represent what a flagship should be all about. I enjoyed using the phone during the review period and having used Windows phone 8.1 before, I felt very comfortable using Windows 10 Mobile. It is one of the most reliable smartphones I have used recently and its superior camera performance makes it one of the best out there. Lumias have always had some of the best performing cameras and the 950 does not disappoint.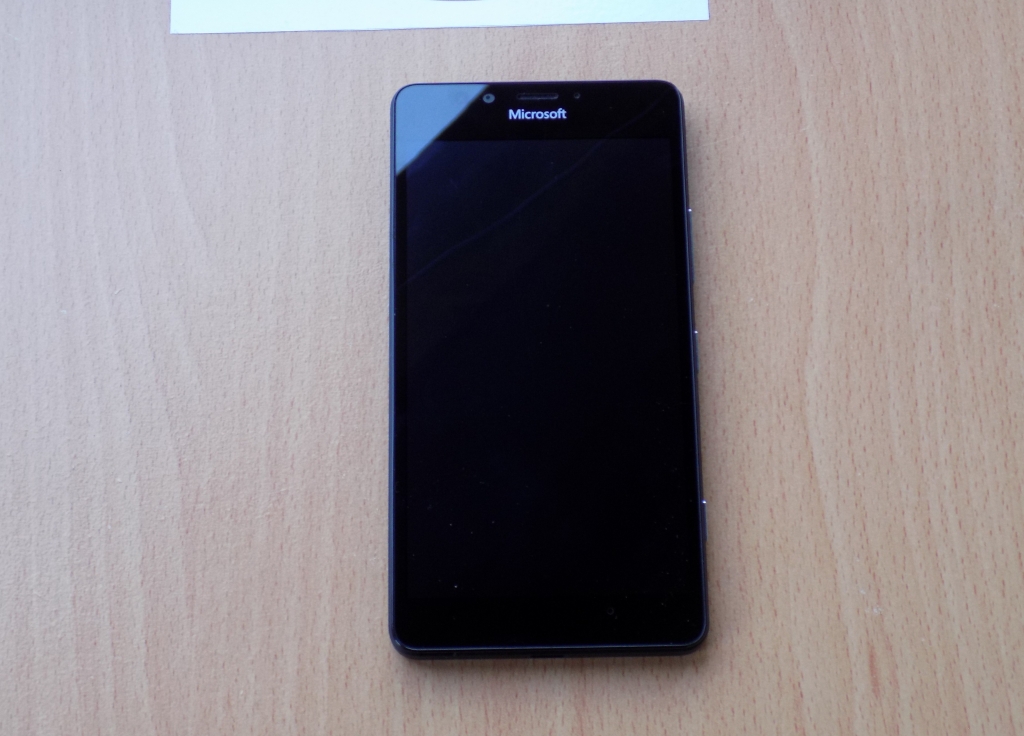 The one thing I did not like about the Lumia 950 is the design. It doesn't feel like a Ksh 65,000 smartphone with its polycarbonate back cover. Microsoft could have at least incorporated the same design it has used on the Lumia 650. At least the Lumia 650 look much better with the metallic like strip around the phone. Using metal or glass can give the phone a premium feel.
There is also the app gap issue. There are still not many apps on the Windows store and up until now, you cannot get Instagram for Windows 10 Mobile. Instagram announced a few weeks ago that it will be bringing its official app to the store but we have not seen any progress so far. Something has to be done with the app situation it more people are to join the platform.
Overall, the Lumia 950 is a very decent smartphone. It is hard to recommend this smartphone to anyone who hasn't used Windows Phone before but if you have, the 950 is perfect for you. It gives you a unique experience that is hard to find from most smartphones these days.
Read: The Entry Level Microsoft Lumia 550 Is Finally Available in Kenya