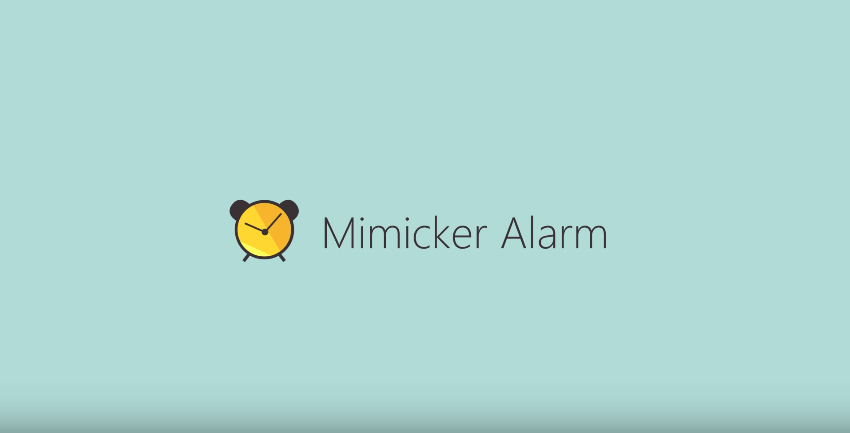 Our app this week will wake you up and keep you up. Most people hate mornings, not just Monday mornings, but all of them. If you're like me, the snooze button is your favourite button on your alarm app, but with this latest creation from Microsoft Garage project, you won't want to hit the snooze button.
Mimicker alarm was released a little over two weeks ago and I was priviledge enough to try it out and I have to say, simply genius. The alarm not only wakes you up by ringing, it keeps you up by making you play a game called 'mimic'. The mimics are varying, from taking a selfie, doing some weird action, taking a picture of an object with a certain color (woe unto you if you really don't have that color in your place).
It can be annoying in the morning, for instance the first day I used the app, I had to get out of bed, switch on the lights and take a selfie of me smiling, and yes I had to be smiling or the alarm won't go off. The second morning, I had to look for an object with the color blue. I have never overslept with this alarm on, it actually works as it should. Just incase you think ignoring the mimic will make the alarm stop after some time, you're wrong. The mimics are time limited and if you don't complete the mimic on time, the alarm goes off again. If you really want to get out of bed on time, you should give this app a try.
Setting up the app is as easy as any other alarm app, easy and straight to the point. You can choose whether to randomize the mimic categories or select one category i.e. color capture, taking selfies and reading out tongue twisters.

Download the app here. The app is only available on Android, hopefully Microsoft will be rolling out an iOS and Windows Phone version soon.
Last Week's App: PhotoMath