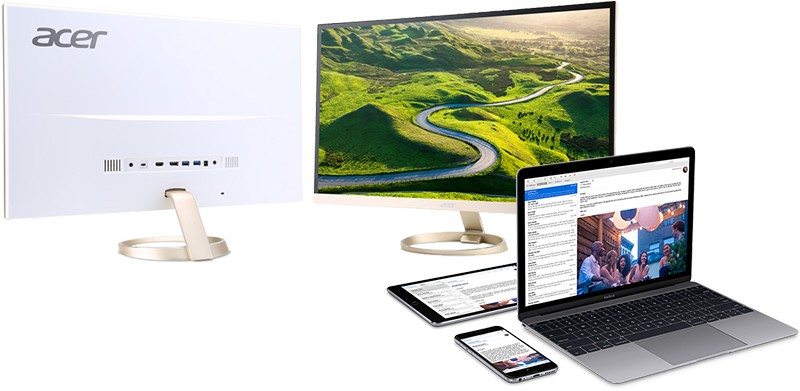 Acer has started the year on a very high note as it unveiled the world's first USB Type-C monitor. The company unveiled this monitor two days ago even before CES 2016 started. Acer is calling this the H7 Series monitor that when announced stood out as being the only monitor to support USB Type-C. With this support, these new monitors will definitely be compatible with Apple's new 12 inch MacBook.
With the Acer H7 Monitors, you will be able to transfer data to the MacBook, charge the MacBook and display content on the MacBook using the USB-C cable. The company only mentioned the MacBook and am pretty sure these monitors will also be compatible with other laptops with USB Type-C ports.
The Acer H7 monitors will come in two main sizes, 25 and 27 inches. Both these monitors will have resolutions of 2,560×1,440 pixels. They will also have HDMI 2.0 ports if you need them. As for price, they will be available for $499.99 (approximately Ksh 51,000) as from next month.
Lenovo has Joined the Party
Lenovo has also joined the party as it unveiled the ThinkVision X24 Pro and ThinkVision X1. These are its first monitors from the company with USB Type-C support. Both these monitors will be available as from May this year and it will be interesting to see how they perform on the market.
For the ThinkVision X24 Pro, it will have a resolution of 1,920×1,080 pixels and will be available for $399 (approximately Ksh 41,000). The ThinkVision X1 on the other hand will have a 27 inch display with a resolution of 3,840×2,160 pixels. It will start at $799 (approximately Ksh 82,000).
Read More: Intel Compute Stick Review