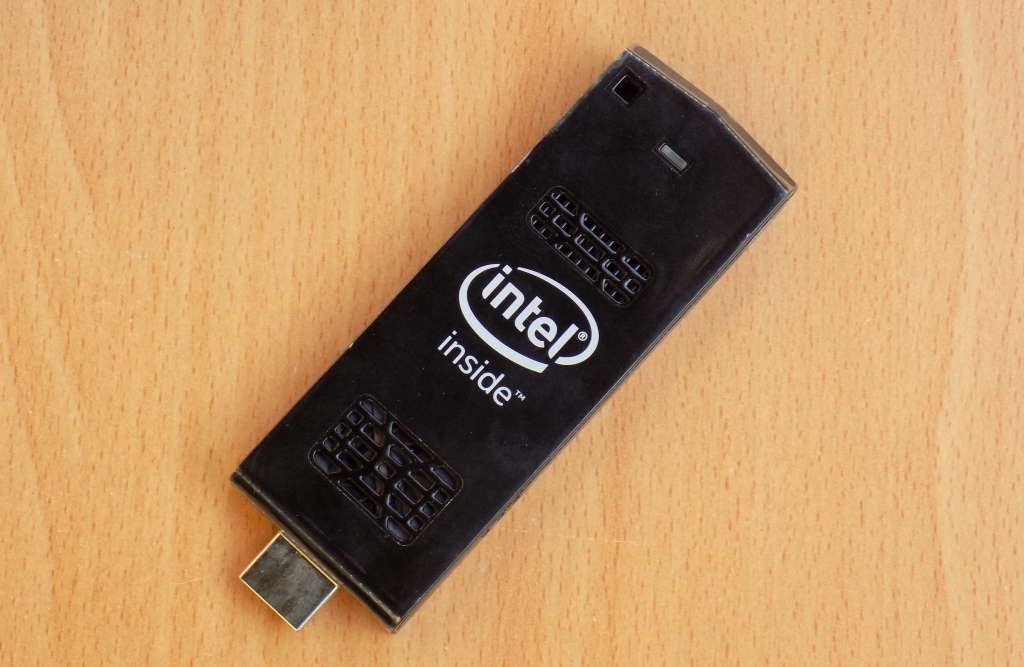 The Intel Compute stick, if you have not heard about it, is simply a computer in a flash drive/stick. It is slightly bigger than a normal flash drive and you can connect it to any display with a HDMI port to get a full desktop experience. The Intel compute stick was first unveiled last year at CES 2015 in January and went on sale a few months later. I have used the compute stick for a short while and thought I should review it.
Intel Compute stick: Design
The Intel Compute stick as I have said above is slightly bigger than your ordinary flash drive. It is about 4 inches in length, 1.5 inches in width and about 1/2 inch in thickness. It weighs about 56 grams.
It has a HDMI connector which you will use to connect to any display with a HDMI port. Since this is a computer, it has the usual features which include, one USB port, Micro USB power port, MicroSD card slot to expand the memory, fan ventilation for cooling and a power button. It also has an LED notification light to indicate when it is connected to a power source.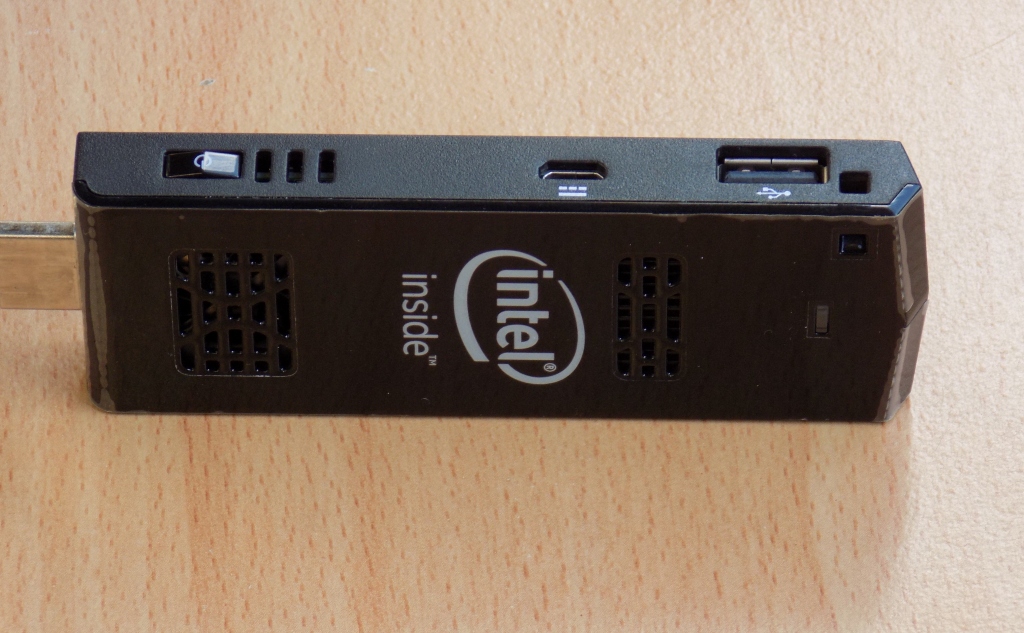 Still on the power subject, the Compute stick can be powered by connecting it directly to a power source or the USB port of your display. I managed to connect it to my TV's USB port to power it up, this worked for me but might not be the case for everyone depending on the TV you have. If this is happens, you can connect it directly to the power source using the adapter that is provided in the box. When this is done, you have a full Windows 8.1 PC that can do most of the things you can do with your current desktop/laptop.
Performance
The main reason why you get any PC or laptop is to use it for whatever thing you want. This means that its level of performance should match your needs. The Intel Compute Stick is meant for basic PC users and not for heavy users who run intensive applications. It is powered by a 1.33GHz Intel Atom Z3735F quad-core processor. It also comes with Intel HD graphics for slightly better performance.
There are two versions of the Compute stick, one with 1GB of RAM and 8GB of storage space while the other one has 2GB of RAM and 32 GB of storage space. This is not that bad for anyone who wants to use it for basic PC applications and media consumption. If you push it to its limits by running some heavy applications, you will notice it slowing down a bit as that is not what it is meant for. Since I used the compute stick for basic computer applications and video streaming, I did not have any issues with performance.
For connectivity, the Intel Compute Stick supports Wi-Fi 802 b/g/n and Bluetooth 4.0. These are quite good but I had some issues with the Wi-Fi range as it was not that strong. You have to be close to your router/modem for the best experience.
Software and applications
As for the software, the Intel Compute Stick comes with Windows 8.1 (32-bit version). This is a genuine Windows version so it is upgradable to Windows 10 if you choose to do so. If you have used Windows 8.1 before, this will feel very familiar as it offers the same experience.
Conclusion
In conclusion, the Intel Compute Stick is something you should get on top of the laptop you already have. It is perfect for those who are always on the move with their laptops from office to office making presentations. It's ultra-small size makes it very portable and easy to carry around. Since it is a computer by itself, you can use it in the office to prepare your presentations and when you go to a meeting and have to turn any display with a HDMI port into a computer, you just plug it in and get started. This eliminates the need to carry your laptop everywhere you go.
Overall, its performance is quite good for most applications from simple office tasks to web browsing. I did not have any serious performance problems as I used it for light tasks. It's small size limits is performance capabilities but the good thing is that it has active cooling to avoid overheating.
Some of the drawbacks of the Intel Compute Stick include the low Wi-Fi range, limited USB ports and a short power cable. With this compute stick, you will have to work close to your router/modem if you have to stay connected to the internet. It only comes with one USB port so you will most definitely need to buy a USB Hub since you will need some ports to connect your wireless keyboard and mouse. The power cable is also not that long and you will have to be close to a power source when using this compute stick. Alternatively, you can try and see if your display can provide enough power for the compute stick to switch on, I found this to be the best option.
If you need a portable computer for out of office/desk applications, this is the device for you. Just know that it is meant for light usage so performance may be an issue if you push it too far.
Read More: The Infinix Note 2 (X600) Review