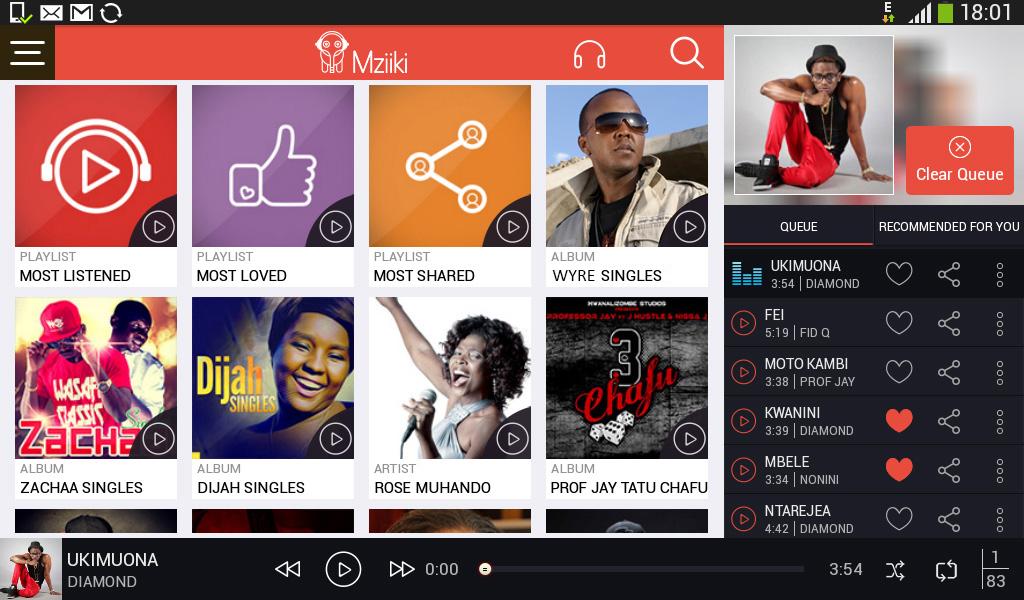 Mziiki, a music streaming application and mobile site offering the most diverse and largest collection of African music, has expanded its services to South Africa. Available on iOS, Android and Blackberry as well as on a .mobi and traditional web site, Mziiki gives music lovers free access to over 30 000 tracks from 1500 artists – anytime, anywhere.
Mziiki offers South African listeners access to the best music from the rest of the continent as well as a carefully curated selection of local music including gospel, hip-hop and kwaito. South African artists on the service include the likes of Benjamin Dube, DJ Qness, Emmy Gee, Mpumi, Xoli M, 2Bad, Cleo Ice Queen, Disco 55, DJ Nova, Infa, Joey, LAVA, Mavilos, Mgarimbe, Neyi and Omega, Papane, Pitch Black Afro, Rexx, Shae Mix, Solly Mahlangu, Spirit of Praise Choir, Vicky Vilakazi, Women in Praise and Zaza.
Since its launch in East Africa in 2014, Mziiki has been downloaded more than 625,000 times, attracted nearly 3 million .mobi site visitors, and streamed more than 13 million songs.
Mziiki, allows premium users to download free tracks to save on bandwidth costs and set ringback tones. Its social sharing, personalization and music discoverability features, meanwhile, make it simple for you to uncover new music, build your own playlists, and share your favorites with your friends.
The music on the service is carefully curated by a team of passionate music fans, who spend their days searching for the very best local artists to bring to the platform. Mziiki features audio streaming technology designed to give even users on EDGE (2G) a great listening experience with smooth, uninterrupted playback.
"Mziiki brings you the best all-round mobile listening experience for pan-African and South African music, allowing you to discover, personalise and share your playlists," says Arun Nagar, CEO of Spice VAS Africa, the developers of Mziiki. "It's about the way music gets our feet moving and fills us with joy. And it's about having the music you want to listen to, when you want to listen to it, free and on your phone."
Read More: Mziiki- A Free Music Streaming App Officially Launched