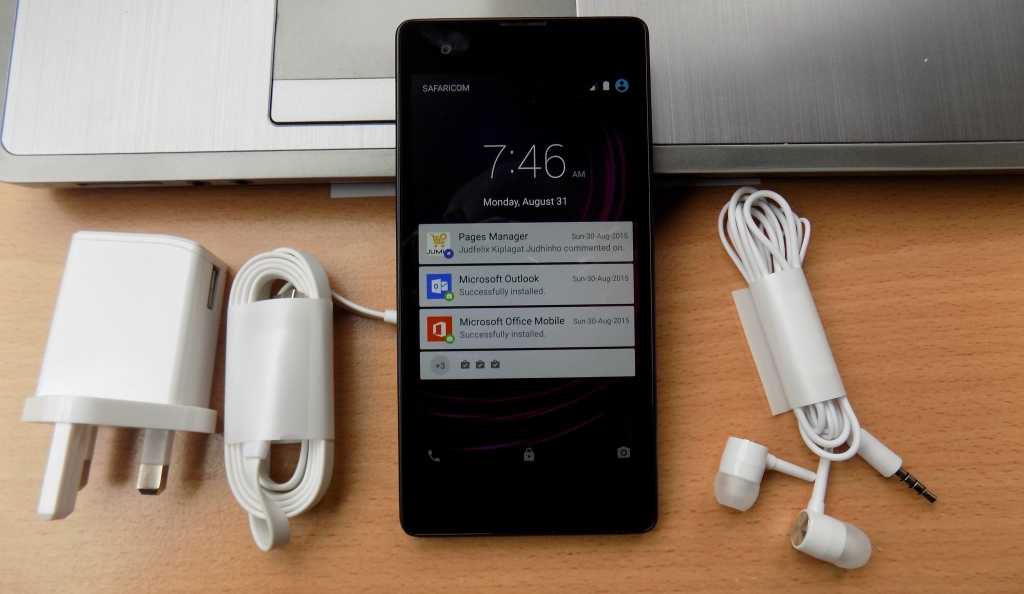 The Infinix Hot 2 is the latest affordable smartphone to be launched in Kenya. The phone takes over from the Infinix Hot which was very successful in terms of sales. The Infinix Hot 2 has just been launched in Kenya but I have had the review unit for well over 2 weeks meaning that am in a better position to tell you if it is worth your cash or not.
The Infinix Hot 2 stands out as being the first official Android One smartphone in Kenya and is available on Jumia for Ksh 8,999. Since it's an Android One device, it will always be among the first ones to get the latest Android updates for the next two years.
What's in The Box?
The Infinix Hot 2 (X510) comes with the following items in the box.

Earphones
USB/Power cable Charger
User Guide
I have already done an unboxing of this phone which you can read by clicking the link below
Read More: Infinix Hot 2 (X510) Unboxing and First Impressions
Design and Hardware
The Infinix X510 is an entry level device with a very decent design. The phone's build quality feels very good and durable even with its plastic back cover. For a phone in its price range, the design of the Infinix Hot 2 is quite good. It does not feel cheap, that for sure, but also does not feel premium. Personally I was impressed with this 'new' design, at least it is not as boring as the design of most other smartphones within this price range.
The volume keys and the power button are placed neatly on the right side. They are easy to operate in the position and at no point did I have a problem using them. At the top you will get the audio jack and the micro USB port. The speaker grill is on the bottom and this is very good when watching movies or just listening to music. At the back of the phone is an 8MP camera with LED flash.
Overall, the design of the Infinix Hot 2 is quite good but the phone feels slightly bulky and heavy. Am saying this as someone who have used the Infinix Zero 2 (a premium smartphone from Infinix). Besides being bulky and heavy, the Infinix Hot 2 is comfortable on the hand and easy to carry around.
Performance and Specs
The performance of the Infinix Hot 2 (X510) is pretty good. The 1.3 GHz Quad Core processor from MeadiaTek (MT6580) combined with the 1 GB of RAM I had in my review unit proved reliable for running most applications. The phone was very reliable when multitasking most of the times except in a few instances when it became unresponsive just for a few seconds before it picked up. This did not happen that often but I just had to mention that because it is something you may encounter when multitasking.
As for the graphics, I had no issues with the Mali-400 MP GPU.  I played a number of games including the graphics intensive one, Asphalt 8, with no issues at all. I was expecting some disappointments with this GPU but its performance was quite good and I was impressed.
The Infinix Hot 2 has 16 GB of internal memory space that is quite impressive for an entry level smartphone. Most phones within this price range come with 8 GB of RAM as standard. If the 16 GB is not enough for you, you can expand it further using a micro SD card. Since this is an Android One device, you do not get a bunch of bloatware that may eat up your storage space.
Display
The Infinix Hot 2 (X510) has a 5 inch IPS HD display with a resolution of 720 X 1280 pixels which translates to a pixel density of 294 ppi. This is the same pixel density as the Infinix Zero 2 which is a premium device from Infinix.
Read More: Infinix Zero 2 (X509) Review: Premium Touch at a Budget
This display is quite good even when viewing under direct sunlight. Viewing the screen from the sides is not so great but that is something I expected from an entry level smartphone. One thing I did not like about this display is the amount of fingerprints it collects. Within a few minutes of using it, I had to wipe out the fingerprints from the display. Infinix needs to improve on this even if this is an entry level device.
Software
The Infinix Hot 2 (X510)   comes with Android 5.1.1 Lollipop which is set to receive the latest updates as they become available. This is an Android One device so you get close to 'stock' Android which is always good. Since it is an Android One device, it will always be among the first ones to get the latest updates directly from Google. This will be the case for the next two year so you know you will always be among the first people to get the latest updates.
Software performance is really impressive and reliable. I did not have issues with the OS or any apps that I used.
Camera
The Infinix Hot 2 has an 8MP camera at the back with a 2MP one at the front. The 8 MP camera takes some decent shots when the lighting is really good but things change when you are indoors or when the lighting is not as good. This is not a high performance camera so you should expect such some not so great photos when the lighting isn't as good. The 2MP front facing camera is not the best out there but takes some good photos. Just as the rear facing camera, you will need very good lighting to have some decent photos with the front facing camera.
Video recording with the rear facing camera is quite good for its price. Overall the Infinix Hot 2 is not a camera centric phone so do not expect exceptional performance. It still takes some good photos with good lighting and performance slightly better than other phones within its price range.
Battery Performance
The Infinix Hot 2 comes with a 2200 mAh battery. This battery can last you the whole day if you are not a heavy user but you will have to charge it at least once during the day if you are a heavy user. This is a removable battery so you can get it replaced if it gets damaged.
I managed to go for more than a full day without charge when I used the phone lightly (social media, a few calls and text messages). With heavy usage, I noticed the battery loses power so fast and in some instances I was caught unawares only to realize I had very little power when it was too late.
Conclusion
In collusion, the Infinix Hot 2 (X510) is a pretty good entry level smartphone. It is the first official Android One smartphone in Kenya which means that it will always get the latest Android updates directly from Google before other devices. This phone has a good build quality and its performance is commendable for its price. I would recommend it for the first time smartphone owners or for those switching to Android from other platforms. It can also be perfect for those looking to add a second smartphone to their collection.
Despite having a low performance camera, the phone's performance is really impressive. As I have mentioned above, the phone collects a lot of fingerprints which can be annoying at times. You will have to wipe it regularly unless you are comfortable with the fingerprints there.
This phone is currently available on Jumia for Ksh 8999 which is slightly on the higher side compared to its predecessor, the Infinix Hot (X507). If you are interested, you can get it from Jumia by clicking here. Am sure it will be available in offline stores in the next few weeks.
The battery is also not the best and I think Infinix could have done better. 2200 mAh battery is just not enough and you will need to carry a power bank (especially when travelling) with you or make sure you are always near a power outlet.
What impresses me about this phone is its overall performance. The 1.3 GHz processor and 1GB of RAM proved reliable and the phone's build quality is quite desirable. If you are looking for an entry level smartphone, you should consider getting the Infinix Hot 2. Its performance is really good and in most cases multitasking is smooth with no lagging.
Your thoughts? Will you be getting this phone?