Asus first introduced the Transformer Book T300 Chi back in January at the Consumer Electronics Show (CES) in Las Vegas.   The T300 is a 2 in 1 laptop that you can use as a tablet in situations that you need to. This transformer book stands out as being one of the thinnest 2 in 1 laptops, very portable and perfect for those who are usually on the go.
I had a chance to review the T300 transformer book and below are my thoughts on it.
Design
One thing that stands out with the Asus Transformer book T300 Chi is its design. As I have mentioned above, this 2 in 1 laptop is very thin. Asus even used some interesting words to describe this device, the company said, 'Our Chi is thinner than air.' This was Asus' way to taking on Apple with the MacBook Air.
The T300 is also very light compared to most other hybrid laptops on the market. The tablet part of this transformer book is the thinnest and lightest while the keyboard part feels slightly bulky but not too bulky. The tablet part weighs around 798g but when you add the keyboard, the weight goes up to 1430g. This just shows you how bulky the keyboard is.
One thing that makes the T300 different from other transformer books is how the tablet part and the keyboard connect. Asus has used magnets instead of the tedious mechanisms you can find on other 2 in 1 laptops. The use of magnets contributed to the thin design of the T300. These magnets make it easy to attach/remove the tablet from the keyboard. One thing you will notice with this connection is how strong it is, the connection feels so strong and you will not have to worry about the tablet part dropping no matter how you hold it.
The overall design of the Asus Transformer Book T300 Chi is really good. Its thin, light nature and aluminum finish with diamond cut edges makes it look nice in my opinion. This design also makes it very portable, something that Asus was aiming for when manufacturing this hybrid laptop.
Specifications
The Asus Transformer Book T300 Chi has some amazing specifications that make it perfect for anyone who wants portability without compromising on performance. It has Intel's dual core1.2 GHz Core M processor. This is a fanless processor that has allowed Asus to make the tablet even lighter and thinner. This processor performs very well and I did not have any issues using it.
Besides the processor, the T300 is available in either 4GB or 8GB of RAM. My review unit had 4GB of RAM and handled basic computing tasks without any issues. It also has Intel HD graphics 5300 that made it easy to use for web browsing and even playing light games online. I did not manage to play graphics intensive games as this hybrid laptop is not meant for that. If you are into heavy gaming, you may want to look for something else.
As for storage, the T300 has 128GB SSD and Asus is offering extra cloud storage space for free if you need it.
A few other specification you might be interested in include: a 12.5 inch WQHD capacitive display (2560 X 1440), a 2MP front facing camera capable of shooting 720p videos. Bluetooth 4.0, Micro USB 3.0 PORT, Micro HDMI port, MicroSD card port, headphones and microphone jack.
Usability
Using the Asus T300 transformer book is quite easy. Its 12.5 inch screen size is neither too small nor too big. If you are planning to use it for work, this device will not disappoint. I managed to get most of my work done with it and even typed this review using it. The tactile and clicky keys on the keyboard make it easy to use for some who types a lot. I did not have any lagging issues using this device which is something good.
The tablet and the keyboard are attached to each other via Bluetooth meaning that you can detach them and still continue working. This will prove beneficial when making presentations. The tablet and keyboard have separate batteries powering them, the keyboards battery tends to last longer, for up to 5 days with normal usage.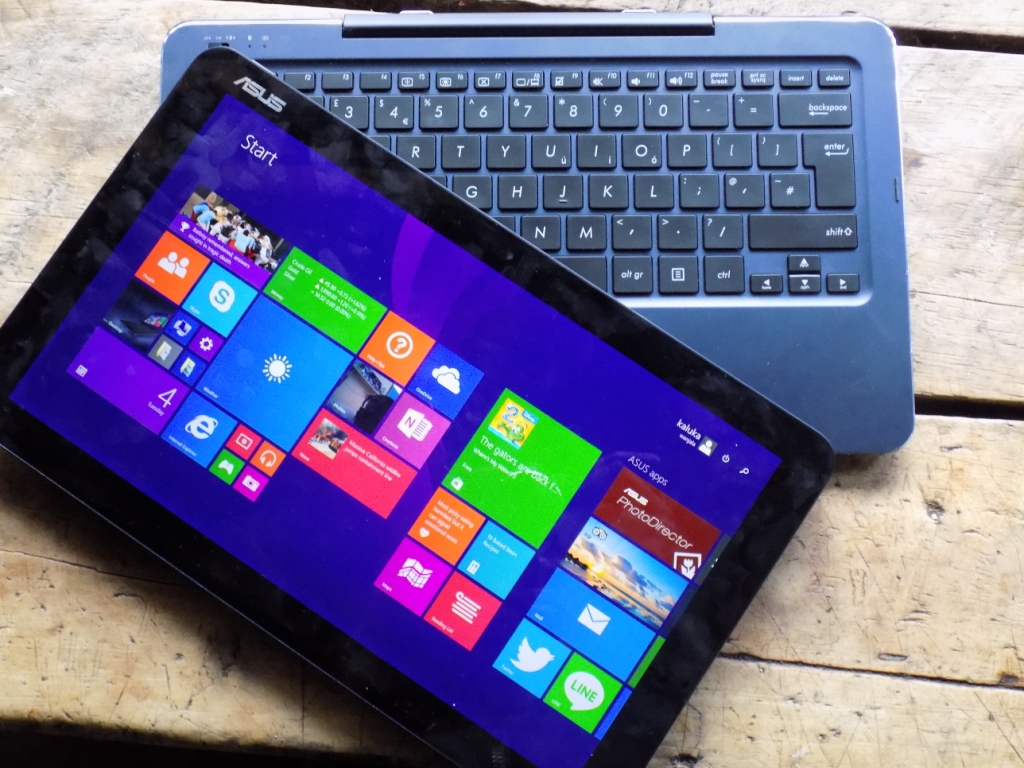 The battery of the tablet on the other hand does not last that long or even for a full day with heavy usage. If you plan to have the screen on throughout the day, you will get about 6 hours of usage or less. I managed to get about 6 hours and with light usage, I could get a full day or two without charging it. With heavy usage, I could barely get it charged up for more than 4 hours. Asus needs to improve on this.
For work, this is the best 2 in 1 laptop out there. You can even be used as your primary laptop when you get used to it. When I first got the T300, I wasn't that excited but with a few days of using it, I got used to it and ended up using as my primary laptop.
The trackpad also makes this hybrid laptop easy to use. It is very responsive and reliable as I noticed during the review period. The only problem is that it is too small.
Multimedia
If you are more into media consumption, the Asus Transformer Book T300 Chi is perfect for you. It has a 12.5 inch display with a 2560 X 1440 resolution. This display is very clear and stunning even when used outside. This device has 4K capabilities and you can play 4K videos without any issues. The only problem I had when playing multimedia content is the sound. The speakers are placed on the sides and this does not give a very good experience. There is enough space on the front part of the T300 tablet and I think Asus should have placed the speaker grills there for a better experience.
What I liked
The Asus Transformer Book T300 Chi has a sleek design that made it stand out for me. The thin design and lightweight nature really impressed me. I could get some work done anywhere I was. The magnetic latching system also appealed to me. Attaching and detaching the tablet and keyboard from each other gave me the option of converting from a laptop to a tablet easily. This makes it easy to use the laptop for work and media consumption. The Intel Core M processor performs quite well and did not disappoint.
What I didn't like
Even though the Asus Transformer Book T300 Chi is a good device, it has some drawbacks. To start with, all the ports on the tablet section are mini ports. A mini HDMI port, Mini USB port and others. This means that you will not be able to insert a normal USB or HDMI cable without using additional cables. The tablet also got slightly warm with the review unit I used. I know this is a compromise we have to accept with the use of a fanless Intel Core M processor, but the heat can be uncomfortable when you place the tablet on your laps. The battery was also not that good. If I am to work with the laptop out of the office the whole day, the battery has to last for at least 8 hours with heavy usage.
Conclusion
The Asus Transformer Book T300 Chi is a really good product, I would recommend it for anyone who wants portability without compromising on performance. This device has some good specs that make it perfect for both work and play. Even with the few drawbacks it has (including the heating and mini port), this device is very appealing. Its vibrant display and light weight and this nature make it perfect for those always on the move.