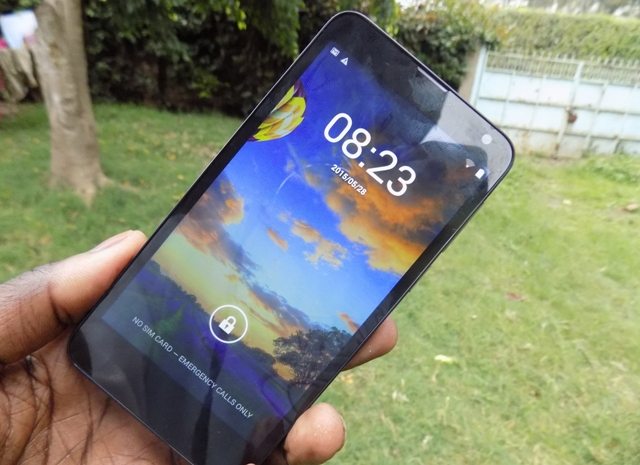 Two days ago, I got my hands on a soon to be launched Smartphone in Kenya. This is the Fly Eclipse 3 which when launched will sell exclusively on Jumia. You should expect to see this phone next week at Jumia's Mobile Week. To be honest, I wasn't sure what to expect from this Smartphone. It is one of those Smartphones you have never heard of before and you are not sure how good or bad it is.
What's In the Box?
As I have said above, I was not sure what to expect from this phone or what it looked like. When I got the box, its packaging looked good and the packaging material felt premium. Opening the box you will see the Fly Eclipse 3 sitting on top, nothing fancy but it still looks good. Aside from the phone, you get a micro USB cable, a power socket adapter, earphones, battery, warranty information and a user guide.
The Fly Eclipse 3 is all black with a plastic outer shell that does not feel cheap. My first impressions of this Smartphone was that it looks premium, I was not expecting this at all. I remember picking this phone up from Jumia offices, I wasn't that excited but this all changed when I saw it out of the box.

Awesome Design
The Fly Eclipse 3 has one of those designs that you like immediately. Again, nothing fancy but still look good. It has a minimalistic design that is much welcomed. On the right side of the phone, you get the power button and volume controls. The left side has nothing; this gives it a continuous smooth feel. The USB port and headphone jack are found on the top with the bottom of the phone having a small microphone that you will not easily see.
This is a 5 inch Smartphone that sits perfectly on the hand thanks to its slightly curved back. Speaking of the back, that is where you will find the 8MP camera with LED flash.
Using the Fly Eclipse 3
First let's get this clear, for me to give a full comprehensive review, I need to have used the phone for at least 2 weeks. I have used the Fly Eclipse 3 for about two days and I feel I have noted some of its strong and weak points. Getting the phone powered up is easy, just put in the battery and you are good to go.
One thing I noticed though is that the battery feels sticky when removing it, I felt as if I was breaking it but reading the user manual on the company's website, I realized that is how it is supposed to be. I also found it slightly difficult to remove the SIM card. This may have nothing to do with the phone itself but with the Safaricom Micro SIM that I am using.
Still on the issues I have with the phone, I would suggest to the people at Fly Mobile to ensure that it is easy to remove the back cover when you want to access the battery or SIM card. At the moment, removing the back cover feels as if you are tearing it apart.
Smooth Usage and No Lag
The Fly Eclipse is powered by a 1.3GHz Quad core processor from MediaTek coupled with 1GB of RAM so its performance is pretty good. This phone is running on Android 4.4 KitKat straight out of the box. What I like is that Fly Mobile has not filled the phone with bloatware so your 8GB of internal storage space is not eaten up by unnecessary apps. Speaking of memory, you can expand it using a MicroSD card if the 8GB is not enough for you.
I have not had any issues with apps as they all feel snappy and fast. If you know me, you know that my phone is always on and I use it heavily and for me to say I have not had an issue with this phone says something about it. The 2000mAh battery can easily get you through the day if you are not a heavy user.
Camera
The Fly Eclipse 3 has an 8MP rear camera and a 2MP front facing camera. The 8MP main camera takes decent photos but not the best to be honest. Its photos look a little bit dull and colours do not pop out as they should. This does not mean that the photos are bad, it's just that they are not good. The 2MP front facing camera takes some good shots in well lit environments especially outdoors. Both the front and main cameras are not built for taking photos in low light conditions so you need a lot of light to take some good photos.
Read: Jumia Will Next Month Hold the Biggest Mobile Phone Sale Ever