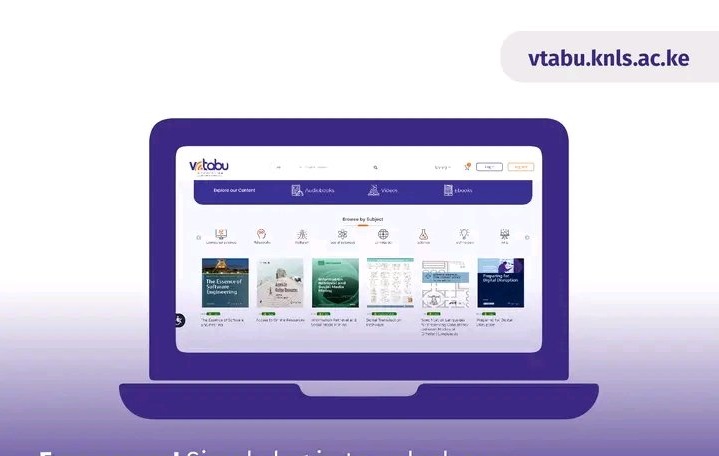 The Kenya National Library Service (KNLS) has announced the launch of its on-demand virtual library. This will go a long way in revolutionizing the way Kenyans access books and educational materials. This is especially so for those who may not have access to libraries. The virtual library, which can be accessed from anywhere at any time, can help bridge the digital divide and provide on-demand access to a wide range of books and resources including CBC materials at no cost.
It is always good to see organizations such as KNLS adapt to the digital era and cater for the changing preferences and demands of library users. Technology can help them expand their reach and make their books and reading materials accessible to a larger population. This ensures the library stays relevant and serves as a valuable resource hub for Kenyans.
You can access the virtual library here >> https://vtabu.knls.ac.ke/

On-Demand Access to Books and Resources
One of the key features of the KNLS virtual library is the ability to access books and resources on demand. Users can browse through a vast collection of e-books, audiobooks, and educational materials including CBC resources, and access them from the comfort of their homes or any location with an internet connection. This convenient access removes the limitations of physical distance and operating hours, enabling individuals to engage in self-directed learning at their own pace.
This virtual library has a diverse collection of books and resources, catering to readers of all ages and interests. From children's books to academic textbooks, fiction to Government Publications, the library offers a broad range of materials to cater to varying preferences and learning needs. This extensive collection ensures that individuals can find relevant and engaging content, fostering a love for reading and knowledge acquisition.
The ease of access and availability of resources lets individuals to enhance their knowledge, develop critical thinking skills, and expand their horizons. The virtual library serves as a valuable tool for students, professionals, researchers, and lifelong learners, enabling them to explore new subjects, stay updated on current topics, and pursue personal and professional development.
It is important to note that the virtual library is designed to complement rather than replace traditional library services. Physical libraries continue to play a vital role, providing a space for engagement, socialization, and access to additional resources. The virtual library acts as an extension of the physical libraries, offering an additional avenue for accessing materials and expanding the reach of the KNLS's services.