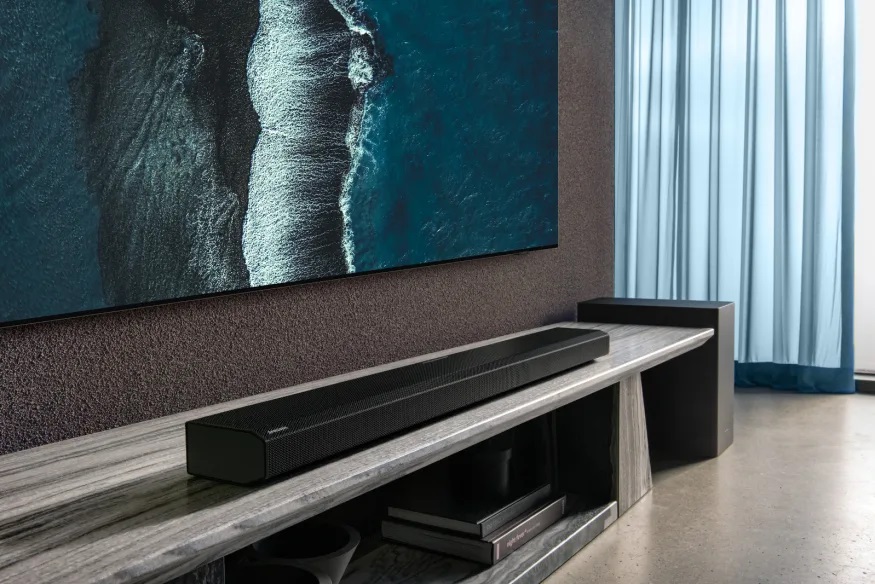 Samsung Electronics has been recognized as the leader in the global soundbar market, according to the market research firm FutureSource Consulting. A report published on February 28th, 2023, revealed that Samsung has topped the soundbar market for the ninth consecutive year, accounting for 20.2% in market share and 18.4% of the industry sales volume in 2022.
This achievement is not only a testament to Samsung's commitment to providing its customers with top-quality audio solutions but also an indication of the Korean tech giant's ability to innovate and push the boundaries of sound technology. In a statement by the Head of Consumer Electronics Division at Samsung Electronics East Africa, Mr. Sam Odhiambo, he expressed his excitement over the recognition and affirmed Samsung's commitment to driving innovation in sound technology.
Samsung soundbars are expertly crafted, fine-tuned, and sleekly designed for powerful and immersive sound quality, enhanced compatibility with TVs, and modern aesthetics. Samsung soundbars have also impressed industry experts and reviewers alike. In 2022, AVForums selected the HW-Q990B as the "Best in Class" Award winner, while Newsweek praised the HW-S800B for delivering impressive room-filling sound in such a compact form.

This year, Samsung is taking its Soundbar lineup to the next level with captivating cinematic sounds and premium audio features that will win the hearts of consumers and home theatre enthusiasts. Samsung's flagship Q-series soundbar, the HW-Q990C, comes with an impressive 11.1.4-channel setup and Dolby Atmos audio. It also features Q-Symphony 3.0, which analyzes and processes voice channels and audio elements to deliver perfectly synchronized audio using every speaker in both the TV and the Soundbar. Additionally, it features SpaceFit Sound Pro and Game Mode Pro, which optimize sounds to match the acoustic properties of each space and game genres for added realism when played through Samsung Gaming Hub.
Cheolgi Kim, EVP of Visual Display Business at Samsung Electronics, stated that "Samsung is committed to providing our customers with an industry-leading home entertainment experience that meets the evolving needs of our customers." Samsung Soundbars are the perfect immersive match for Samsung TVs, exemplifying the pinnacle of cinematic sound with smart audio features and enhanced connectivity.
Also Read: Considerations when Buying a Soundbar