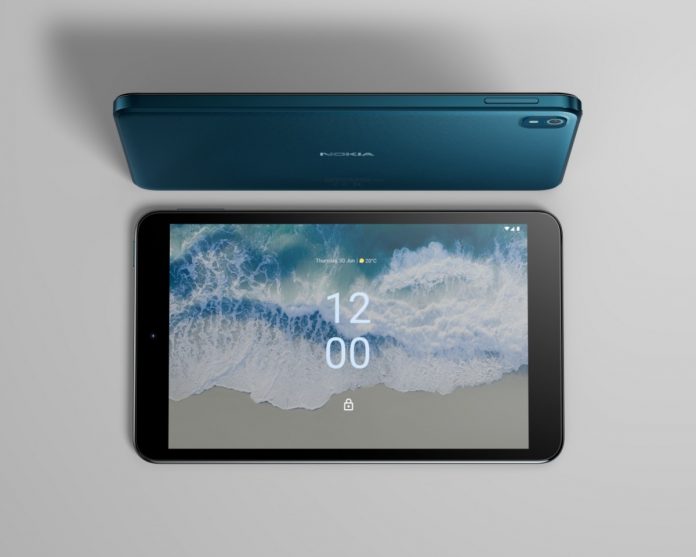 HMD Global has announced its second tablet, the Nokia T10. This compact and versatile device and comes with features that are sure to impress families, travelers and anyone who is in search of a durable and affordable tablet. The tablet is available in Kenya starting from Ksh 19,999. The tablet was unveiled to a global audience back in July 2022 and has only now made its way to Kenya.
First of all, let's talk about the design. The Nokia T10 boasts a solid unibody polymer design with a nano-textured finish that helps hide the appearance of scratches. The smooth, matt ceramic pearl coating even shifts in color depending on the lighting, giving it a premium look at an affordable price point. And when it's time to upgrade, you can hand the Nokia T10 down to a younger family member without it looking like a "second-hand" device.
Now, let's dive into the features. The Nokia T10 comes with a bright 8″ HD display and stereo speakers with OZO playback, making for a clear picture and sound no matter where you use it. Whether you're taking video calls from home or streaming your favorite TV shows, the Nokia T10 is a great portable companion. It also comes with a second screen feature, allowing you to maximize your productivity when you need to finish an important task.
The Nokia T10 also features Google Entertainment Space, a one-stop home for all your content needs. You can stream, read, or play without having to hop between apps. And for the little ones in your family, the Nokia T10 comes with Google Kids Space, which has a library of content perfect for children to explore, learn, and discover. The Family Link app from Google allows you to manage your kids' experience, set screen time limits, and more, all from your device.
In terms of security, the Nokia T10 has got you covered. With face unlock, you can access your personal data with just a glance, and with Mask Mode, you can even unlock the tablet while wearing a face covering. And with three years of monthly security updates, twice as many as the competition, you can shop and bank online with peace of mind.
The Nokia T10 is a compact tablet that delivers big value in a family-friendly package. Whether you're working, learning, or playing, the Nokia T10 has got you covered with its durable design, security features, and entertainment options. So if you're in the market for a new tablet, the Nokia T10 is definitely worth considering.
Nokia T10 Pricing and Availability in Kenya
Lastly, let's talk about the availability and pricing. The Nokia T10 (LTE) is available in Kenya starting 1st February 2023 in Oceanic Blue for Sh19,999.00. And to complement its functionality, Nokia has also launched the Nokia Flip Cover, a multi-functional case that protects the tablet when not in use and doubles as a stand, making it ideal for lounging on the sofa or getting creative with the kids.
Read: