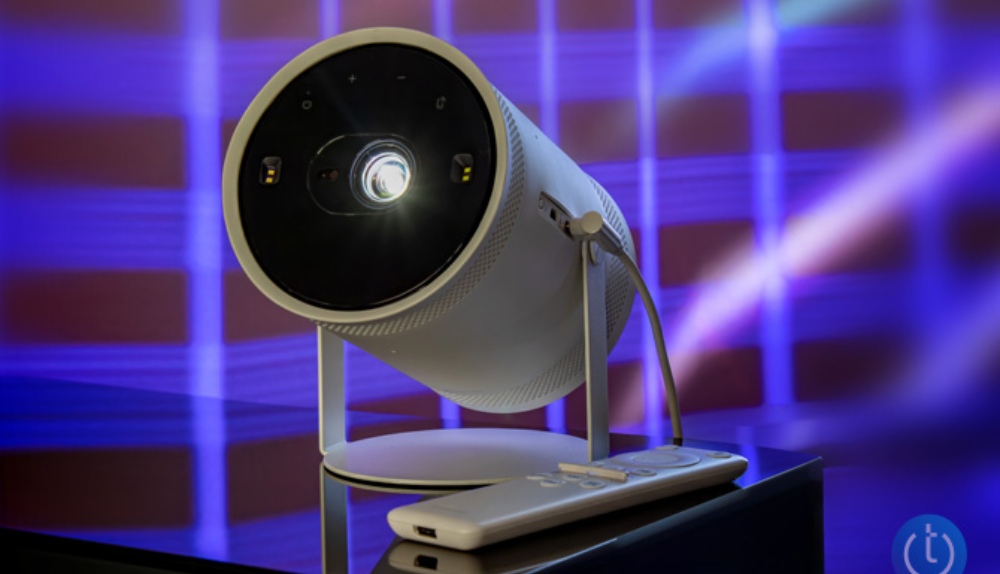 Smart projectors are becoming increasingly popular lately despite many people loving to consume their content on TV screens. Why? you may ask. Smart projectors are easily portable and allow you to stream content straight from your phone to a much bigger display than your average TV screen. They also have voice control and app integration for a seamless operation.
Samsung TVs are getting more portable this year as they added an ultraportable smart TV projector dubbed the Freestyle to its lineup at the CES 2022. Weighing less than 2 pounds, the Freestyle rests on a 180-degree cradle stand which means you can project your content wherever you like including the ceiling, and packs Samsung smart TV features which allow for content streaming and mirroring options from Android and iOS devices to a possible 100-inch display.
It has dual speakers with 360-degree sound reproduction and also doubles up as a smart speaker with mood lights and far-field voice control.

What is Samsung freestyle?
Despite being portable and aesthetically pleasing, portable smart projectors have their shortcomings too. Most of them tend to be relatively dim compared to the traditional projectors or even our standard TVs. They also tend to have lower image quality levels but The Freestyle features a 1080p resolution.
The sheer fact that they are portable means that they should/can operate without being plugged into a power source but just how long can they last? a few hours maybe. While the Freestyle offers 1080p resolution, Samsung hasn't specified yet if it comes with an internal battery. They have however given an option to buy an external battery pack that can output USB-PD at 50W/20V.
The Freestyle can also function when connected to a standard E26 light socket without special wiring. More details about the Freestyle's brightness level and accessories will be available soon.
The Samsung Freestyle projector is currently available for pre-order in the US for $899 and is expected in the other regions soon.
Samsung freestyle price in kenya
The Freestyle will be available in Kenya from April 2022 and will retail at approx. Ksh. 160,000 at selected Samsung stores across the country. You can also get it online through Samsung Brandcart for the same price.
Read: Samsung Galaxy S22 Specifications and Price in Kenya