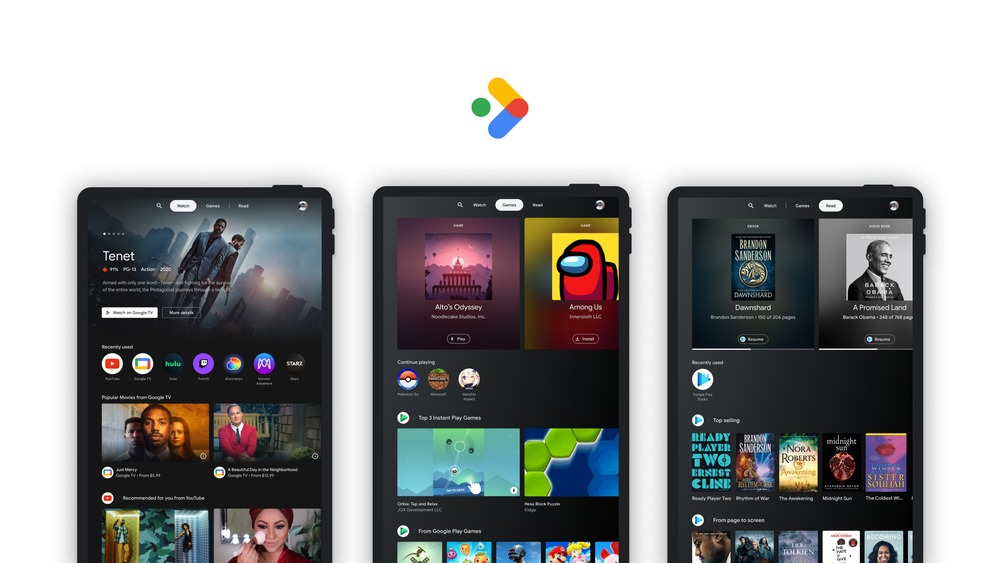 Google has announced a new feature for Android tablets dubbed Entertainment Space. Entertainment Space, as the name suggests, is a one-stop-shop for content on Android tablets. It's strikingly similar to Kids Space if you're familiar with that, but this one takes an adult approach.
Entertainment Space includes three separate tabs, Watch, Games, and Read. Watch features TV Shows, movies from several streaming platforms, including Hulu. Netflix is not part of the mix; the Verge points out.
You'll also see personalized YouTube videos in this tab. The games tab is where video games are featured, including a quick way to resume your favorite games and other titles that might pique your interest. Lastly, the Read tab includes books – audiobooks as well as eBooks.
(tap the images to expand)
Speaking of the new feature, Google Play Product Manager James Bender says, "You'll save time and avoid having to hop between apps to try to figure out what to do, whether it's to watch, play or read."
"Once you sign in to your subscription apps, Entertainment Space will show you your content in one place and tailored for you," Bender wrote in a blog post.
The new interface is strikingly similar to the Google TV interface, the new UI that lies on top of Android TV, which takes a similar content-first approach.
Entertainment Space is coming to select Android tablets, although Samsung is not one of the few selected OEMs as of now. Lenovo, currently the world's largest computer maker, is one of the few. In the future, we might see the same rollout to more Android tablets from different manufacturers.
Read Next: Xiaomi Is Reportedly Back in the Tablet- Making Business