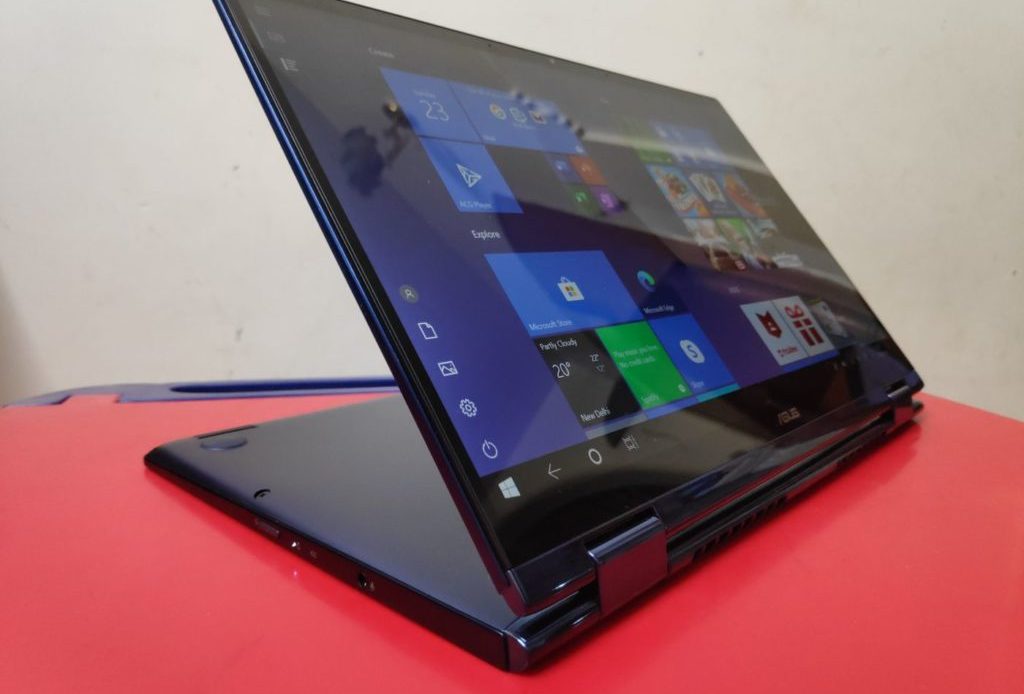 The premium 2-in-1 laptop market segment is not very crowded as we have a handful of devices to choose from. There are still some good ones and one of them is the Asus ZenBook Flip 13 that I have been using for a while. The laptop is very capable and does handle both light and heavy tasks without any issues. This is exactly what you expect from a premium laptop and is exactly what you are getting. Gone are the days when 2-in-1 laptops were considered to be less capable to handle heavy tasks.
The Asus ZenBook Flip 13 is available in Kenya starting from Ksh 145,000. You can get it from Elevetus Technologies starting from the price indicated. At this price, you are getting a powerful laptop that is stylish and pack some of the latest hardware specs and features.
Speaking of specifications, this is what the Asus ZenBook Flip 13 packs.

Dimensions: 12 x 8.3 x 0.55 inches (14mm) thick.
Weight: 1.2 Kg
CPU: Intel 11th-gen quad-core Core i7-1165G7
GPU: Integrated Intel Iris Xe
RAM: 8/16GB
Storage: 512GB NVMe PCI Gen 3 SSD
Display: UHD 4K Samsung OLED display with touch and pen support
Battery: 67 Watt-hour
Ports: Two USB C ports and HDMI 2.0.
Since I have been using this laptop for a while, I thought I should highlight some of the top 5 things I love about it and maybe you will love them too.
Sturdy Build Quality
If you are spending your money on a premium laptop, you expect it to be well built and that is exactly what you are getting with the ZenBook Flip 13. Asus says that this laptop has US military-grade durability that should be a vote of confidence to anyone who is considering getting one.
The laptop has an aluminium cover that makes it light and still very strong. The laptop feels sturdy and even the screen and keyboard do not bulge when you press hard on them. This just shows you how sturdy the build quality is.
The ZenBook Flip 13 is also very sturdy in the 2-in-1 mode. This is the mode you may end up using it most of the times and it will not feel clumsy.
Long Lasting Battery
One of the reasons why you may consider a laptop has to do with its portability. I do not like carrying my laptop's charge all the time as it adds a bit of weight and so I normally appreciate when I get a laptop that can last me an entire day on a single charge even on heavy usage.
With the Asus ZenBook Flip 13, I could get the battery to last me throughout my day and still have some left as I got home. This is a plus in my opinion and quite commendable for a laptop this thin and powerful. We expect such battery life on more powerful and beefier laptops out there.
For those who do not use their laptops heavily, you can get it to last for even longer. Charging this laptop is through the USB Type X port. You have two of these and for those who may be wondering, yes you can charge the laptop using a power bank but it will be slow.
Good Performance
I cannot emphasize enough how impressed I am with the performance of this laptop. It does handle well no matter what you use it for.
The ZenBook Flip 13 comes with the Intel Core i7-1165G7 processor and Intel Iris Xe graphics, 8/16 GB of RAM. This is not a bad combination and the CPU is potent enough for multitasking which is enough for most people.
At not time during my review period was I disappointed with the performance of this laptop. I did not do any video editing or rendering so I cannot say how it will handle that but I do not expect it to be too bad.
Beautiful OLED Display
The Asus ZenBook Flip 13 comes with a beautiful OLED display from Samsung. The display is glossy but not too shiny to make its use distracting. This is a 13.3-inch display that has very thin bezels.
The colour reproduction of this display is quite good and is very crisp. It has an anti-glare coating that makes outdoor visibility quite good even with the glass layer on top.
Its touch response is quite good and this makes it a breeze to work on it. Both in the laptop and tablet mode, you will not have any issues working on this laptop. The display has pen support which you can use if you do not like using your fingers or if you prefer using the pen.
When you flip the laptop to tablet mode, a pop-up notification will come up asking you if you want to work with it in the tablet mode.
Keyboard and Trackpad
I do type a lot on my laptops and hence appreciate a good keyboard and trackpad combination. Even with its small size, the ZenBook Flip 13 has squeezed a sizeable keyboard and trackpad. Asus has included a numeric keypad that has been embedded under the trackpad. We have seen the company do this on soe of its other laptops before so this is not something new. With the numeric keypad there, you are technically getting full size keyboard that is not available on most smaller laptops.
If you do not want the numeric keypad under the trackpad, you can just decide never to switch it off and it will just appear as any other trackpad.
The typing experience with this laptop is not bad either, it does feel good and the overall experience isn't far off from the laptop I am currently using. This is very positive for a smaller laptop as most of those are known to offer and not so good typing experience.