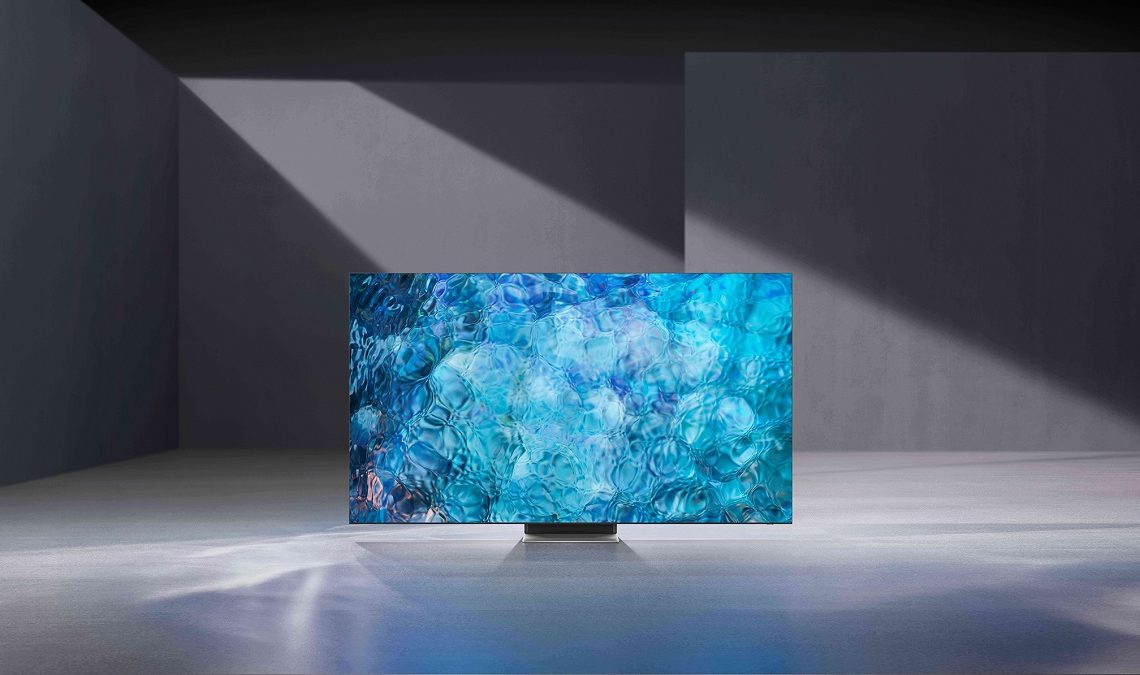 Samsung has officially pulled the wraps off its 2021 TV lineups ahead of the first-ever virtual CES event, CES 2021. The company's TV lineup for 2021 includes various devices across its Neo QLED, MICRO LED, and Lifestyle TV series.
Samsung 2021 Neo QLED TVs
Neo QLED is the latest display technology in its TV lineup and will be a first on flagship 8K (QN900A) and 4K (QN90A) models. Neo QLED is an enhancement of QLED, which involves a new backlighting technology called Quantum Mini LED controlled by Quantum Matrix Technology.
On top of the new backlighting technology, Samsung's Neo QLED also includes an improved picture processor to deliver better images with a "more precise and immersive HDR experience" over the standard QLED display technology.

Samsung's 2021 flagship 8K Neo QLED TV also boasts a nearly bezel-less screen, a cable management system thanks to the new Slim One Connect Box, and several top-notch audio-enhancing features like Object Tracking Sound (OTS) Pro and SpaceFit Sound.
OTS Pro corresponds to the movement of objects on the screen. SpaceFit Sound is present to ensure you get a customized immersive sound experience tailored specifically for the room your TV lives in.
Samsung is also championing the included nice-to-haves to suit different use cases. Samsung Health comes with a new smart trainer that acts as a personal trainer; Super Ultrawide GameView is a handy feature for gamers that allows them to choose between a wide 21:9 or ultrawide 32:9 aspect ratios, and Office 365 integration and Google Duo support for office use.
These features are available on Samsung's 2021 8K (QN900A) and 4K (QN90A) models.
New Samsung MICRO LED TVs
Samsung has refreshed its MICRO LED TV line with new bigger 110 -, 99 -inch options. The new TVs will also be available in smaller sizes as well by the end of the year. The line sports over a 99% screen-to-body ratio, the company's Smart TV features, and better sound quality – can produce 5.1 channel sound without an external speaker.
Lifestyle TVs
Since the 2017 launch of The Frame, Samsung is building on that legacy but changing course a bit to deliver new versions with revamped design and form factors. The Frame is sleeker – now half thinner than previous builds, Samsung says.
The new attachable bezel options of The Frame will be available in five color options and two different customizable styles, but the TV offers plenty of customization options.
Samsung's new 2021 Neo QLED, MICRO LED, and Lifestyle TV series will be showcased at CES 2021 next week.
Samsung serial competitor LG has also unveiled its 2021 TV lineup with a new display technology dubbed QNED that combines quantum dot and NanoCell technology. LG's 2021 TV lineup includes 10 new 4K and 8K models with variable screen sizes up to 86-inches.
The company will also unveil the new TVs virtually at CES 2021. CES 2021 will kick off this coming week on Monday, January 11th, and run until the 14th.
Read Next: LG Unveils Its First QNED Mini LED TV