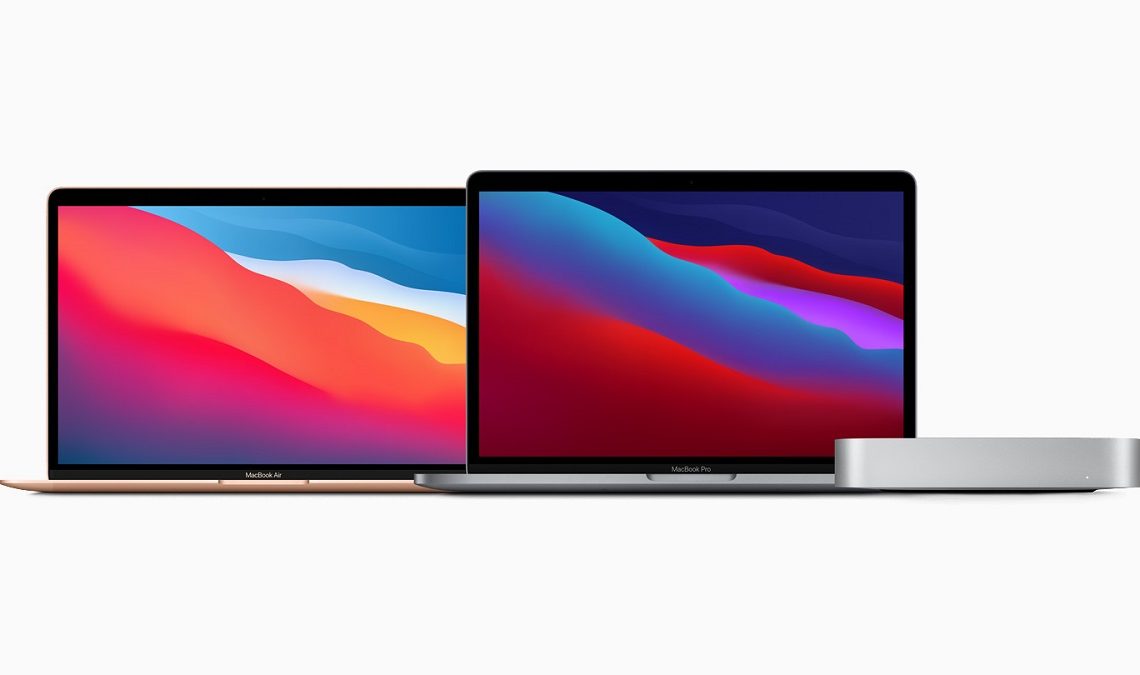 Yesterday evening, Apple announced its first-ever in-house processor built for the Macs. The M1 chip, as Apple calls it, was built with "industry-leading performance and features" with a "relentless" focus on power efficiency. These are the building blocks of the M1 chip.
It's also the first System-on-chip for the Mac leveraging Apple's unified memory architecture that combines the processor, I/0 controller, security, and memory chip. Combined in one single chip, the M1 promises to deliver high memory bandwidth with low latency.
The M1 SoC is built using the 5nm architecture, just like Apple's A14 Bionic chip that powers the iPhone 12 series.

The 8-core chip includes four high-performance cores and four high-efficiency cores. The four high-performance cores have a 128KB data cache and 12MB shared L2 cache, while the high-efficiency cores have a 64MB data cache and 4MB L2 cache.
According to Apple, the high-efficiency cores alone can deliver similar performance as the latest Duo-core MacBook Air with more power efficiency.
M1 has an inbuilt 8-core GPU, and it doesn't support external GPUs that are typically connected via Thunderbolt.
New Macs
Apple announced three new MacBook; a MacBook Air, Mac Mini, and MacBook Pro.
13-inch MacBook Air
M1 chip delivers 3.5x faster CPU performance and 5x graphics performance courtesy of the integrated 8-core GPU. Storage performance has also received a 2x boost with included faster SSDs. Apple is betting on the M1's power efficiency and power management features in macOS Big Sur to perform silently despite a fan's absence.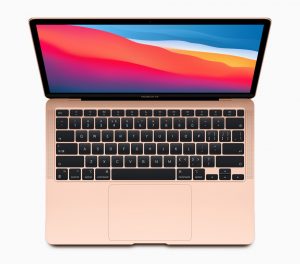 Key specs include up to 16GB of memory, up to 2TB SSD storage, Wi-Fi 6, 720p facetime camera, and stereo speakers with Dolby Atmos support.
The MacBook Air starts at $999 and will be selling in three colors, Gold,  Silver, and Space Gray.
Mac Mini
The M1 chip delivers 3X more faster CPU performance on the Mac Mini relative to the previous generation. The integrated GPU delivers a 6X performance boost. The Mac Mini's thermal design has been redesigned for better cooling.
It comes with several I/O ports, including Ethernet, HDMI 2.0, USB A, headphone jack, and Thunderbolt with USB 4 support, and goes for $699.
13-inch MacBook Pro
The MacBook Pro has also received a performance boost and battery efficiency from the M1. The ARM-based MacBook Pro starts at $1299, cheaper the Intel alternatives starting at $1799.
It also features up to 2TB SSD, 13-inch 2560 x 1600p IPS panel, built-in 58.2-watt-hour lithium-polymer battery, up to 16GB RAM, Wi-Fi 6 support, and a 720p FaceTime camera. Available ports include two Thunderbolts, display, and USB 3.1 Gen 2 port.
The new M1-powered 13-inch MacBook Pro is available in Silver and Space Gray.
The new Macs are available for pre-order and will hit the shelves starting next week.
macOS Big Sur
All the new Macs ship with macOS BigSur features a redesigned UI and more features. Big Sur is optimized to work in tandem with the new M1 chip to deliver better performance for the Macs with native support. With macOS Big Sur, the Macs can instantly wake from sleep, and iPhone and iPad apps can now run directly on the Mac thanks to the M1 chip.
Read Next: Realme 7i and realme C12 smartphones are now Available in Kenya