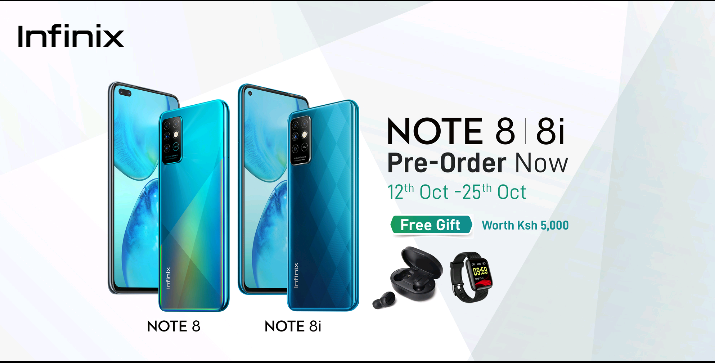 The Infinix Note 8 is finally coming to Kenya. We told you about this phone late last week informing you that the company will be launching it in Kenya later this month.
The Infinix Note 8 will be the successor to the Note 7 that was launched in Kenya a few months back. It is quite strange to see two devices in the same series launch in the country just a few months apart but considering how things change really fast in the smartphone market, the company may have seen it fit to replace the Note 7 to still be competitive in the market.
With the Note 8 series, Infinix will be launching the standard Note 8 and the Note 8i. The exact price of the two phones has not been revealed but that information should be available in the coming weeks.

How to pre-order the Infinix Note 8 and Note 8i
The Infinix Note 8 and Note 8I Pre-order period will start tomorrow (October 12) and go all the way to October 25th. This is almost two weeks long and is sufficient for those who want to be among the first ones to own this phone when it is available.
To pre-order, buyers will be required to pay a deposit of Ksh 3,000.
Those who pre-order either the Note 8 or the Note 8i will walk away with a gift worth Ksh 5,000. The gift will be available immediately the deposit is paid as they wait for the phones.
Customers can pre-order these devices from Infinix outlets countrywide.
Also Read: The Infinix Note 7 Camera Review