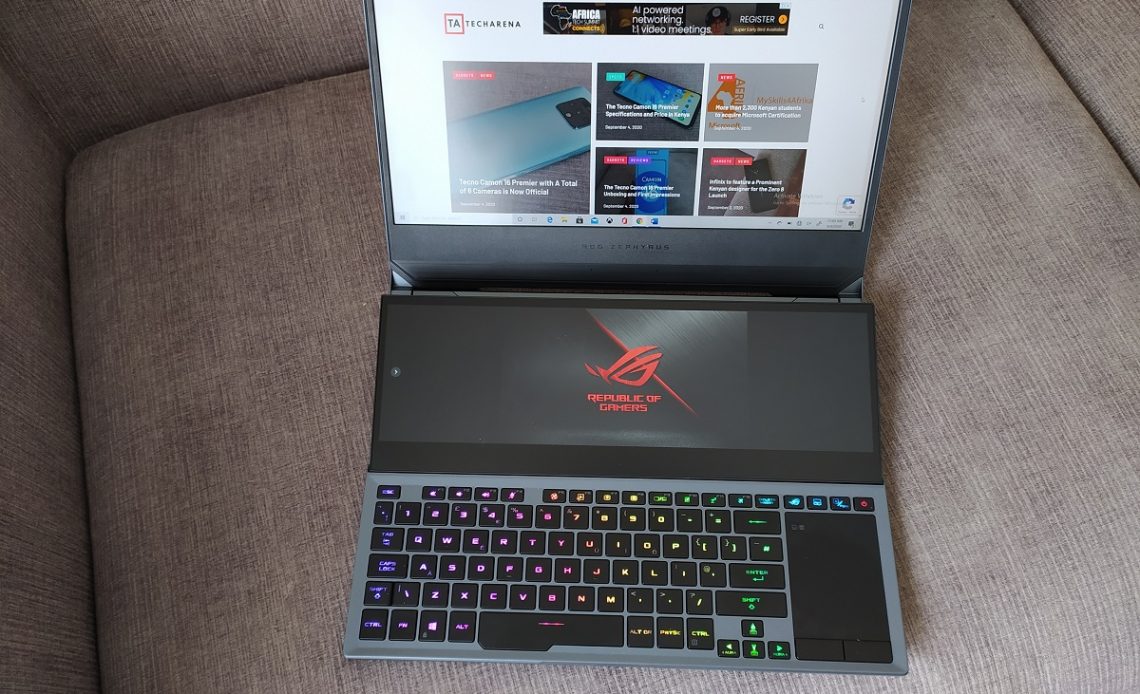 When it comes to gaming laptops, Asus with its ROG series is a dominant force. We have seen a number in this series and one of the latest is the ROG Zephyrus Duo 15. I have had a chance to interact with this laptop that promises high end gaming performance and delivers on that.
The ROG Zephyrus Duo 15 is as powerful as powerful gaming laptops can get. What powers it is not the only thing that got my attention though, that has to be the two screens it comes with. This is not the first time we are seeing such a setup as Asus has a handful of laptops with this setup.
With a dual screen setup, you eliminate the need of having an external monitor. Depending on what you use your laptop for, this can be a clean setup that ensures you have access to two screens no matter where you are. The biggest issue of working with an external monitor is that it is not portable and this means that you either have to stay at your desk all the time or be forced to stick to a single monitor.

For the ROG Zephyrus Duo 15, gaming with a dual screen setup means that you can have the main screen with your game while the secondary screen can have your music, web browser open or anything you want. For my case, when gaming I always like to go to YouTube to look for cheat sheets that can give me an edge when I am stuck. I know some people may be against this but that is just what I do. With a laptop such as this, I always open YouTube on the secondary display without leaving the main window with the game playing. The secondary display is touch sensitive so interacting with it is easy without affecting what I have on the main display.
You are free to customize your dual screen setup the way you want, after all, the laptop is meant for gaming but that is not the only thing you can do. For programmers, you can use the main screen with your IDE (Integrated development environment) open with the secondary display has what you are referencing. The use cases are endless and all depend on your needs.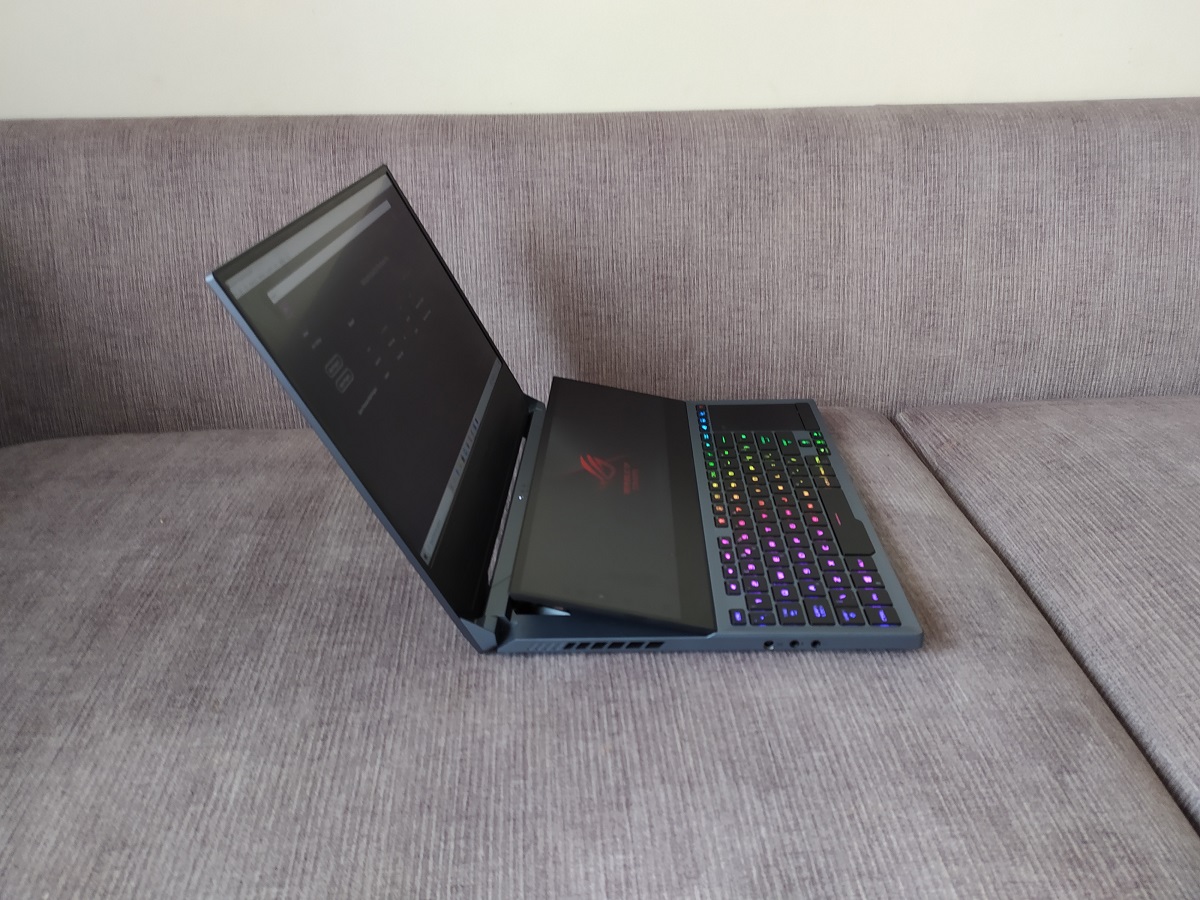 Before we get into the full review, let us first highlight the key specifications of the ROG Zephyrus Duo 15.
| | |
| --- | --- |
| Processor | Intel Core i7-10875H |
| RAM | 16 GB |
| Boot Drive | SSD ( NVMe) |
| Storage | 1 TB |
| Screen Size | 15.6 inches |
| Display Resolution | 3840 x 2160 |
| Touch Screen | Yes (secondary) |
| Panel Technology | IPS |
| Screen Refresh Rate | 60 Hz |
| Graphics Processor | Nvidia GeForce RTX 2070 |
| Graphics Memory | 8 GB |
| Wireless Networking | Bluetooth 5, Intel Wi-Fi 6 |
| Battery | 90Wh |
Design
Asus ROG laptops are known to be beefy and have a huge presence. The ROG Zephyrus Duo 15 takes a similar foundation but feels way more refined. It is still big but modernized compared to some of the other gaming laptops on the market. The laptop has a subtle finish and even the logo does not screen with different colours as we see on other laptops.
That is not the thing that will get your attention though as opening the lid of the laptop lifts the secondary display at an angle. I have used laptops from Asus with two displays and this is the first one with such a mechanism. And this is not just about being unique as having the secondary display lift up has two main advantages.
It allows for the smooth flow of air. This is a very powerful laptop as with most gaming ones and can get hot if there is no smooth flow of air. Lifting the display allows for the air to flow and this means that the fan will not work on overdrive to cool it down.
Secondly, lifting the secondary display makes it easier to see what is on it while still siting in a very comfortable position.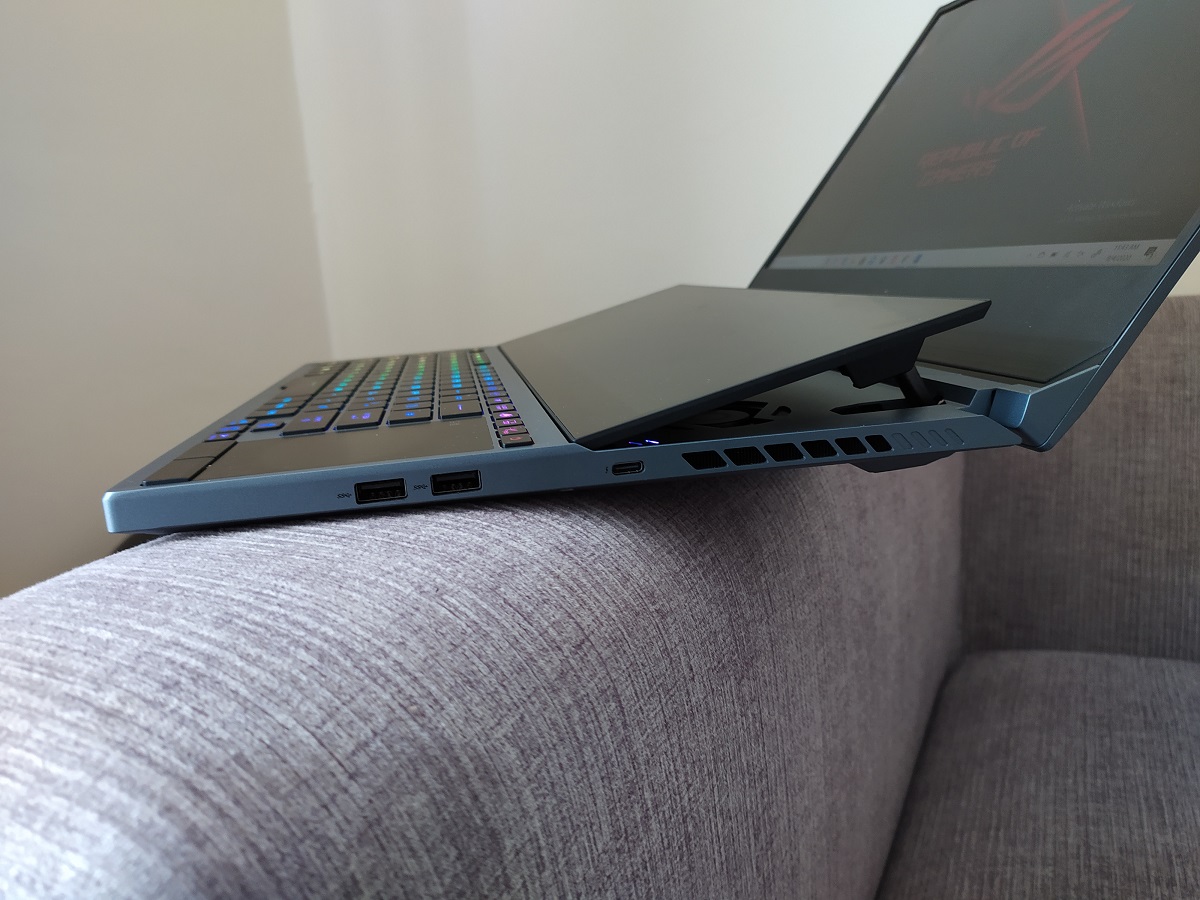 With the secondary display, the keyboard has been pushed down a bit as with the case with most other dual screen laptops. This setup will require getting used to as it is not the usual setup we have on most other laptops. The trackpad has also been moved to the far right section which also requires some getting used to. The typing experience is a bit awkward but this is a gaming laptop and not a business or work laptop.
Even with its unique setup, the ROG Zephyrus Duo 15 is not that obnoxious to carry around. I can fit it in the bag provided and walk around with it without feeling like I am carrying stones to work.
For ports, you are getting 3 USB-A ports, LAN port and an HDMI port. No SD card support but I never use this anyway so this was not an issue for me. The reason why we may not have that many ports has to do with the fact that the laptop has two large vents on either side to help with cooling. They do a very good job to be honest and I managed to play a few games and use Adobe Premier Pro with no problems.
The speakers face down so keep that in mind if you are going to use the inbuilt ones with the laptop on a desk. They still produce good quality sound but may be muffled a bit.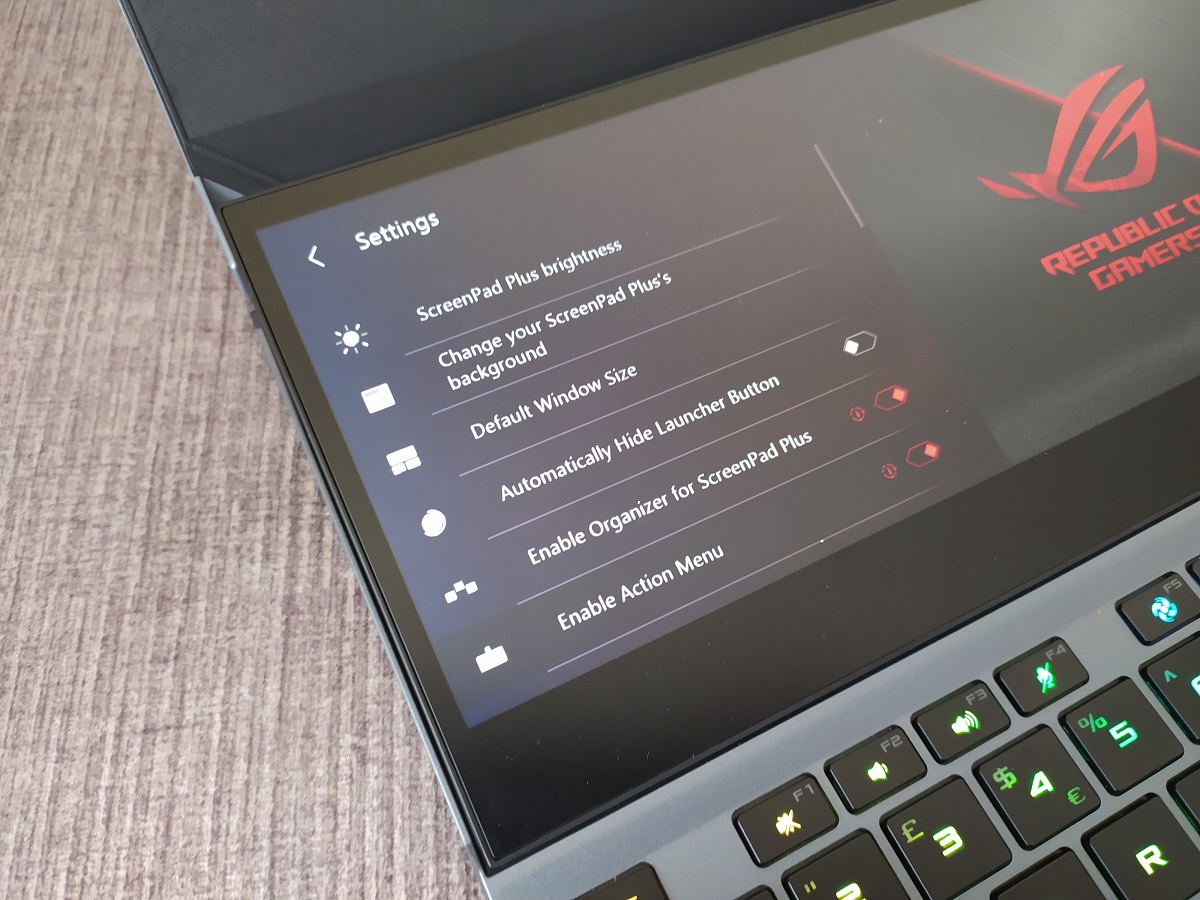 The main display is excellent. Very good colour accuracy and reproduction. This is a 4K display that is very colourful and this makes it perfect for creators too and not just gamers. The secondary display isn't as bright as the primary one but gets the job done. It has different controls from the primary one letting you control it independently.
Read: The ASUS ZenBook 14 – UX434F Review
Performance
The design aside, you are definitely going to buy this laptop because of its performance. For that, you will not be disappointed. The review unit I had was powered by the Intel Core i7 processor that has been paired with 16GB or RAM and 8GB GPU and 1TB SSD (NVMe) with very fast read and write speeds.
The specs do not mean that much to be honest and I had to try out real world use to see how it handles that. The laptop did a very good job to be honest from gaming to video editing. I did play Call of Duty a lot and did not see any performance issues. I was expecting very good performance and that is what it delivered.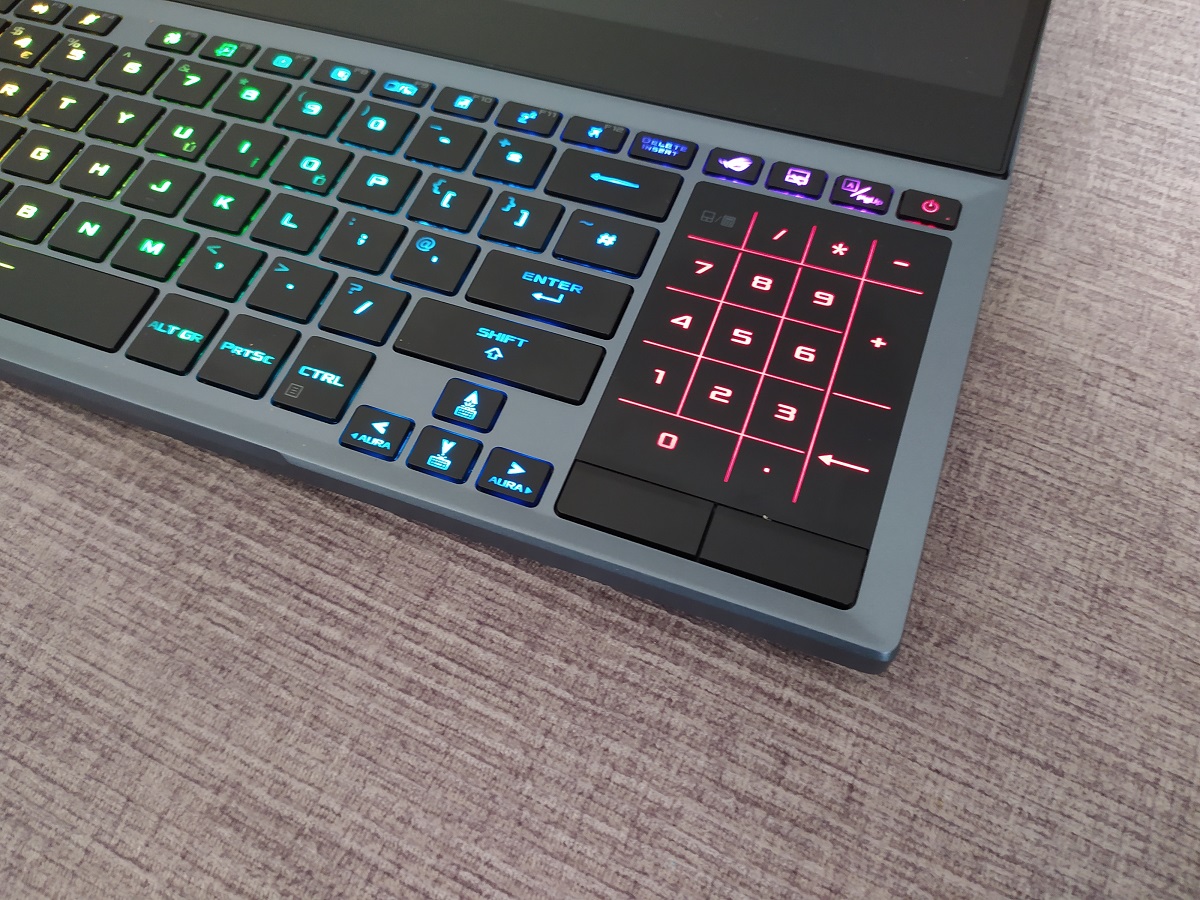 If you are thinking of buying this laptop you want high performance and refresh rate when gaming and is exactly what you get. Asus promises a lot with it and it did deliver all the time.
Battery Life
This is one area where this laptop did not perform well. It is very powerful and you expect that to eat up the battery very fast. Most gaming laptops have terrible battery life as they are always plugged in when in use and that is the case with this one.
You should be looking at a maximum of 5 hours of battery use and depending on what you are doing on it, that will dip a bit. If this is not a big issue for you, that is excellent but if its is, it may be disappointing. I am always near a power source and did not see this as a big deal, 5 hours is not so bad compared to some other gaming laptops I have used before.
Who Is It For?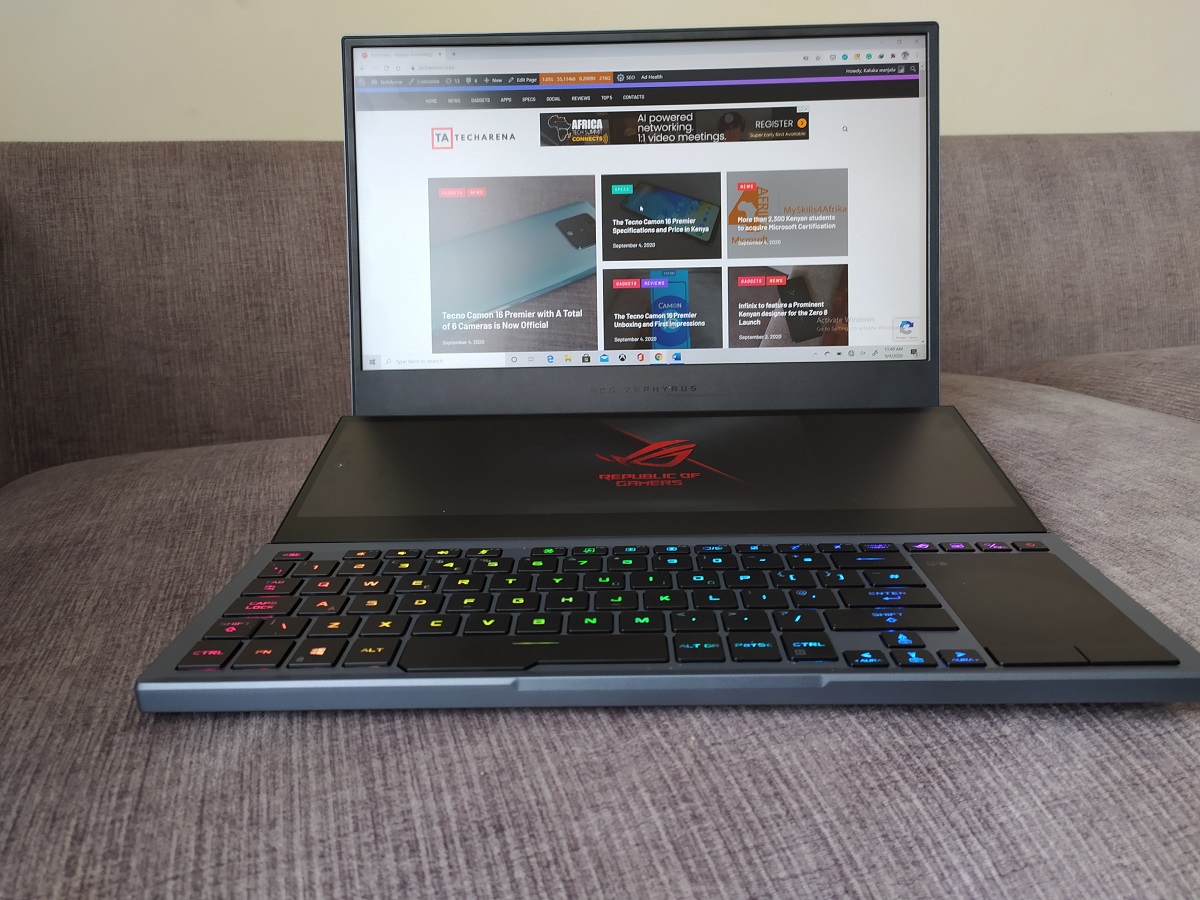 With all that said and done, who is this laptop for? Basically any gamer who wants a powerful and portable unit. If this is you, this is perfect for you. The laptop should handle all major titles without any issues. The raw power it provides should get any power user excited.
If you want a laptop with a dual display that will turn heads then you should also consider this. The futuristic design is definitely a plus in the gaming laptop market filled with devices that all look the same.
If you also want a beautiful display for gaming than this is also perfect for you. The 4K display is stunning and the best one from Asus yet.
Drawbacks
This laptop is not perfect and the battery life may not be that great for most people. Asus should improve this with the next iteration.
You also don't get that may ports and if that is a concern for you, you may not enjoy this one.
Also Read: ASUS ZenBook 14 Duo – UX481 Review – Two Is Better Than One