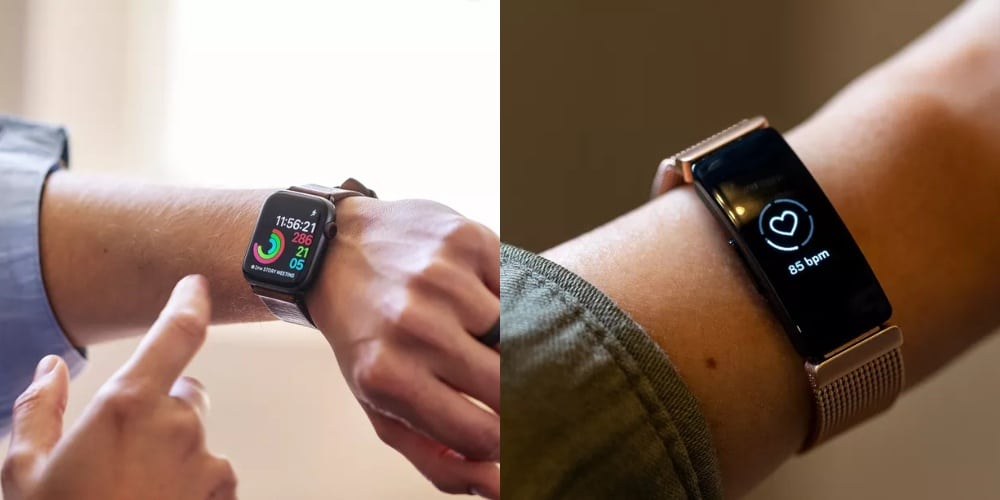 Many people use fitness trackers nowadays to guide them as they workout for example when swimming, jogging or even cycling. Fitness trackers can also help you understand your health situations, for example, detecting irregular heart rhythms.
Apart from that, we also get weather updates, message notifications, calendar and so on and so forth from our fitness trackers. I have only used Huami Amazfit GTS Smartwatch and so far, so good. It looks identical to Apple Watch Series 5 Aand works almost perfectly except for footstep count, which in most cases it loses count or you can wake up and it has registered 50 footsteps and you haven't even stepped out of your bed, weird huh.
That aside, shopping for the perfect fitness tracker is not an easy task. There are very many brands out here with inviting features and reasonable prices to choose from.

1. Sensors
The fundamental mission of these devices is to track your physical activity. They accomplish this by recording and interpreting data generated by a variety of sensors. The basic sensor is an accelerometer that detects linear acceleration. Typically, three of these are configured as a single unit, covering all three axes. In order to detect radial (rotating) motion, a tracker needs gyroscopes: again, one for each axis. Some trackers also include magnetometers that detect magnetic fields, making it possible to deduce which way is up. Not all trackers have all three types of motion sensors, but more sensors mean better results and more accurate data.
The other common type of sensor system in a tracker is for photoplethysmography, which is a fancy name for "detecting heartbeats using light." This technology pairs one or more LED lights with light sensors mounted on the back of the device. The light reflects off blood and tissue and the amount of reflected light changes as heartbeats pump blood through the vessels.
2. Health Tracking
One feature that has received a lot of recent attention is the ability for the device to monitor electrocardiogram (EKG) data. This refers to the actual electrical waveforms of your heartbeats. These devices can even alert you when they detect a potentially dangerous heart arrhythmia (such as atrial fibrillation).
Trackers can include a host of health features. This includes sleep tracking, hydration, food intake tracking, female health data, and reminders to get up and move from time to time.

3. Workout Tracking
Since a tracker's main purpose is to help with workouts, most will have a timer feature that lets you set an alarm for a particular interval or use a stopwatch to track your session. Many trackers will also let you specify your workout activity, such as walking, running, swimming, or bike riding. Some devices, such as the Fitbit Charge 3, will even automatically recognize the type of activity when you start.
4. Water Resistance
If you will use your device even when swimming or during showers, then you will want to have a fitness tracker which is water-resistant. Look for the IP rating before you buy your fitness tracker. IP67 means that the device is rated for immersion in water as much as one meter deep for 30 minutes, while IP68 is rated for depths greater than one meter. Many trackers are now rated as water-resistant for up to 50 meters in depth.
5. What does it offer from the necessary
Just about all fitness bands tell time and just about all smartwatches track your activity, so your choice of one or the other will be based on your taste, your budget, and how much more you want the device to do besides activity tracking.
Trackers are great for exercise enthusiasts, but the average consumer needs more if the tracker is to become an essential part of daily activities. One study reports that more than half of people who own a fitness tracker no longer use it.
This is where smartwatches come in. While the main purpose of fitness trackers is, logically, fitness, smartwatches let you upload apps for a variety of both fitness and non-fitness-related activities. In addition, smartwatches can offer a variety of watch faces, the ability to take and answer calls, and to listen to audio, wireless payment and built-in support for the Amazon Alexa voice assistant especially for Fitbit Versa 2 to name just but a few features.
6. Battery
Battery life is a problem for some people. Most smartwatches will last for a few days between charges and some fitness bands can go for a week, but you may find that even this might be inconvenient. You can buy smartwatches or fitness trackers with better battery life. Another solution is the Misfit Shine 2; it doesn't recharge at all but uses a replaceable (and inexpensive) coin battery that lasts up to six months. You can also turn off the always-on display on the fitness watch or smartwatch to save on battery.