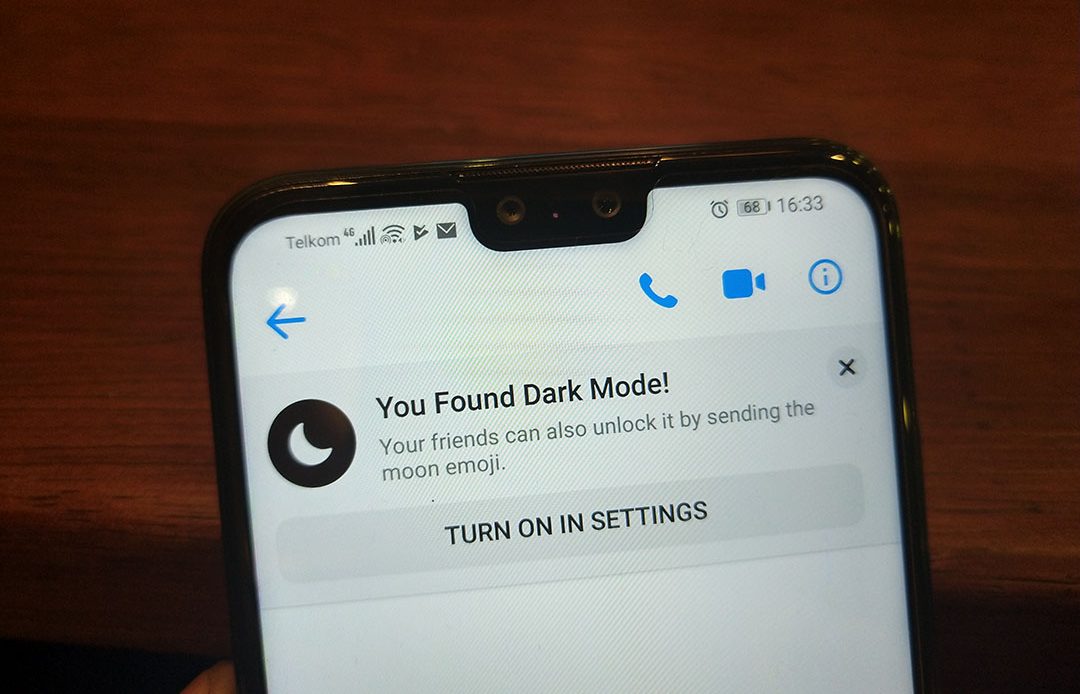 Don't mind my dramatic headline, I have always wanted to use it.
We finally have good news for the lovers of dark themes on their mobile applications. Facebook has finally added Dark Mode to its messaging app, Messenger. The company announced this feature back in October (2018) but we never saw it roll out to users till last weekend.
The social networking site made some changes to Messenger by letting a crescent moon(?) emoji usher its users to the dark side (Dark Mode). The company has announced the arrival of this new feature that you can unlock right away.
The feature is still being tested and to activate it, just send the crescent moon(?) emoji in a chat and you will get an option to activate Dark mode. You will see the notification to do so at the top of the chat window and tapping on it will take you to the settings page where you will be able to activate Dark Mode. The company has said that this is still work in progress so Dark Mode will not be activated on all pages.
Facebook has also been clear that this is a "limited-time only experience" and this means that you may not be able to activate Dark Mode using the moon emoji after a few days. I have activated it on my end and it looks really good. It is true Dark Mode and looks way better with an AMOLED display and you should definitely activate it if you have one.
Dark Mode is available on Messenger app on both Android and iOS. You will need the updated app to activate this mode so make sure you head to the Google Play Store or Apple App Store to get the updated app.
If you do not want to test out the feature before it rolls out to all users, you can wait as the company will push it out to all users in the coming weeks. When it rolls out to all users, I am sure its activation process will be way simpler that this and you will not be required to send emojis just to activate it.
Also Read: Facebook Messenger Now Let's Users Unsend Messages, here's how to do that