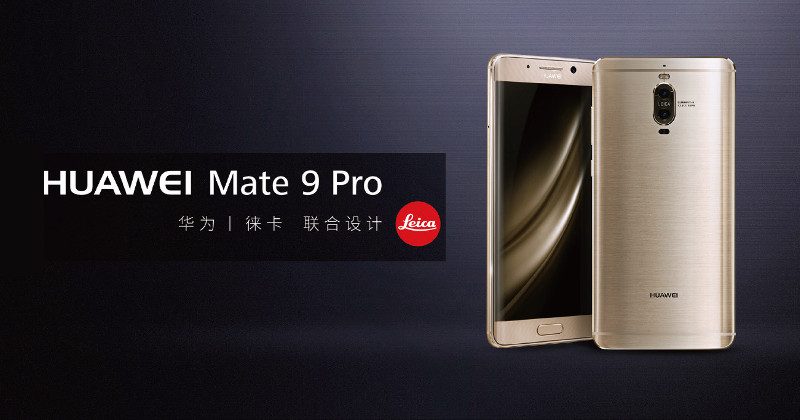 A few weeks ago, Huawei unveiled its 2016 flagship phablet, the Mate 9. The company unveiled two variants of this phone, the standard Mate 9 and the Porsche Design Mate 9. While the standard Mate 9 came with an affordable price tag, the Porsche design variant is a limited-edition version with a €1,395 price tag.
Let's face it, not everyone is able to spend that kind of cash on a smartphone. This is disappointing given the fact that most people are attracted to the superior Mate 9 as it comes with impressive specs and looks good overall. This is why Huawei has come with another Mate 9 model it calls the Huawei Mate 9 Pro.
The Huawei Mate 9 Pro was unveiled in China yesterday as the company was introducing the standard Mate 9 and the Porsche design Mate 9 to the Chinese market. This is the third model of the company's 2016 phablet series but we are not sure will be launched in other markets.
The Mate 9 Pro is quite similar to the Porsche design Mate 9 but does not come with its hefty price tag and the 'Porsche' branding. Most of the other specs, including the fingerprint sensor on the front section, are what we already saw a few weeks ago when the company was unveiling the Mate 9.
Now to the specs, the Mate 9 Pro comes with the same 5.5-inch AMOLED display found on the Porsche Design model.  This display has the same 2560×1440-pixel resolution. The phone is powered by the latest Kirin 960 processor paired with either 4 or 6GB of RAM. The 4GB model has 64GB of internal storage space and will be available for $690 (approximately Ksh 70,000). The 6GB model on the other hand will have 128GB of space and will retail at $775 (approximately Ksh 79,000). This is where you will start to see the difference between the Mate 9 Pro and the Porsche Design model. While the 6GB Mate 9 Pro model's space is capped at 128GB, the one on the Porsche Design model goes all the way up to 256GB.
The storage space is not the only difference between the two models, the Mate 9 Pro is also missing the materials and aesthetics you will find on the luxury model. While the Porsche Design model is available in black, the Mate 9 Pro will be available in blue, Silver and white. Most of the other specs on the Mate 9 Pro are exactly the same as those on the Porsche Design model.
As we have mentioned above, the phone has been launched in China and there is still no news if the company has plans to launch it in international markets. We will update you on this if and when we get more information.
Also Read: The Huawei P9 Review