Tecno launched its 2016 flagship smartphone in Kenya back in October. This year, Tecno released two variants of this phone, the standard Phantom 6 and the Phantom 6 Plus. The two models share some features but they are quite different and will appeal to different people in my opinion. I have been using the Phantom 6 Plus and this is what it is all about.
Tecno Phantom 6 Plus: What Is in the box?
Before we get into the review, let's look at what you get in the box.
The Phone (Phantom 6 Plus)
Earphones
USB Type-C cable and Power adapter
USB to USB C Adapter
Screen Protector
User Manual and Warranty Card
SIM removal tool
Flip Cover
Also Read: The Tecno Phantom 6 Plus Unboxing and First Impressions
Design
Full Metal phablet
The Tecno Phantom 6 Plus is the company's flagship smartphone for 2016 and you can clearly see this from the design. This phone has a full metal unibody build that feels premium to hold on the hand. It has a 6-inch display that is quite huge and may be a turn off to some people. Even with that said, the Phantom 6 Plus is quite a beauty to look at and use.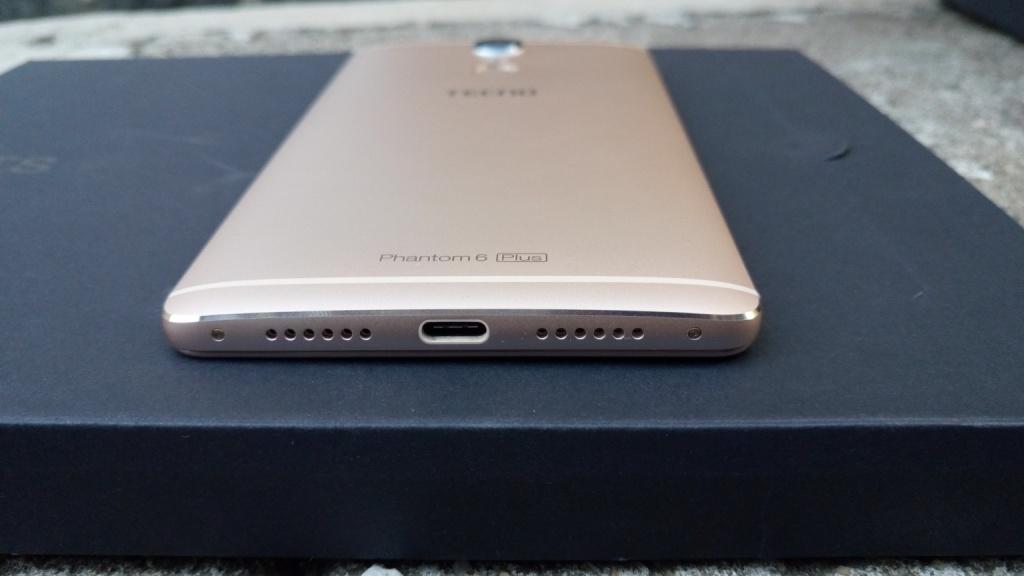 The big size aside, I was really impressed with the Phantom 6 Plus. It takes over from the Phantom 5 which blew my mind last year. Most people do not associate Tecno with such high quality devices, the attention to detail from the design point of view is clearly justifies the phone's price.
You get the usual posers and buttons on the sides, the power and volume buttons are on the right with the SIM card/ MicroSD slot on the left. The speaker grille is at the bottom together with the microUSB slot. There are two speaker grilles but only one of them has a functional speaker, the other one is just for aesthetics.
Tecno has included the 'Phantom' name at front section below the display, this works well for branding purposes giving the phone a premium touch.
Display
6.0 inch IPS display, Full HD resolution
The Tecno Phantom 6 Plus has a 6.0 inch IPS display with a resolution of 1920×1080 pixels. With this size, the phone is prefect for media consumption. This sizer can be intimidating to some people but I found it perfect for watching movies, playing gamers and even working. It is just the right size to handle these tasks.
The display is quite bright in all lightning conditions. Using the phone outdoors did not present any serious problems to me, I could clearly see what was on the display without struggling. This display has an auto brightness setting that allows you to set the screen's brightness to adapt to your surrounding.
Tecno has included a screen protector to protect this display. The company says that this phone's display is protected by Gorilla glass but I am not sure that is the case. I might be wrong but with the damage I see on the display of my review unit, I doubt it has any protection.
The capacitive keys are on the display but that is not that big of an issue given the phone's big size.
Overall, this is the display you need if you watch movies or play lots of gamers on your phone, the experience is just unmatched.
Software and Performance
Android Marshmallow, 4GB RAM
The Tecno Phantom 6 Plus comes with Android 6.0 Marshmallow with HiOS on top. Software Performance was remarkable during my review period. The OS feels light on the phone. This is Android Marshmallow and we are not sure if Tecno will be updating it to android 7.0 Nougat. Tecno's 2015 flagship, the Phantom 5 came with Android Lollipop and has never been upgraded to Marshmallow.
Under the hood is 4GB of RAM paired with 64GB of storage space that can be expanded to 128GB using a MicroSD card. Powering the phone is the 2.0 GHz 64-bit Helio X20 processor from MediaTek. With this combination, handling daily tasks is a smooth process, at no one time did the phone slow down during my review period.
I also played some gamers with this phone and it handled them really well. I could even switch between the games and other apps without the phone slowing down.
Also Read: The Tecno Phantom 6 Plus Specifications
Camera
The Tecno Phantom 6 Plus comes with a 21MP unit at the back with an 8MP front facing one. The 21MP camera at the back has auto focus and is supported with dual LED flash for better photos when the lighting is not so good. The 21MP camera takes some good photos that look very natural. This is very much so in almost all lighting conditions. Even though it struggles a bit in low lit conditions, the end results are much better than most otherer smartphones on the market.
The 8 MP front facing camera also takes some good shots if the lighting is good. It is not a mind blowing camera but it holds up quite well.
Battery
The Tecno Phantom 6 Plus comes with a 4050 mAh battery that I found to be enough for me. This battery can easily last you a day or two depending on how you use your phone. If you run some heavy and demanding applications, you can still till get the phone to last for at least 8 hours everyday. I was impressed with this battery as it lasts for so long even though the Phantom 6 Plus is a performance porterhouse.
This battery supports quick charging which is always a nice feature to have. With a few minutes of charging, you can get a few hours of battery life.
Conclusion
The Tecno Phantom 6 Plus is an impressive device. It looks the part and preforms better than you expect it to. The phone handled everything I threw at it with ease and never disappointed me even once during my review period. It is a phone worth checking out if its big size isn't a big deal to you.
Also Read: The Tecno Phantom 5 Review: Is It A True Flagship?