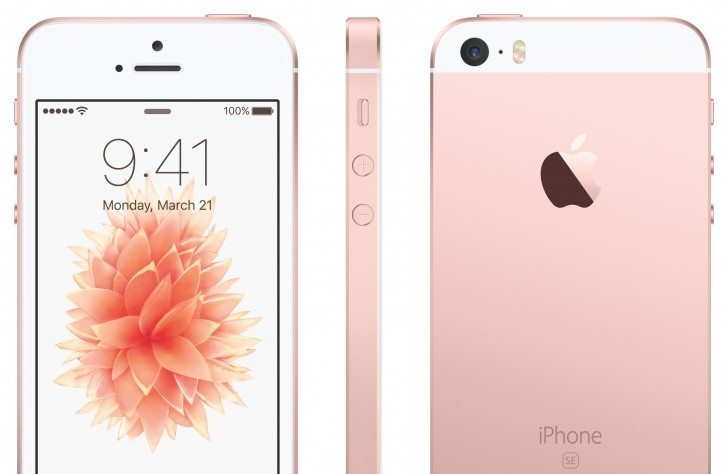 Yesterday, Apple unveiled its cheapest smartphone of 2016, the iPhone SE. This smartphone is not cheap by normal standards but by Apple's standards, it is very affordable.  Apple refers to this phone as the most powerful phone with a four-inch display. This is sort of true but then again, are people interested in smartphones with 4 inch displays anymore?
Besides the size, the iPhone SE is a very interesting device. Apple has always ignored the mid-range market segment and it is nice to see the company finally cater for this segment. There are many Apple fans out there who want its flagship devices but cannot afford them and it is nice to see Apple catering for these people. The phone has some powerful internals that really make it appealing if you decide to overlook the 4-inch display.
The 4-inch display has a resolution of 1136×640 pixels giving you a pixel density of 326 ppi. The iPhone SEO unfortunately doesn't support 3D Touch, a feature we have seen on the premium iPhone 6s and 6s Plus.

The iPhone SE is similar to the iPhone 5 and 5s in terms of design so you will feel very comfortable with it if you have used any of those devices. It is powered by the latest generation Apple A9 chip which is paired with a 1.85 GHz dual-core processor with the PowerVR GT7600 six-core GPU and M9 motion coprocessor. Probably this is what Apple is referring to when it says that this is the most powerful smartphone with a 4-inch display.
As for the camera, the iPhone SE has a 12MP unit at the back (Mega Pixels number does not determine image quality by the way), this is the same camera you can find on the premium iPhone 6s and 6s Plus. This is something most other manufacturers do not do. This camera is able to record 4K videos as 30 frames per second, 1080p videos at 60 frames per second and slow motion shots, 1080p at 120 frames per second and 720p at 240 frames per second. At the front is a 1.2 MP camera which is the same you can find on the iPhone 5s.
Price and Availability
The iPhone SE will be available in select markets as from March 31 and unfortunately Kenya is not one of them. It will first head to Australia, Canada, China, France, Germany, Hong Kong, Japan, New Zealand, Puerto Rico, Singapore, United Kingdom, United States. Apple will be taking it to additional countries on April. Most of the countries where this phone is heading to in the second phase are in Central, Eastern Europe and the Middle East.
The iPhone SE is available for $399 (approximately Ksh 41,000) for the 16GB model and $499 (approximately Ksh 51,000) for the 64 GB model.
Read More: Apple Watch Accounted for Two Thirds of All Smartwatches Shipped in 2015