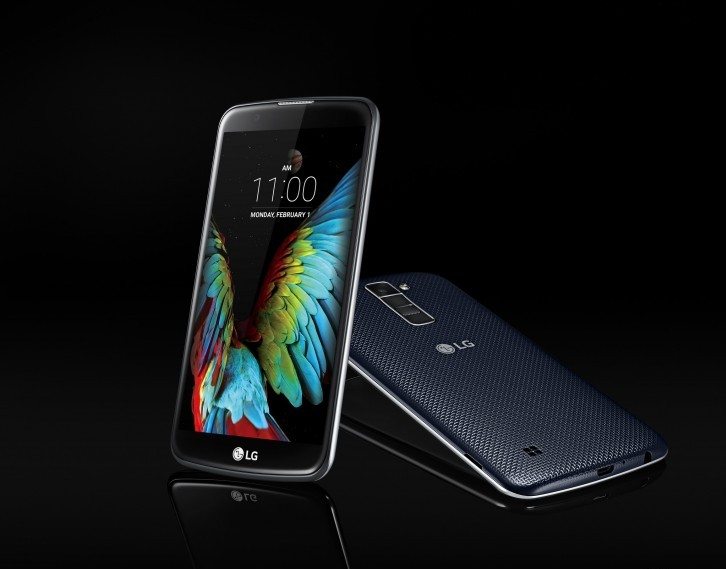 LG has launched two new devices in its new K lineup that has been launched to replace its previous L series. The two devices are the LG K10 and K7 that are the first devices in its K series that is made up of slightly affordable devices that come with some very decent specs.
The LG K10 is the biggest of the two and comes with a 5.3 inch display with a 720p resolution. The phone supports 4G LTE and is available in different CPU options of 1.2 GHz or 1.3 GHz quad-core, 1.14 GHz octa-core and 1.3 GHz quad-core (3G version). As for RAM, it is available in 1GB, 1.5GB, or 2GB version with either 8GB or 16GB of storage space.
At the back, the LG K10 has a 13MP camera (the LTE version) while the 3G version has an 8MP camera. As for the front facing camera, you can get one with either a 5MP camera or 8MP camera. For the battery, it will have a 2,300 mAh one. Available colors include white, indigo, and gold.

The LTE K7 on the other hand has a 5 inch display with a resolution of 854 x 480 pixels. It is available in 3G and 4G LTE versions which will have slightly different features. The LTE version is powered by a 1.1 GHz quad-core processor while the 3G version will be powered by a 1.3 GHz quad-core processor.
The LTE K7 is available in 1.5GB or 1GB options with either 8GB or 16GB options. For the camera, it has either an 8MP or 5MP camera at the back and a 5MP camera in front for selfies and video calls. This phone comes with a 2,125 mAh battery.
Both these phones will be showcased later this week at CES and that is when their pricing and availability will be announced.
Read More: LG will start rolling out Android Marshmallow update to the LG G3 very soon