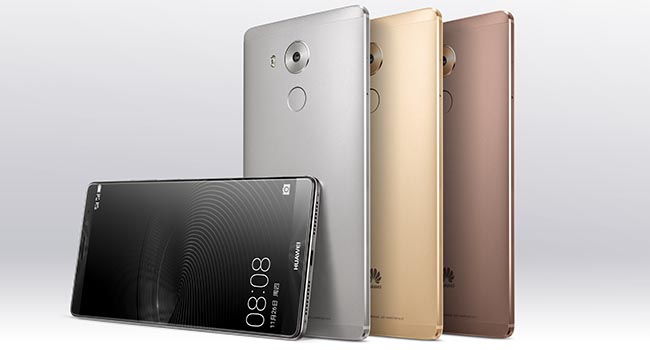 At the beginning of this month, we told you about Huawei's plans to unveil a new smartphones, the Mate 8, later this month on November 26. We even saw a few features that the Mate 8 will come packing but we never saw it in pictures so we had no idea what it would look like.
Read More: The Huawei Mate 8 Will Have a 2.2 GHz Octa Core Processor And 4GB of RAM among Other Features
With just a day before the Huawei Mate 8 is officially launched, we have finally seen what it will look like thanks to the leaked renders that surfaced yesterday. The renders give us a look at the Mate 8 from all angles and they look like the real deal.

From the renders, it is clear that the Mate 8 will have a metallic body which is something you expect for a premium device. Huawei has used metallic frames on its previous flagship devices so this was sort-off expected for the Mate 8.
The leaked renders also reveal the phone's design which looks more like the Mate S. It also shows the location of the camera, fingerprint sensor, speaker grilles and the USB port.
As for the display, the Mate 8 will have a 6 inch one with very thin bezels. This is always something good to have especially for a premium device. At least Huawei can use this to set itself apart from its competitors.
Powering the Huawei Mate 8 will be the company's new power unit, the Kirin 950 chipset. This will be coupled with 3GB and 4GB of RAM with either 32GB or 64GB of internal storage space. The back camera will either be 16MP or 20MP one while the front facing camera one will be an 8MP one.
The Mate 8 will come with Android 6.0 Marshmallow out of the box. As for the battery, it would have a 4,100 mAh unit. Keep it here to know more about this smartphone when it is officially unveiled.
Read More: Huawei Has a Battery That Can Be Charged 10 Times Faster Than a Normal Smartphone Battery