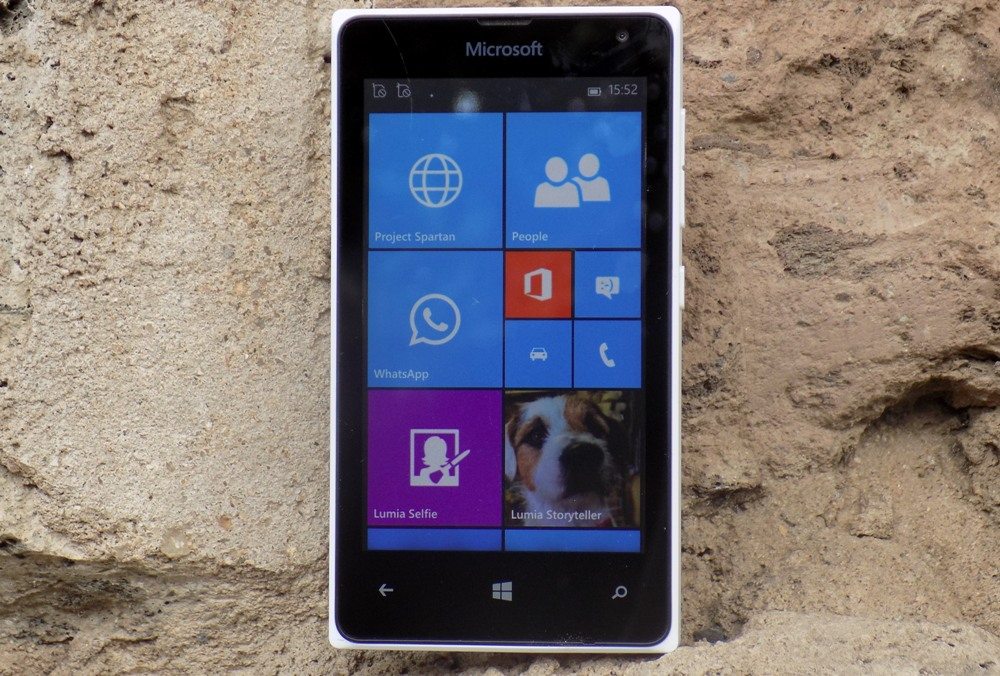 The Microsoft Lumia 435 was officially announced back in January this year. The Lumia 435 stands out as being one of the cheapest Lumia Smartphones currently on the market. Microsoft has been focusing on cheap Smartphones as it attempts to attract first time smartphone buyers to its platform.
I have had the Lumia 435 for the last four weeks and I believe am in a better place to tell you some of the good and bad of this phone. In this review, I will talk about the phones hardware and design, display, performance and specs, software, camera and battery life.
Note: The Lumia 435 is available on Jumia for Ksh 8,699, you can get it right now by clicking here.

Read More: Introducing the Lumia 435 and Lumia 532, the Cheapest Lumia Smartphones to Date
What's in The Box?
Earphones
Charger
User Guide
Opening the box that the Lumia 435 comes in is the same as that of any other Lumia smartphone out there. You get a pair of earphones, a user guide and a charger. Unfortunately this is a non-detachable charger and so you can't use it as a USB cable to transfer files from or to your computer.
Hardware and Design
The Lumia 435 looks like any other Lumia smartphone out there in terms of design. The phone's build quality is very good and this comes out when you pick up the phone for the first time. The polycarbonate material used as the back cover gives the phone a solid and premium feel, this is something you will notice the very first time.
The Lumia 435 is compact with a 4 inch display so it sits perfect on the hand. The overall design is minimalistic, something we have come to see on Lumia smartphones of late. The Volume buttons and the power buttons are on the right with the USB port on the lower region and the headphone jack on the top. The camera with no flash is on the back.
Still on design, the Lumia 435 has no sharp edges and feels very light which makes it easy to carry around. At only 134g, the Lumia 435 is very light and perfect for someone who is always on the go. For this review, I got the one with white back cover but there are other color options to choose from including black, radioactive orange and green.
Performance and Specs
The Lumia 435 is an entry level smartphone but its features are amazing compared to other smartphones in its price point. It is powered by a 1.2 GHz dual core Snapdragon 200 processor which combined with the 1GB of RAM makes for a snappy experience. If you have used Windows Phone before, you will know that this combination does not lead to any lagging when switching between apps.
As for the memory, the Lumia 435 has 8GB with room for a MicroSD card slot that can expand the memory for up to 128GB. The memory bit is what has always been a drawback for me when it comes to Lumias as I believe it could have been more. I know, you can expand that with a MicroSD card but I would love to have something like 16GB of internal storage from the start.
As I have said above, the phone's performance is very good with no lagging. I did not have any issue during the review period, no dropped apps and the phone did not freeze even when using it intensively. Playing games on this phone is very enjoyable but things start changing when you play intensive games such as Asphalt 8.
Read More: Microsoft Lumia 435 Specs Review and Price in Kenya
Screen
For the screen, the Lumia 435 has a 4 inch one with a resolution of 480 x 800 pixels. Unlike other Lumia smartphones, the Lumia 435 has no Gorilla Glass protection meaning that you should be very careful not to drop or scratch it.  Viewing angles are not the best on the Lumia 435 especially so when outside under direct sunlight.
The phone's screen does not have oleophobic coating so it will be filled with your fingerprints after a few days of using it. This is not a big deal as you can wipe them off easily. Despite this, the screen is very responsive and gets the job done.
The auto brightness feature made it easy for me as I didn't have to keep adjusting brightness as I moved. This was especially important when getting out of the house. Speaking of outside the house, unfortunately the Lumia 435 has no black polarization meaning that viewing the screen under direct sunlight is not that good. You will still have a good experience but not the best one especially if you are switching from a mid range Lumia device.
Software
The Lumia 435 is powered by Windows Phone 8.1. It will be upgradeable to Windows 10 Mobile when it becomes available later in the year. The software is very snappy running perfectly with no issues. I installed Windows 10 Mobile insider preview on my Lumia 435 and still had a good time using it.
Camera
The Lumia 435 has a 2MP fixed focus main camera and a 0.3MP front facing camera. The 2MP main camera may look bad but it takes some good photos especially in well lit rooms or outdoors. If you try to take photos indoors, you will be disappointed.
As for the front facing camera, it takes some decent (not the best) photos as long as the lighting is on point. To be honest, I was expecting both the front and back cameras to be disappointing but I was wrong as they were not that bad. If you are into video recording, this is not the phone for you as quality is not that good.
Battery
The Lumia 435 has a 1560 mAh battery which is not that bad considering the small screen and the not so heavy CPU.  I could easily get a whole day of usage with about 50% of battery remaining with light usage. With heavy usage, I could also go for about 8 hours without charging it. I could not get over 12 hours of battery life with heavy usage.
Conclusion
The Lumia 435 Dual SIM is perfect for anyone buying his/her first smartphone. It is also good for anyone who wants to try Windows Phone for the first time. It has all the features that a reliable budget phone should have. Its build quality is amazing because it doesn't look or feel cheap. This is a good point as no one wants to walk around with a cheap looking smartphone. Its price is right and even though the camera is not the best, am sure this may not be a big issue if you are looking at the Ksh 8,500 price range. The fact that it will also be updated to Windows 10 Mobile makes it even more appealing.