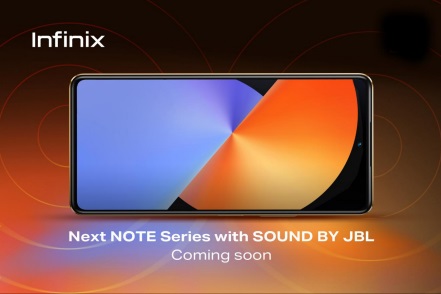 Infinix is set to launch its next smartphone lineup, the Note 30 series, in a few weeks. Rh Infinix Note series is one of its best selling lineups and the company wants to make the Note 30 even better. Infinix has announced a new collaboration with JBL to introduce Sound by JBL audio excellence to their next-generation NOTE Series. Sound quality is a crucial aspect of the user experience, and Infinix says it is dedicated to providing an exceptional audio experience to its customers. By combining Infinix's latest innovations with JBL's 75-year legacy of acoustic quality and expertise, the upcoming release of the NOTE Series will be enhanced with Sound by JBL tuning.
According to Infinix, Users can expect an upgraded audio experience in the upcoming generation of Infinix's NOTE Series as a result of this exciting collaboration with JBL. More details about the release date and features of the new series will be unveiled soon.
"We're incredibly excited about our collaboration with the JBL brand here at Infinix. Our hardware expertise combined with JBL's acoustic technology means we can provide an enhanced audio experience to customers worldwide. With a device that delivers upgraded sound quality, we're confident we're in exceeding users' expectations." – Liang Zhang, Deputy General Manager at Infinix.

Integrated with JBL Tech
During the development of the NOTE 30 Series, Infinix worked closely with JBL engineers to optimize the software system of their new generation of smartphones. The software processing within the Note series was fine-tuned to deliver JBL's signature sound, ensuring well-balanced mid-tones, rich bass, and high-quality, faithful sound reproduction.
Incorporating advanced audio processing engineered and perfected by JBL, the new Note Series with Sound by JBL will offer enhanced audio with distortion-free volume, deeper bass, and JBL's renowned sound signature. Users can expect an immersive audio experience, especially when listening to music or watching videos.
Roumu Hu, Vice President and General Manager of HARMAN Embedded Audio, expressed pride in collaborating with the Infinix team, saying, "The JBL brand is all about delivering the fullest sound experience, and we are therefore extremely proud to collaborate with the Infinix team to deliver superior audio through Sound by JBL. Rooted in a shared passion for sound, we know the Infinix team is committed to audio excellence in their mobile devices, and we will continue to work together to bring upgraded sound quality to more consumers as we look forward to deepening our cooperation with Infinix for more product development."
Availability
Infinix plans to introduce this new technology in their upcoming phone models, starting with the next release of the NOTE series. The launch is scheduled for May, meaning customers can anticipate experiencing the enhanced sound quality of this innovative technology very soon.
Also Read: Infinix Hot 30 Review: A Solid Phone at a Reasonable Price