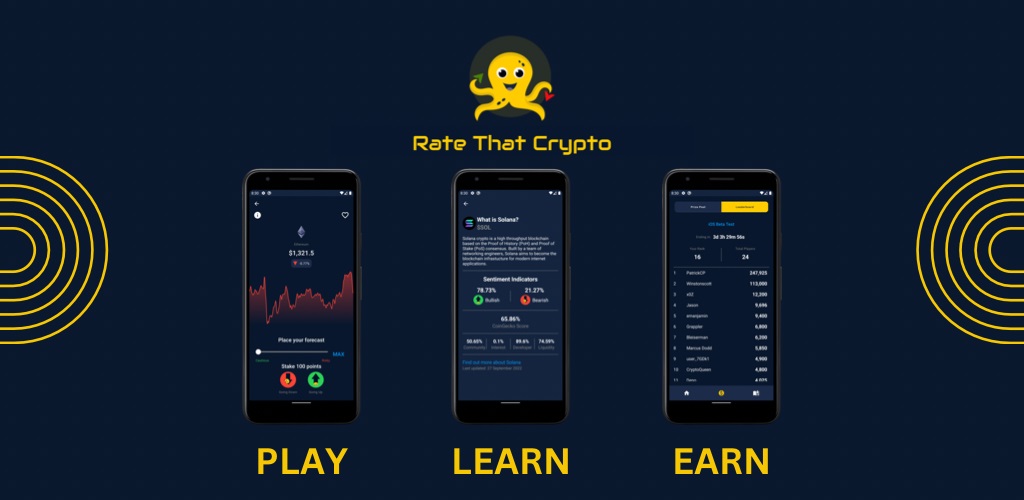 The cryptocurrency bear market is still in full swing, with many cryptocurrencies trading in red at a fraction of their all-time highs. While negative news, such as the crash of some crypto projects, continues to roil markets, many investors remain confident that the bear market will not last forever and that some projects will emerge more robust than ever. Hence, new and experienced traders are searching for projects with less risk and a more secure model.  
Investors can find opportunities in a bear market despite the volatility by researching and looking for solid fundamentals. The presales of projects with valid use cases are one place to look for opportunities. Some of these metrics are why experts believe Rate That Crypto (RTC) and Illuvium (ILV) will emerge stronger than other cryptos when the market eventually recovers. One common thing about the two is that they are metaverse gaming tokens.
The recent crypto market crash and the rise of new GameFi spaces present a once-in-a-lifetime investment opportunity for 2023. Thus, beyond. GameFi and play-to-earn gaming are the future of online gaming, and both are expected to snowball. As a result, finding the best coins in this category to invest in is quickly becoming a top priority for many investors.

Let's further explore Rate That Crypto (RTC) and Illuvium (ILV).
Illuvium (ILV) combines creature-rising with open-world RPG games
Illuvium (ILV) combines the Axie Infinity creature-raising world with an open-world role-playing game in which players can explore a vibrant and stunning landscape to complete quests and discover creatures known as Illuvial. Illuvial has its classes, abilities, strengths, and weaknesses; with over 100 of them, it will take some time to collect them all.
They are also traded for ILV tokens, custom skins, and other collectibles among users. With only 10 million tokens ever released, the value of ILV has the potential to rise as the game's popularity grows, making Illuvium one of the top metaverse cryptos with the potential to skyrocket in value.
Illuvium is known for its stunning and colorful landscapes. Since more than half of its $10 million in coins were released during its initial coin offering, users won't have to worry too much about inflation depreciating the value of their ILV tokens. Illuvium is one of the best metaverse cryptos to invest in before 2023 as its popularity grows.
Rate That Crypto (RTC) introduces less risk and a more secure model to the P2E game
As the presale for Rate That Crypto (RTC), a new P2E crypto game, approaches, it has begun to capture the attention of nearly every gaming enthusiast.
The RTC project's concept is straightforward but captivating. Using live price data over a time window of their choosing, the player makes a simple bullish or bearish prediction against their favorite crypto projects. They "stake" a certain number of points on this forecast, and if it is correct, their points are multiplied. If they are incorrect, they will lose their staking points.
The RTC platform will display information about the project, such as its purpose, utility, current sentiment, and links for those who want to learn more, in addition to the token chart and price. Nobody can ever lose money using the RTC app because it will always be free.
The play-to-earn model is appealing because it allows even casual gamers to monetize their hobby and earn rewards for their time and effort. It is a critical growth driver for GameFi because it encourages more people to try the platform and become involved in the gaming community.
As the crypto market recovers from the 2022 crash, new metaverse projects such as Rate That Crypto provide opportunities to invest in the best crypto coins. Users can deal with lower prices than the current crypto market favors or take a chance on an older coin well below its high. While established games remain on the list of best coins, newcomers should see a steadier rise.
This consideration makes Rate That Crypto one of the best metaverse coins to invest in before 2023, and the time to get in is now. As 2023 approaches, Rate That Crypto value should rise in tandem with its popularity, thereby coming out of the bear market stronger than most other cryptos.
>>> Buy Rate That Crypto Now <<<
For the latest news on Rate That Crypto check out the RTC Discord Server and join the telegram group.
For more information on Rate That Crypto visit the links below:
Presale Website: www.ratethatcrypto.com
Linktree: https://linktr.ee/ratethatcrypto 
HOW TO BUY RATE THAT CRYPTO (RTC)
NOTE: 
USD Coin (USDC) on the Polygon network is required to buy the $RTC presale
Ensure that you have a small amount of Polygon (MATIC) to cover gas fees. 

MetaMask is highly recommended (either desktop or in-app). However, TrustWallet and Coinbase Wallets are also supported
HOW TO BUY USDC (PoS)
OPTION 1: BUY USDC DIRECTLY
A) IMPORT THE USDC TOKEN
Copy the Polygon USDC token address: 0x2791Bca1f2de4661ED88A30C99A7a9449Aa84174 
In your MetaMask Wallet, Press 'Import token' and paste the address.
B) BUY VIA TRANSAK/ MOONPAY USING YOUR CARD
From MetaMask, press Buy and you choose either MoonPay or Transak. You will need to follow their additional steps, likely including KYC depending on your local region
OPTION 2: POLYGON BRIDGE
A) BRIDGE ETHEREUM TOKENS
Go to the Polygon Bridge and select your Ethereum based token that you wish to bridge to Polygon. Ideally USDC, but you can also bridge ETH, MATIC, USDT etc.
*If you bridge Ethereum based USDC to Polygon USDC, you can skip Step 2 and are done!
B) SWAP FOR USDC (IF NEEDED)
Select Polygon Swap on the left pane and enter the token value amount that you wish to swap for Polygon USDC. Approve and Confirm the transaction in your Wallet
HOW TO BUY RTC
A) VISIT RATETHATCRYPTO.COM AND CONNECT YOUR WALLET
Ensure the Polygon Network is selected and then press 'CONNECT WALLET'
B) ENABLE PERMISSION
Confirm that you allow the contract to access your USDC balance. Don't worry, no transaction will occur yet
Enter the $USDC amount that you wish to invest. The minimum investment is $10.
C) ENTER AMOUNT
D) APPROVE TRANSACTION
Press 'Approve Transaction' and confirm the request in your Wallet when prompted
E) PURCHASE $RTC!
Press 'Purchase RTC' and confirm the transaction once more in your Wallet.