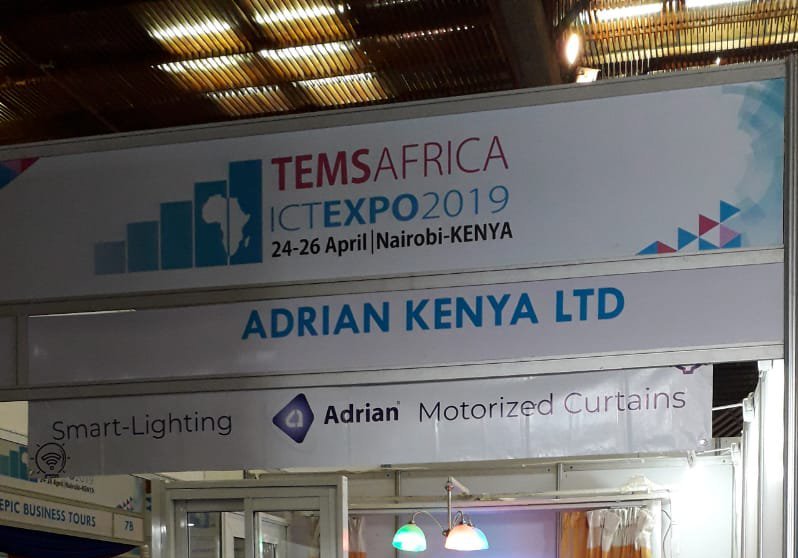 Adoption of Smart homes products has been on the rise in Kenya that last few years. Even with that said, not that many people know about the different products and how they can impact their lives. I had an interview with Benard Njoroge, Managing Director Adrian Group Limited, a smart home solutions provider in Kenya, on some of their products and why you should consider investing in one.
Question: Can you explain some of the smart home solutions you have? And who your ideal customer is?
Answer: Our Smart home solutions can be categorized into the following broad categories:

REMOTE CONTROL SOLUTIONS
Our smart home solutions are mobile, thus you can control your home from your smartphone or any other internet-enabled device, using a secure internet connection
SECURITY SOLUTIONS
Adrian brings you a new generation of home safety and security protection including motion detection, surveillance, all coupled with 24/7 alerting customized to send emergency and notification messages to your mobile phone or email.
SMART ENERGY MANAGEMENT SOLUTIONS
Adrian smart home solutions allows you to analyze and optimize your energy consumption through various energy efficiency scenarios
COMFORT LIVING SOLUTIONS
With Adrian smart home solutions, your home dynamically adapts according to your needs
HEALTH CARE AND MONITORING SOLUTIONS
Our smart home solutions allows you to always keep an eye on your children or other dependants, and maintain their comfort remotely
Q: Why should people choose your products and not buy from other well-known global brands?
A: Why Adrian?
We have a robust technical personnel trained by the manufacturer on the smart home solutions.
We adhere to quality work standards and promise timely delivery.
Customer Focus: Our customers come first, and we are flexible and adaptive to client requirement.
Local support: We support our customers on a 24/7 basis, with a fully-fledged call centre for any escalations.
Q: What can you say are some of the benefits of having a smart home in Kenya?
A:
"Peace of mind" home control: You can access cameras in your home or business remotely to see what triggered an alarm via live, real-time video.
Through our Energy saving smart solutions, you can Analyze and optimize energy consumption in your home
ADVANCED ALERT SYSTEM-In case of potential danger you will be alerted immediately.
iImproved security: We provide the smartest way to protect your home from burglary, fire, flood, gas and other unwanted events.
Q: Smart devices require an active internet connection to give the best experience. Data in Kenya is still not cheap and is not widely available across the country. Is this slowing down adoption and are you working with any internet service providers to address this.
A: Definitely this is a shortcoming. Internet penetration in Kenya and in Africa is work in progress. However, we are working tirelessly with Safaricom to increase the internet coverage.
Q: If I wanted to start my journey to turn my house into a smart home, what are the first three products that you would recommend?
A: For any smart home, a controller is the first device to acquire. This device controls communication between the various smart devices and relays the same to your internet-enabled mobile device. All other smart devices are added to the controller portal, and these depend with your choice. Security being a major concern to many I'd recommend surveillance cameras and motion detectors for a start.
Q: Security is a major concern for some people when it comes to smart home solutions. How do you address that? Do you educate your customers on this issue? What are some of the things you tell them?
A: We always educate our customers on matters security. It is important to know that any communication between the devices is encrypted. This means that even if someone taps into the channel, the data cannot be decrypted thus will have no meaning to them. Any data stored on the cloud is also encrypted for security reasons.
Q: Some smart home products may collect data on the user and behaviour for a better experience. Do you have any products that collect user data? Where is the data stored and how do you use it? With no clear data protection laws in Kenya, does this present any challenges to you.
A: Our smart home devices don't collect user data. They mainly collect environment data.
Q: Why are more people interested in smart homes in Kenya at the moment? Are these homes necessary or is this just a fad that will come to pass?
A: Kenya, like many African countries, is undergoing a lot of industrialization and economic growth. This means that most people are spending more time at work places than at home. There is thus the need to monitor your home while you are away from home.
Security is also a major concern. With the comfort that our smart security solutions bring, the solution is very attractive and is not a fad that will come to pass. If anything, we will experience more automation and artificial intelligence in the coming years.
Q: Smart home solutions are not cheap, why is this the case and are you worried this will lock out some of your potential customers? Will we see prices coming down anytime soon?
A: Smart home solutions are not cheap, they are affordable. The solutions are flexible and the user decides what to start with. Home automation can be done in bits, and you slowly build up your smart home solution.
The immense benefits that these solutions bring far outweigh the cost of acquisition.
Q: Where is this trend heading to in Kenya? What should we expect from you and other industry players?
A: This is just the beginning. Kenya, and the world, is moving towards automation and artificial intelligence.
From us, we are not only doing smart homes, we are champions of emerging technologies in Artificial intelligence, block chain and IoT solutions. These solutions will accelerate growth of small and medium size companies through process streamlining and optimized operations.
Q: What are some of the challenges you are facing and how are you planning to address them with regards to smart homes solutions?
A: As earlier indicated, internet penetration is one of the challenges. A smart home requires internet connection and not all areas are covered. We are addressing this by working with the internet service providers to ensure more internet penetration.
Another challenge is the misconception that smart home devices will collect personal data. We are continuously educating our customers that the devices do not collect personal data and the environment data they collect and transmit is safe and encrypted, and only the rightful user has access to it.