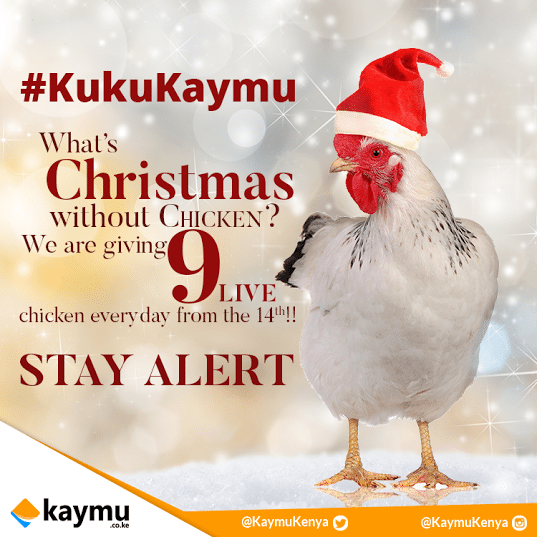 Christmas is around the corner and as you prepare to celebrate, you should expect to see different initiatives by companies who want to win your heart during this period. Kaymu is one such company and it wants to make this holiday season memorable for you and your family.
The company has announced that it will be giving away one chicken every day Starting Dec 14th to 22nd 2015. This will be the first giveaway of its kind in Kenya and is clearly an interesting one. So, from this coming Monday, make sure you head over to www.kaymu.co.ke for a chance to win a live chicken every day.
How it works
Every day between Dec 14th to 22nd 2015, Kaymu will list the chicken just like any other product on its site. You will then have to rush to the site and search for it, the first person to find it wins it. Since this is on first come, first served basis, you ought to be quick or you lose.

The chicken will be posted at random times of the day. When posted, you will have a chance of searching them in the different categories as they are listed as normal products. Listing the chicken as any other product makes it difficult to find them but at the same time it makes it interesting game.
Will you be taking part in this? Mark you calendar so that you don't miss out and make sure you visit www.kaymu.co.ke.
Read more: Kaymu Launches a Facebook Shop As It Tries To Go Where Consumers Are