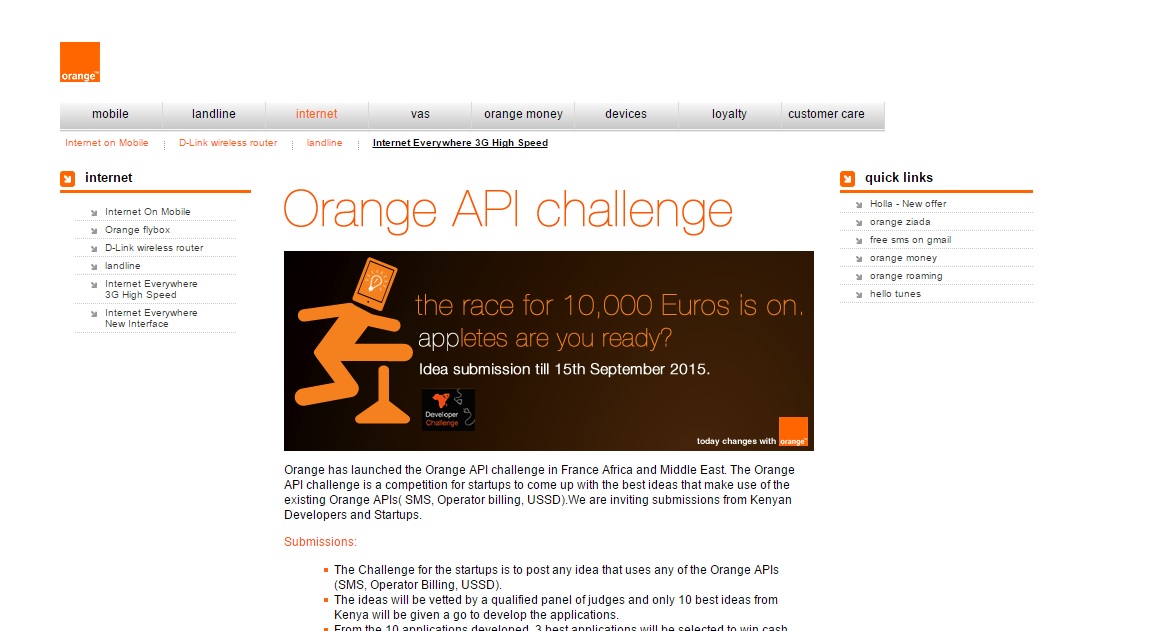 If for some reason you do not know, Orange has its API challenge currently underway giving Kenyan developers a chance to shine on the global stage. For the better part of the month, Orange was accepting submissions for those wishing to take part in the challenge. Submission were closed on September 15th and at the moment, the judges are going through these submissions to select those who will go ahead with the main challenge.
Read More: Three Things You Need To Know About the Orange Developer Challenge
Kenya has been referred to as the TechNation in Africa or the Savana Silicon Valley and this has clearly shown if the number of Kenyans willing to take part in this challenge is anything to go by. With Kenyan developers interested in this, I just hope that one of them goes ahead and wins in the end.

It only makes sense for a Kenyan to win this as we have seen growth of innovative digital/technology products from the many incubation labs we have in the country. I expect out experience with creating innovative products to show at the finale of the Orange API Challenge.
Having more developers taking part in the challenge does not mean that a Kenya will win but rather having the best service that uses Orange's API does.
Even if the Kenyans taking part in this challenge do not win, we will surely see quite a number of products as a result of the Orange Cloud API. As much as this challenge is about winning in the end, the products that may be created in the process can be very beneficial to us as the end users.
Besides benefiting as consumers, the products created can put Kenya on the map as the country that creates innovative products that tackle real life issues. As for the developers, they can benefit in quite a number of ways that might also help them propel their careers further ahead.
What does partnering with Orange Mean?
Orange API challenge will give developers access to enterprise tools currently powering huge companies like Orange Global. This will expand a developer's experience and make them more tech savvy
Keep it here to be informed how the Orange API challenge foes ahead from here as we approach the last lap.
Read More: Four Things the Jury Will Consider When Selecting Projects for the Orange API Challenge