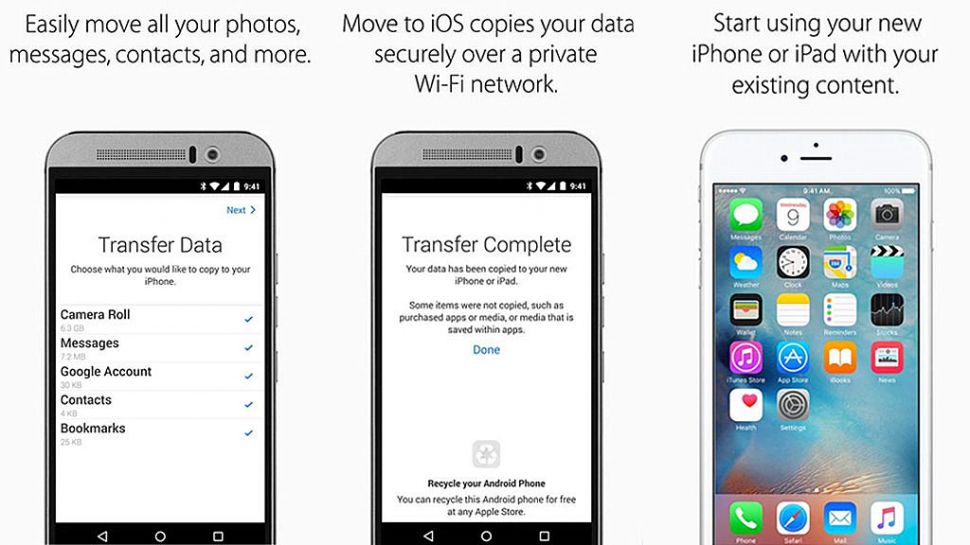 Apple has not be keen to develop apps for other platforms such as Android and Windows Phone. This is quite different from Microsoft and Google as the two companies have been developing apps for other platforms for some time now.
Apple has finally released its first app for Android and unsurprisingly, the app allows Android users to easily switch to iOS. I have said this is not surprising as Apple thinks that iOS is the best platform and wants everyone to use it.
The app with goes by the name 'Move to iOS' showed up on the Google Play Store yesterday morning. Apple had this to say about the app, "Everything about iOS is designed to be easy. That includes switching to it. With just a few steps, you can migrate your content automatically and securely from your Android device with the Move to iOS app. No need to save your stuff elsewhere before switching from Android."

You will be able seamlessly and easily move important accounts and data to iOS. These will include contacts, messages, bookmarks, mail accounts, calendars and even photos and videos.
Simple and Straight Forward
When you use Move to iOS, the app will securely transfer your stuff over a Wi-Fi network that is created by your new iOS device (iPad or iPhone). With this, you do not have to backup anything when switching to iOS.
The app is free to download and works with Android 4.0 and above. Not surprising, the app currently has a 1.8 star rating based on over 1,500 reviews. Surprised?
Read More: The Apple iPhone 6S Introduces Small but Significant Advancements to the Smartphone Market