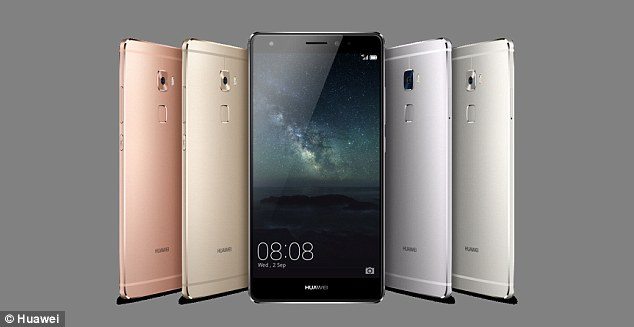 The Huawei Mate S is the latest flagship device from the Chine manufacturer. The Mate 8 was launched two days ago at IFA inn Berlin and it looks like Huawei is not wasting anytime bringing it to Kenya. Huawei launching its latest smartphone in Kenya just a month after its global launch represents a change in strategy for the company. Personally I see this as a positive change as previously devices took months to get to Kenya and this was never a good thing for the local consumers.
Speaking during the launch Richard Yu, CEO of Huawei Consumer BG said "Our goal in designing the Huawei Mate S was to develop a smartphone that offers a personalized experience, rather than a commoditized one. The Huawei Mate S is based on insights we gathered about human interaction – most notably that touch is a natural action we take to understand our world. The Huawei Mate S redefines how we incorporate touch technology into our smartphones, breaking through the conventional way of touch screen control and ushering in new imagination for human-machine interaction."
The beauty of a curved surface: innovative design from inside out
The Huawei Mate S' touch screen control technology offers an unconventional design that strikes a balance between the phone's brilliant capabilities and its stunning visual appearance.

Building on the revolutionary Huawei Mate 7 smartphone, the Huawei Mate S features a 2.5D floating screen that is 5.5 inches long and 7.2 millimeters thick, with side edges that are just 2.65 millimeters. The arched back cover fits perfectly into the palm of a hand, while its curved surface features solid pressure and weight, making the phone less likely to be dropped. With the texture of the AMOLED screen, Huawei Mate S presents a perfect curve.
The curved back cover of the Huawei Mate S features a laminated ladder battery and a staggered height printer circuit board layout design. It also uses a nanometer shooting technique to seamlessly connect the phone's antenna and metal, resulting in a smooth feel. Additional cutting-edge technology, including diamond cutting, CNC carving, nanotechnology and a sapphire camera are part of the phone's seamless metal body.
Revolutionary pressure control that redefines the user experience
Touch is a core of the Huawei Mate S, creating a new experience for users that enhances their interaction with the device. When viewing photos, they can be quickly previewed and enlarged by pressing the screen with one finger, streamlining the operations of a traditional phone.  The Huawei Mate S can also be used as a scale to weigh objects.
The phone is equipped with Fingerprint 2.0, an upgraded version of the advanced chip level security and one-key unlock technology in the Huawei Mate 7. Fingerprint 2.0 improves recognition speeds by 100 percent, with more accurate self-learning functions. It can also be used to control the notification bar, double-click to erase unread notifications, slide to preview pictures, and hold and take phone calls. All of these options improve the one hand operation of the phone.
Fingerprint 2.0 and Knuckle Control 2.0 – first introduced in the Huawei P8 – simplifies how users switch between app operations and take screenshots. The feature offers users a new way to interact with their phone: drawing a "C" with their knuckle activates a camera, while double-clicking the screen with a knuckle records the screen in the form of a video.  With these options, every type of touch provides an opportunity to be innovative.
A camera designed for beginners and professionals
The Huawei Mate S is equipped with a camera that considers users' needs in everyday life: a professional camera and settings that incorporate contrast, texture, and distinctive tonality. The 13 mega pixel rear camera features a RGBW sensor, optical image stabilizer, Dual color-temp LED flash lights, and independent image signal processor camera units, which combine to capture higher quality pictures faster. The Huawei Mate S takes camera capabilities one step further by offering an 8 mega pixel front camera with soft, front lights to improve selfies. This algorithm ensures users capture the clearest, most beautifying images possible.
The professional camera mode allows manual adjustment for ISO, exposure compensation, exposure time, white balance and focusing, and functions such as the grid, and flash-assisted focusing. The real time black and white filter mode provides multiple levels of density and real-time intensity adjustment.
Technology that adapts to every environment
The Huawei Mate S takes regular recording functions to the next level by creatively implanting three microphones that support Huawei's smart direction algorithm. The Huawei Mate S' beam-forming algorithm allows all three mics to focus on the sounds coming from where the phone is facing, enabling a clear recording with minimal background noises.
For consumers on the go, the Huawei Mate S also supports Mopria printing general protocol, which includes 700 printer types across 29 leading brands.
Today Huawei also introduced its new Huawei G8, which is equipped with a 5.5 inch FHD screen and 3000mAh battery compatible for super low-light photo taking.