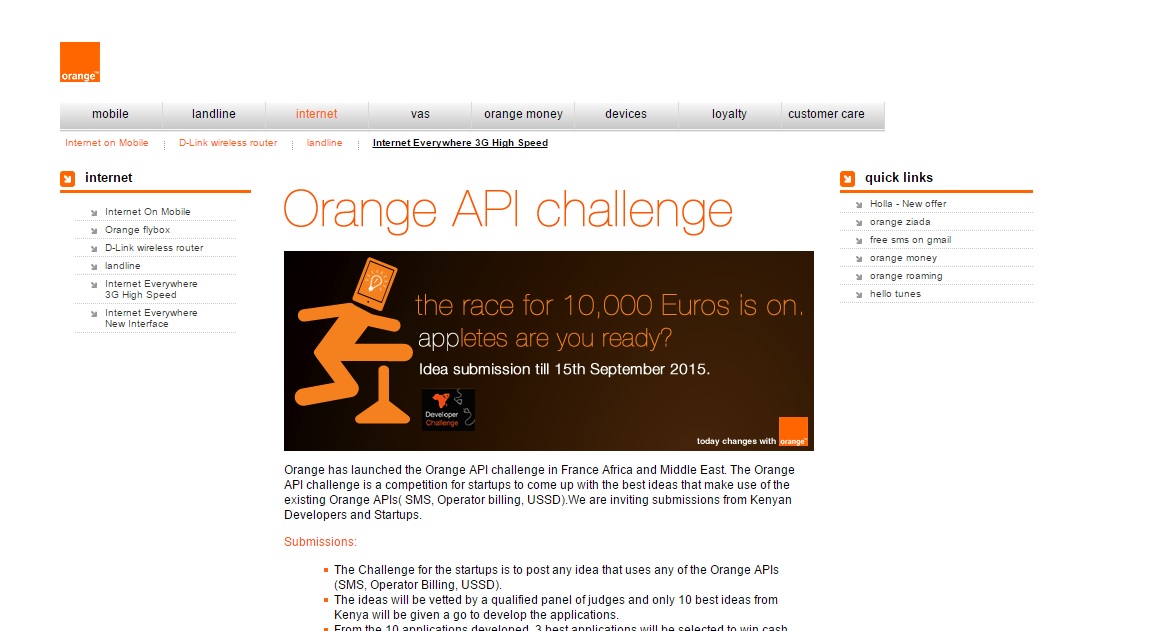 By now, you probably know of the Orange API challenge that is already on and is a platform for local developers to integrate Orange's APIs to create valuable services around this. The challenge requires developers to submit their ideas and a jury of 10 will select the 10 developers from Kenya who will go ahead to participate in the challenge. The overall winner in Kenya will walk away with Ksh 350,000 and have a chance to represent Kenya in Cairo competing with 12 other developers from 12 other countries. The overall winner will then walk away with over Ksh 1.1 Million.
For those interested in taking part in this challenge, you can do so by submitting your idea here.
Since winners, both locally and internationally, will be selected by a jury, it is important to know what the jury will be looking for. Below are four things that the jury will be looking for.
Level of Integration
The first thing the jury will be looking at is the level of API integration. As you already know (or don't), Orange has three APIs that developers can use for this challenge. They will then look at the level of integration to determine if your product is worth it or not. The deeper the integration of the API into your product, the better it is for you as this means the service is scalable and more valuable.
The Innovative Character of APIs Use
It's no secret that we need innovative products to come into the market. This is exactly what the jury will be looking for when selecting the winners. The more innovative you are, the better the chances of you winning. Try to be more innovative with your API integration and try to focus on something no one else will think of.
Distribution's Potential of the Service/Product/Application
Your service/product/application needs to have some potential if it is to win this challenge. Ask yourself, does it have a chance to grow? Be critical here and look at the market in general and what you are doing. Do not base your decision on your personal needs or preferences as most of the times these cannot be trusted, look at the market in general.
Financial Viability
Can this make money? You will need to look at the financial sustainability of the project and partnership possibilities. On the previous point, we looked at the Distribution's potential of the service/product/application. Here you will have to ask yourself, is there a chance of it making money? Is it attractive from a financial point of view? If it has no chance of making money, then it has no chance of winning. This is when you go back to the two pints mentioned above and consider if it is innovative.
Read More: Three Things You Need To Know About the Orange Developer Challenge