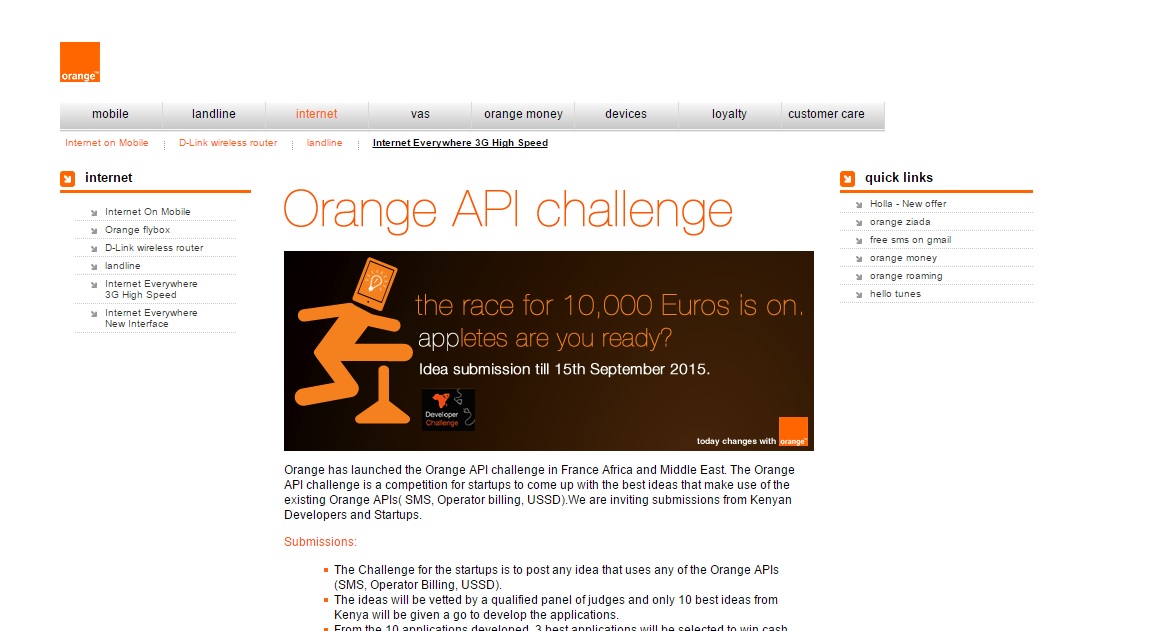 The Orange developer challenge is already on and as usual there are questions you may have about it. I got a few of these questions from my previous post and thought I should try to answer the most common one. Most people were asking me about the time period and how this challenge is going to work. I have broken down the time period in three parts to help you understand it better.
Submission and Preselection Period
The first one is the preselection period that is already on and runs from August 3rd to September 15th 2015. This is the period you should submit your ideas on the project you wish to be working on. When doing this, you will have to inform Orange on the APIs you will be working on to achieve this. Orange has 3 APIs that you can work with and these are SMS, USSD and Direct Operator billing APIs.
After September 15th 2015, submissions will no longer be accepted. With the submissions closed, a team of local juries will sit down and select the 10 candidates who will then be allowed to continue to the second phase. The candidates who have been selected will be announced on September 23rd 2015. If you have not applied for this challenge, you can do so by clicking here before time runs out.

The Challenge Begins
The challenge itself will begin on the September 28th to November 1st 2015. During this period, the shortlisted developers will have one month from September 28th to develop their services making use of any of the three APIs I have mentioned above. Integration of the APIs will be done on a secured test platform. When done, developers will then submit their projects through a submission form which will present the service integrating Orange's APIs.
This submission form will be available as from October 12th 2015 to November 1st 2015. After November 1st, the challenge will be closed. The winner will then be announced on November 17th.
Rewarding Winners
The top three winners will then be awarded as detailed below:
1st prize-Ksh.350,000+ Orange Klif.
1st Runners up- Ksh.100,000+ Orange Klif.
2nd Runners up- Ksh.50,000+ Orange Klif.
The winner from Kenya will represent the country In Egypt competing with 12 other countries for the Global prize award of 10,000 euros (approximately Ksh 1.17 Million). The international winner will be announced on November 25th 2015 and the award ceremony will be on December 2015.
Read More: Apply For The Orange API Challenge And Stand A Chance Of Winning Up to Ksh.350,000