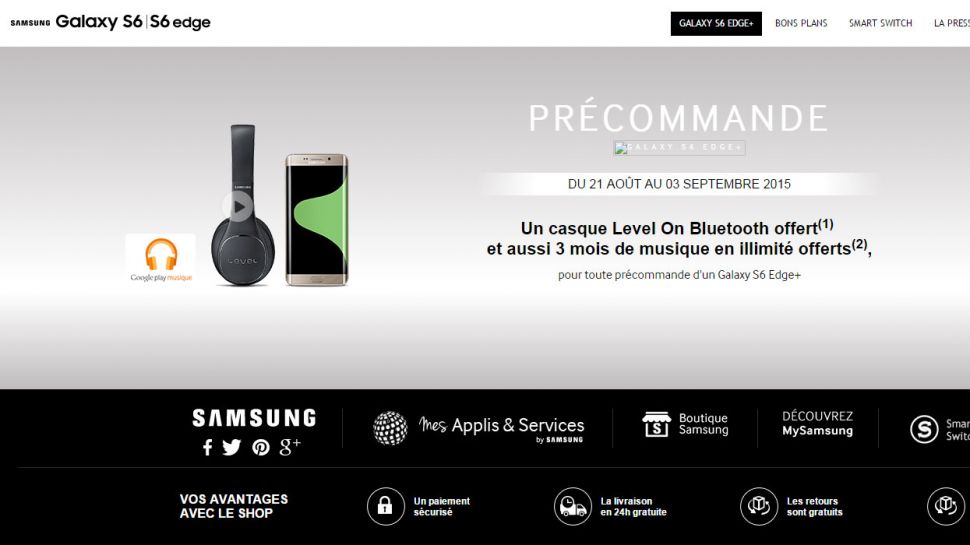 Samsung is preparing to unveil the Galaxy Note 5 later this year but the company is not putting all its eggs in one basket. Apparently, Samsung is also working on the Galaxy S6 Edge+. The Galaxy S6 Edge+ will be similar to the Galaxy S6 Edge but slightly better and improved.
We know about the Galaxy S6 Edge+ plans thanks to Samsung's French division that listed the device on its website a few days ago. Samsung has been trying to push the Galaxy S6 Edge and its curved display concept to the market and it will definitely take time before people embrace it.
Read More: Samsung Adds Two New Colours to the Galaxy S6 and S6 Edge Family
Through the site, Samsung has also announced that this handset will be available as from August 21 for those who want to pre-order it. You will then be able to pre-order it for about two weeks till September 3 when pre-orders close.
As for the specs, we know everything about this device but we know a few things. It will have a 5.67 inch Super AMOLED Quad HD display and will be powered by Samsung's own Exynos 7420 processor and a Mali-T760MP8 graphics chip. The Galaxy S6 Edge+ will also have 4GB of RAM and either 32 or 64GB of storage. As expected, it will support 4G LTE and will have a 16MP camera.
We will you update you on this and more when we get the information.
Read More: Introducing the Samsung Galaxy S6: Simplicity at Its Best