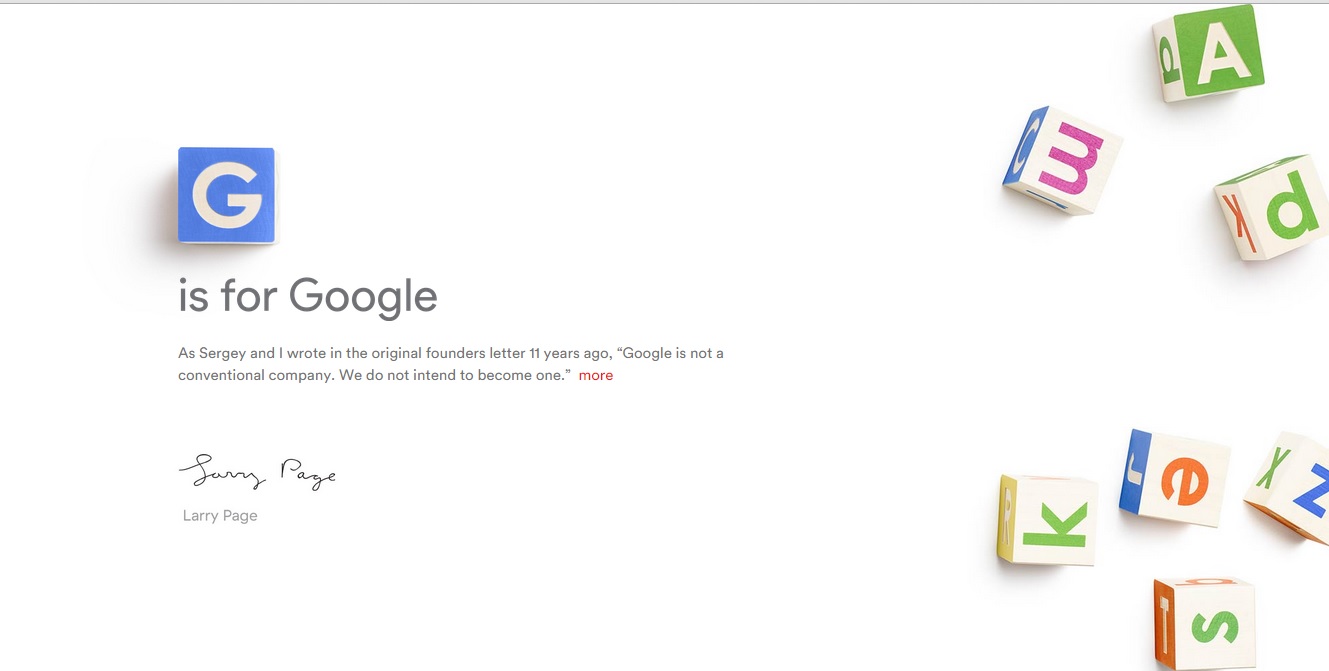 "Google is not a conventional company. We do not intend to become one," these are just some of the words that Larry Page and Sergey Brin wrote in Google's original founders' letter over a decade ago. Google has always tried to be different and over the years it has been in existence with some of its bets paying off and other failing. The company has always tried being a leader and today it has unveiled a new chapter that will see it move even further ahead.
Welcome Alphabet, this is the new Umbrella Company that Google will belong to from now on. In a blog post, Larry Page said, "Our company is operating well today, but we think we can make it cleaner and more accountable. So we are creating a new company, called Alphabet." This was a very big surprise to most of us as we did not expect Google to pull such a move.
Why the Restructuring?
Google knows that it has to do some crazy and unconventional things if it is to grow. Take for example the likes of Google Maps, YouTube, Chrome, and Android, they have grown to be very successful even though they were not that promising in the start.

"We've long believed that over time companies tend to get comfortable doing the same thing, just making incremental changes. But in the technology industry, where revolutionary ideas drive the next big growth areas, you need to be a bit uncomfortable to stay relevant," said Larry Page.
The new company, Alphabet, will have Larry Page as the CEO and Sergy Brin as the President.
Alphabet's Structuring
"Alphabet is mostly a collection of companies. The largest of which, of course, is Google. This newer Google is a bit slimmed down, with the companies that are pretty far afield of our main Internet products contained in Alphabet instead. What do we mean by far afield? Good examples are our health efforts: Life Sciences (that works on the glucose-sensing contact lens), and Calico (focused on longevity)." The statement said.
The company hopes that this structuring will allow for more management scale as it can run unrelated things independently. This structure will also allow the company to keep tremendous focus on the extraordinary opportunities inside of Google.
What Happens to Google?
Google Inch shares will automatically transfer to Alphabet Inc with all the same rights. From this, Google will be a fully owned company under the Alphabet family.
As to why Google chose Alphabet, the company said, "We liked the name Alphabet because it means a collection of letters that represent language, one of humanity's most important innovations, and is the core of how we index with Google search! We also like that it means alpha-bet (Alpha is investment return above benchmark), which we strive for!"